Nest Hello Video Doorbell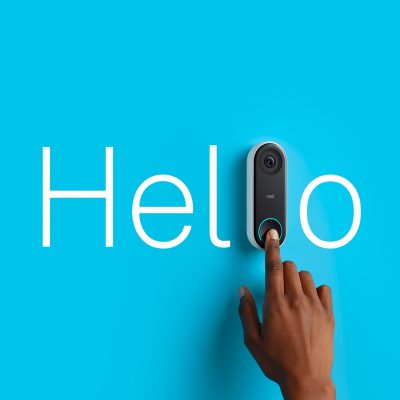 When Nest first announced the Nest Hello last winter it piqued my interest. The Nest Hello is currently their only video doorbell product. At $229, is slightly less expensive than the $249 Ring Pro, so still not inexpensive. If it delivers on what it promises the Hello could be an added value to an existing external camera setup or replace the need for separate cameras entirely.
Device
The Hello works with an existing low-voltage setup. It is meant as a replacement for an already wired doorbell; there is no battery option like some competitors. The Nest Hello is 1.7in x 4.6in x 1.0in. It is 4.28oz. Size wise it has roughly the same dimensions as various Ring doorbells. The Hello requires 16v AC – 24V AC, and a 10VA transformer.
It comes in one finish: black faceplate, white case and silver mounting plate with an optional silver angling plate. Unless you require electrical or additional drilling to mount a doorbell everything you need to install the Hello is in the box. The box also includes a chime connector, 15° wedge, release tool, masonry drill bit, window decal, wall plate, extension wires, wall anchors, screws, and a quick Start Guide.
The Hello steps up the video doorbell game both in hardware and software features. The camera and video specs set the Nest Hello apart from the competition. Its camera is 1/3", 3-megapixel color sensor with 8x digital zoom. Video is in HD UXGA 1600 x 1200, up to 30 frames /sec, H. 264 HDR and wide angle 160-degree view. It has night vision 850 nm infrared LEDs, and a speaker and microphone, so you can either use pre-set messages or talk interactively with anyone at the door.
Operating temperatures are 14° to 104°F (–10° to 40°C). This may be an issue for me as I live in the Midwest, where a less than 14° F day is not as uncommon as I would prefer. It will be interesting to discover what it will do, or will not do, when the wind chill reaches -30° F.
Security is 128-bit AES with TLS/SSL. It is compatible with 2.4GHz or 5GHz Wi-Fi. It also has a Bluetooth radio, but that is only used during setup. Nest specifies that a broadband connection is required. It needs at least a 2Mbps upload speed and warns that DSL may not qualify.
It follows that the Nest Hello bandwidth and streaming requirements are significant. They vary depending on selected video quality. This is to be expected for a camera that monitors for sound, motion and people, records in HDR and streams video to the cloud for Nest Aware. In addition to recording other features only available with a Nest Aware account are Person Alerts or Familiar faces, Closeups, Activity Zones, and Sharing Clips.
If you do not have a Nest Aware subscription recording will only happen when someone is watching. It will provide snapshots of events that happened in the past three hours. It provides event Notifications, Home\Away Assist, Scheduling, Night Vision and Camera Sharing.
On the Nest support site there are ballpark estimates of anywhere from 50GB, for low quality video, 150GB, medium quality video and 300GB for high quality video. Those with data caps or slower bandwidth speeds would benefit from some quick math during setup.
The Nest Hello, just like other Nest products, each family member has an account. Each person can set device notification preferences. There is no password sharing. Thank you Google!
A Nest Aware subscription comes in tiers starting at $5 dollars a month for the first camera or $50 dollars a year for five days of recording history, all the way up to $30 a month or $300 a year for 30 days of recording history. The full pricing information can be found on the Nest support site.
Prior to ordering, I recommend watching Nest's compatibility videos and using the questionnaire. I find Nest's approach democratizing. As well as good business. Nest's compatibility checker steps you through all the technical and installation requirements. It provides advice on whether you may or may not need professional installation. This is a helpful check before making an expensive mistake.
Prior to ordering my Nest Hello I ran through the Nest product compatibility checker to validate that my reading of the compatibility specs was correct. Sure enough after digging around my house to find my doorbell transformer, validating voltage on the box versus product requirements in the compatibility checker and the breaker, I ordered my Nest Hello with confidence.
Just a note about finding doorbell transformers. There is no standard mounting location. I found mine attached to a random junction box on my basement ceiling. When starting the process I read that people have found them in their attics, buried in closets, by the furnace, etc. Often the only way to sort out its proximity is to start turning off breakers. If you do not know where your transformer is, happy hunting, but the payoff is worth it.
Install
Device installation was relatively straight forward. It took about 20 minutes from start to finish. After unboxing the device sign into the Nest app, scan the QR code on the back of the Hello to add it to the app. Once it is added assign it a location in your house and follow the guide in the app, which will talk you through the install step by step or you can follow the written instructions in the box.
















All told an easy install. Using the app's step by step instructions shows that Nest is going to great lengths to make its products consumer friendly. Nest recommends professional installation. I do not find it necessary. If you have ever replaced a wired light fixture this is a cinch.
Use
I found Nest Hello configuration and use intuitive. It is highly customizable, particularly, with how much video bandwidth is used and notification settings.
Hello's Home/Away Assist will turn off the camera when you are Home. There is also a schedule option if you only want to record during specific hours or days. This is particularly helpful if you want to conserve bandwidth, only want to record when you are Away or during specific windows. If bandwidth usage is a concern, the Video Quality Bandwidth section enables you to alter video quality; low, medium or high.
Low video quality setting during daytime is clear enough, though has significant quality degradation when zoomed. When using the Hello's Night Vision nighttime and low light video is grainy and edges blurred but functional.
Medium video quality is noticeably clear, for example the edges are noticeable crisper, both for day and when using Night Vision. Zoomed video though a bit clearer quality breaks down the more it is zoomed.
The HDR quality bump is on display with high video quality. Close up video on high quality video is sharp and well defined. Zoomed video, particularly on highest zoom while clearer than at lower video quality levels, is still fuzzy. For example, you will not be able to see license plate numbers on a car parked across the street at any video quality level. I am not sure that the video quality improvement is worth 300GB of data month unless you really want pretty video of the default view.
The other factor that contributes to camera data usage other than video quality; continuous streaming to the cloud. Nest Hello as mentioned above continuously streams video to the cloud for Nest Aware, if you have a subscription. Or if you do not have a subscription it streams when you are watching your camera. If bandwidth or data caps are an issue you may want to reconsider a Nest Aware subscription.
My home internet plan has standard broadband speeds, upload 5-10Mbps and download 75-100Mbps, and includes 1tb data usage. I am less concerned about running out of data. I settled on low video quality to validate long term how usable it is. Thus far I find the low video quality, though a bit blurred around the edges, acceptable. It is sufficiently clear in my notification zone to validate who is coming and going.
Some Hello features can only be configured on the website, such as Camera Sharing, others can only be configured from the app, such as Visitor Announcements. It would be handy if it were possible to do everything from both portals.
Hello features that stand out to me are Visitor Announcements and Activity Zones. Visitor Announcements enables the Nest Hello to communicate over a smart speaker, Google Home or Alexa, via Google Assistant. The speaker announces when the doorbell is rung that someone is at the door.






Default Hello monitoring notifies for People, Motion and Sound. It defaults to push notifications. I found accepting the default monitoring configuration can be a bit too chatty. I am only interested when a person walks up to my door. I created an Activity Zone in the app, only accessible with a Nest Aware subscription, to focus on my steps. In Notification settings for my Activity Zone selected People, unselected Motion and Sounds. Four zones can be created per camera. It does not change what gets recorded, only notifications.
The feature that gets the most attention is Familiar faces. Familiar faces is a distinct Hello feature, only available with a Nest Aware subscription. If enabled Hello's algorithm will look for faces. The camera will develop a face library. You need to teach the algorithm if the tagged picture is a person's face versus a pet, etc, known versus unknown. Nest Hello will notify you when a known face approaches and announce the name over your smart speaker, if you enabled Visitor Announcements.
Familiar faces is interesting and seems helpful. Because images are streamed to Google's cloud it introduces a series of ethical questions. What is the appropriate use of AI in this context? What about the right to privacy? What are the implications of your face being scanned and tagged for the cloud? For example, would law enforcement be allowed to subscribe to a database of these images and names? The product highlights where innovation is again ahead of existing laws though there are some locations where Familiar Faces is not available based on local biometric laws.
Conclusion
I held back initially on a smart doorbell due to cost and lack of integration options with my existing Home Automation Controller (HAC). The Nest Hello hardware costs are a bit of a barrier, as is the subscription service – although not out-of-line with competitive products. It is possible to find a Nest Hello now with a Google Home included for $229. It is functional without Nest Aware but many of the best features are only accessible via a Nest Aware subscription.
HAC integration options are lacking too, no direct integration or IFTTT. Google Assistant integration though for doorbell rings is a good start. Video quality is excellent at the highest quality if you have a generous internet plan. At the lower quality levels is sufficient.
Despite cost and integration limitations the video quality, talk, smart speaker integration, and notification options make it worth it. Overall, I am a fan of its ease of use, installation and performance.
Pros:
Easy to install (assuming a level of comfort with a screwdriver and basic electrical)
Easy to use
Integrates well with existing Nest products
Improved video, wide angled view and management features not found on competitive products.
Cons:
Only integrates with other Nest products and Google Assistant
Hardware Cost + Subscription
High bandwidth usage