Rachio Generation 2 Smart Sprinkler Controller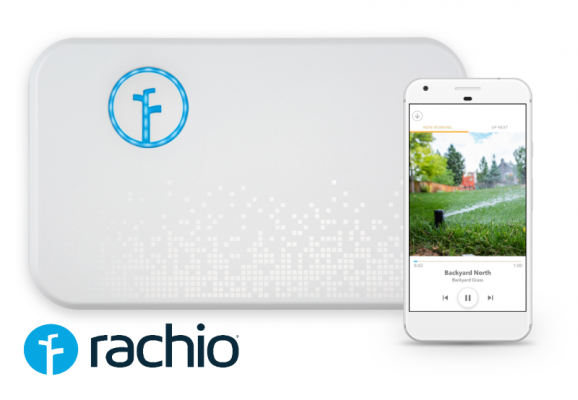 I put a "smart" sprinkler controller on my shopping list a long time ago, but it was not until last month when I woke up to the sound of rain and saw that my sprinklers were on!  I decided it was time to take action. Part of the reason why I had not before, is that there are so many options available, and I could not devote the necessary amount of time to research all of the different choices. Finally provided with sufficient motivation, I put in the effort and opted for the $199 SRP (~$170 street) eight zone Rachio Generation 2 "Smart Sprinkler Controller".
Device
The Rachio Generation 2 is 9.25″ L x 5.625″ H x 1.625″ W, weighs in at 1.2lb, and supports an operating range of -4°F to 140°F. There are 8 and 16 zone models available. It is easy to tell which you have by examining the number of wire connectors on the inside (this is the 8).
Use
Install
Installation is quick and easy as long as you know where your current controller is and how to operate a screw driver. Just make sure to connect the zones up in the same order as they were before by taking a picture of the old wiring. Once connected to the existing infrastructure, plug in the AC adapter via its 6' power cord, and step through the first-run. Power consumption is a miserly 1.9W.
First Run
The first-run experience is somewhat lengthy, so make sure to set aside 10-15 minutes to perform the setup tasks. You will need to create an account, set your address for weather information, connect to a 2.4GHz 802.11 wireless network (no 5GHz support here), and walk through the zones. Zone type is quite important as well as there are different types of flora and sprinkler heads. Don't worry if you are not familiar with your lawn setup. The app makes it quite easy to discover and select the right choices. Also, it is worth pointing out, that the device will update its firmware during this process – thank you Rachio!
Schedule
Creating a schedule is the next step. Here, Rachio also does a good job of leading you through the process, and ensuring that the defaults make sense (e.g. skip the session if it is below freezing). I did find that the run times were a bit generous however (possibly better-safe-than-sorry?) so I ended up shortening them up a bit.
App
Good home automation should not require fiddling, so once everything is setup, there is not much more that needs to be done within the app. It does a good job of reporting status, including when it ran, when it will run, and the weather. Where I live in Chicago, the weather is reasonably general so it does a great job of only running when it needs to – i.e. no more watering in the rain. But, in an area where there are more micro-climates, how well the Generation 2 will work depends mightily on the proximity of the weather station. Now, this is one of the [few] major differences between it, and the Generation 3 (5GHz 802.11AC being another), which claims to offer much more granular weather adaptability, but at a significantly higher price.
It is worth noting as well, that the Rachio app supports access sharing via separate accounts. So no need to hand out your credentials to your partner, or housemates, if they want to play with the sprinklers too. The only complaint I have with the device is how difficult it is to change the Wi-Fi network it connects to. You must have physical access to the device and follow a reset procedure to perform what should be a simple and straightforward process. Although, because it is not a common occurrence this is certainly more niggle than blocker.
Conclusion
I have been very pleased with the Rachio Generation 2 smart sprinkler controller. It addresses exactly the problem that I had with our old "dumb" controller by utilizing weather data to make intelligent decisions around whether the lawn needs a drink. While it works well for where I live, other locations may need to step up to the $230 Generation 3 (the Generation 2 is easy to find for $170, but often goes down to $150) – which can negate some of the benefit.
Pro:
Simple, just works, smart sprinkler control
Well thought out first-run experience and app
Reasonable price
Con:
Changing Wi-Fi networks overly complex
Generation 2 not the best option of your location has varied micro-climates (Generation 3 should address this)