SiliconDust HDHR5-4US CONNECT Quatro network tuner for OTA cord cutters

SiliconDust recently upgraded their HDHomeRun (HDHR) CONNECT line of over-the-air (OTA) network tuners to include a $149 MSRP four-stream Quatro (HDHR5-4US) companion for the $99 MSRP two-stream Duo (HDHR5-2US) model. Both models feature 100Mb Ethernet, all new internals, and an attractive form factor. Updated silicon components should bring power savings, so if SiliconDust can also maintain the stability of the older models we will have a solid recipe for success whether you just want an OTA tuner or are looking to cut the cord.
Device








I enjoy the retail friendly packaging of the SiliconDust HDHomeRun tuners. Whether in CONNECT, EXTEND, or PRIME guise, it communicates effectively to the end user why they want the device, what it does, and how you can use it. In this case, we have the four-stream Quatro (HDHR5-2US) OTA model. Assuming you have an antenna and network already, the 5V/1.5A power adapter and Ethernet cable alongside the HDHR Quatro  (HDHR5-2US) included in the box provide everything we need to get started.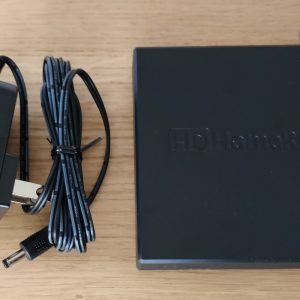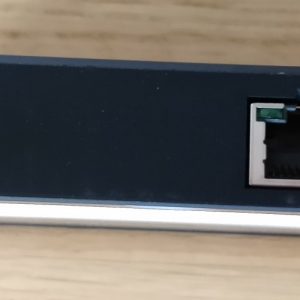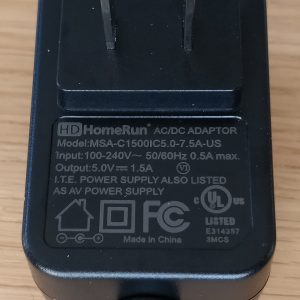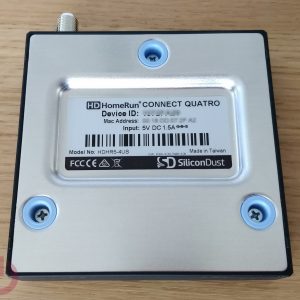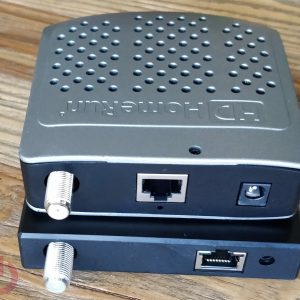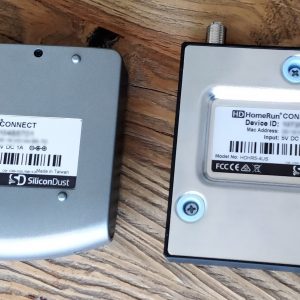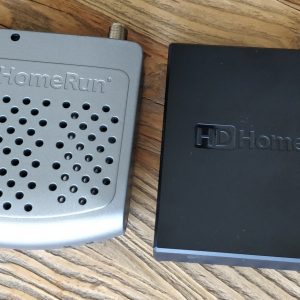 When SiliconDust updated the CONNECT family's silicon the appearance also underwent a change for the better. Not that the older models were ugly, just that they didn't have quite the same appeal as the new Quatro (HDHR5-4US). While I do really like the changes to the form factor, two complaints remain with the device. First, it lacks native Power over Ethernet (PoE) support, and second, there isn't a built-in way to wall mount it without the tried-and-true use of 3M Command Strips (which along with electrical tape are at the top of my toolbox). One thing to note is, if you were using a third-party PoE adapter with a previous generation CONNECT, the size of the barrel plug has changed. I am a little conflicted on whether PoE is an essential feature for consumer use (especially for a network tuner). I think we can all agree that the use case is much clearer for a camera or doorbell. Whether we gather sufficient consensus around other products PoE certainly provides more freedom to install the Quatro (HDHR5-4US) in the best location by removing one of the three current constraints. Obviously SiliconDust would need to weigh the increased flexibility and consumer value against the additional hardware cost, who knows maybe they already have…
Use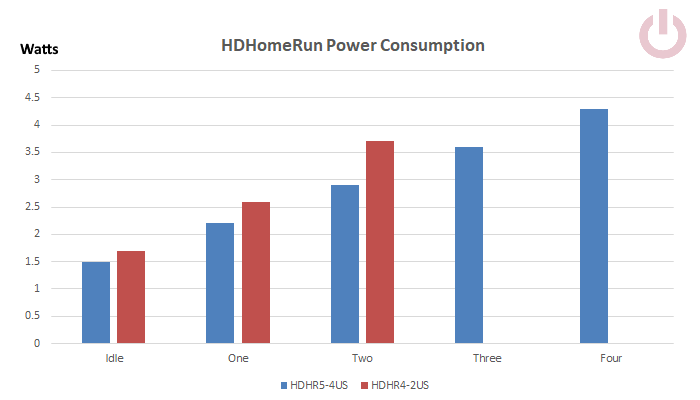 We were promised an impressive decline in power consumption from the updated HDHR CONNECT at CES. SiliconDust did not disappoint. Looking at the numbers, compared against the already miserly previous gen CONNECT HDHR4-2US, we can distinctly see a decline across the board. Looking at idle (12%), two streams (22%), or even at three (where consumption is still 0.1W less than the old HDHR4-2US at two), the Quatro  (HDHR5-4US) delivered in spades.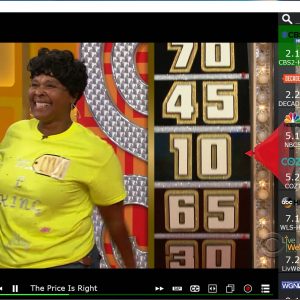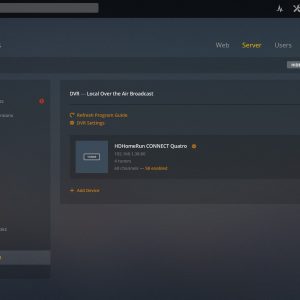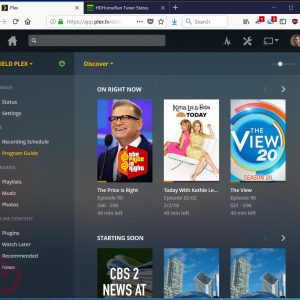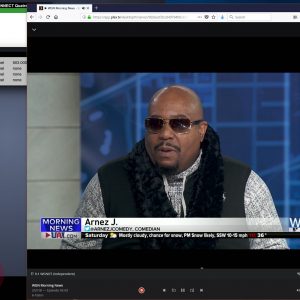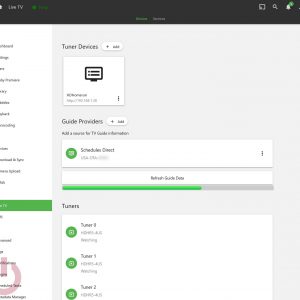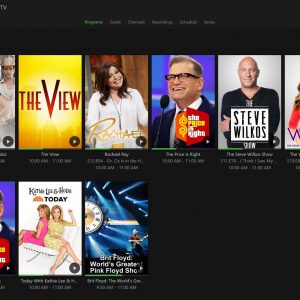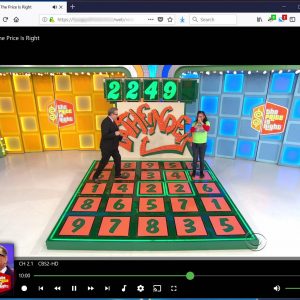 Whether your TV/DVR consumption preference is one of the older home theater PC (HTPC) DVR platforms or the new breed like Plex, Emby, or SiliconDust HDHomeRun DVR — the HDHR CONNECT Quatro (HDHR5-2US) just works. You set it up following the relevant steps per platform, and it just goes. Recording or streaming, the HDHR5-4US works like a champ. I have tried to break it in so many ways over the last few weeks–including a 4×48 hour streaming session–and, stubbornly, it has just kept plugging away.
Surprisingly enough, the only hiccup I came across with the HDHomeRun CONNECT Quatro (HDHR5-2US) was during the initial setup with the HDHomeRun DVR software. Where I expected it to have a slightly better user experience adding the new device into my existing configuration. I'm not exactly sure why it didn't recognize the new tuner should get DVR capability even when attempting to use the my.hdhomerun.com site for setup. Eventually, I searched through my email until I found the direct my.hdhomerun.com/dvr/register.html link sent to me when I signed up and entered my account information. All told, I must have spent a good 10-15 minutes figuring that out. Shameful ;).




Thermal performance was very good. Even after engaging all four streams for an hour, the HDHR CONNECT Quatro (HDHR5-4US) was only warm to the touch. Now, this was in a cool 66F room in the basement (it is winter after all.) So, this could possibly perform differently in a warmer environment, like an attic, during the summer. But, given what we've seen here, there appears to be plenty of thermal headroom for the device and underlying silicon.
Conclusion
It is both a joy and a little frustrating to review devices like the SiliconDust HDHomeRun CONNECT Quatro (HDHR5-2US) because there really is nothing to complain about. It works, and it works well. Stability has been exceptional. The $149 MSRP is reasonable. SiliconDust has improved the form factor, looks, and power consumption compared to the previous generation CONNECT. You aren't locked into SilconDust's HDHomeRun DVR application either. Platform selection is completely up to you; whether that's Emby, Plex, or the myriad of HTPC DVR platforms out there. If only other companies would be so open. So, the things that I can moan about are incredibly minor: native PoE would be great, and it I would like to be able to mount the HDHR Quatro (HDHR5-2US) on the wall without using 3M Command Strips. One of these I can even address myself with third-party PoE adapter. Sigh… it's been tough.
Well done SiliconDust. You have perfected the over-the-air (OTA) network tuner.
Pro:
Stable
Low power
Price
Works with everything
Looks good
Con:
HDHomeRun DVR provisioning process a bit kludgy
Wall mounting solution that didn't involve 3M Command Strips would be nice
No PoE
Thanks to SiliconDust for providing the review sample.
Auto Amazon Links: No products found.