NETGEAR ProSAFE 8-Port Gigabit Click Switch GSS108E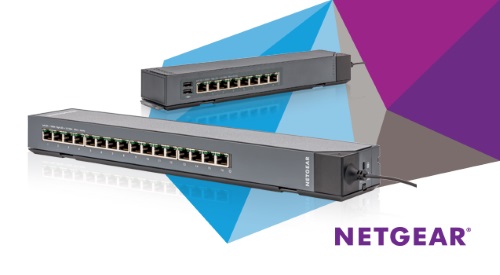 First thing, let's get it out of the way that managed switches aren't for everyone. The vast majority of users won't require features, like port mirroring, VLANs, QoS, or link aggregation which are typically offered by a managed switch, but for those who do there is simply no substitute. With that said, given the $70 price, flexible "Click Switch" mounting, and included USB charging ports even if managed features aren't on your "must" list the NETGEAR GSS108E warrants a closer look.
Device
As a business focused device, the NETGEAR GSS108E's packaging lacks much of the "pizazz" found on consumer oriented kit. Frankly, I don't see that as a bad thing though. The features of this managed switch are clearly spelled out, both at functional and aesthetic levels so I didn't miss the flashy colors or smiling faces. Inside we find the switch, a slick dual-orientation plug, and "Click Switch" mounting hardware which includes the bracket, two Velcro tie downs and a pair of screws.
Mounting flexibility is a key aspect of the NETGEAR GSS108E's "Click Switch" feature. Which combined with the svelte dimensions (305 x 65 x 35mm), enables the GSS108E to be mounted in many different locations, like the table leg shown above, where it would be impossible to place most competing devices without a healthy helping of duct tape (guilty). Complementing this flexibility, the power cable can be oriented in two ways; either with the wire extending in parallel or perpendicular to the chassis. This comes in handy both out in the open and should the switch find its home inside a structured wiring panel. It should also be noted that the mounting bracket includes sticky pads on the bottom to assist in installation, holding it in place temporarily and ensuring that the surface is not damaged by the mount. It's hard for me to stress too much how easy in contrast to other switches (which generally just have screw slots and no way to temporarily tie them down) it was to mount the NETGEAR GSS108E in various positions because of the two-part design and form factor. Even if the managed features have no value in your installation, this level of flexibility is a "killer" feature.
Use
Like most modern managed switches the NETGEAR GSS108E is configured via a web based user interface (UI). No configuration is required to get started so you can plug in and go, but there is at least one gem (the status LEDs can be disabled) – even if you don't plan to leverage the advanced features – here so it's worth a poke around. Unfortunately the GSS108E lacks link aggregation (the step-up, sixteen port, GSS116E has it), but the other features commonly found on managed switches like port & 802.1Q (tag based) VLAN, port & 802.1p (DSCP based) QoS, port status, cable testing, rate limiting, and port mirroring are all included so it is mostly feature complete. I haven't ever personally needed to enable link aggregation, but in a more demanding environment (e.g. multi-user NAS) it could be a blocking issue.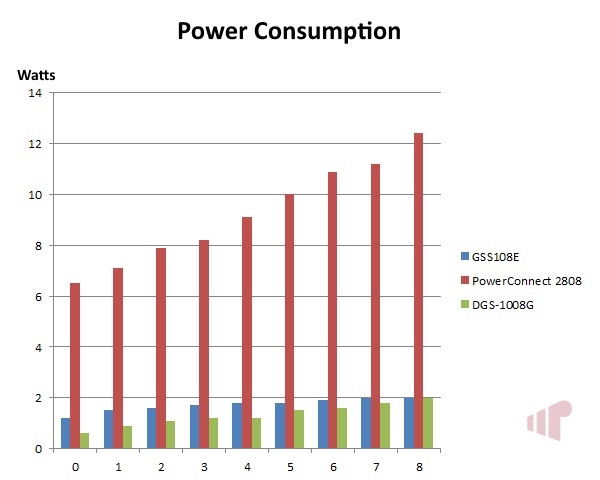 Because of the "intelligence" that is required to support a managed switch, historically the power consumption profile is much higher than an unmanaged counterpart. Looking at the graph above we can see an example of that in the Dell PowerConnect 2808 – which pulls over 12W with all eight ports enabled. In comparison the NETGEAR GSS108E is quite miserly, with a profile quite similar to the eight port D-Link DGS-1008G "Green" unmanaged switch. It is worth noting that because of its USB power ports the GSS108E can use significantly more electricity when charging devices (documentation states up to 20W, but I never saw more than ~14W with two devices attached). The inclusion of USB charging is an interesting value-add for the device (great for conference room deployments), but the 1A output is somewhat disappointing given the prevalence of tablets and mobile phone which support 2A+ available today.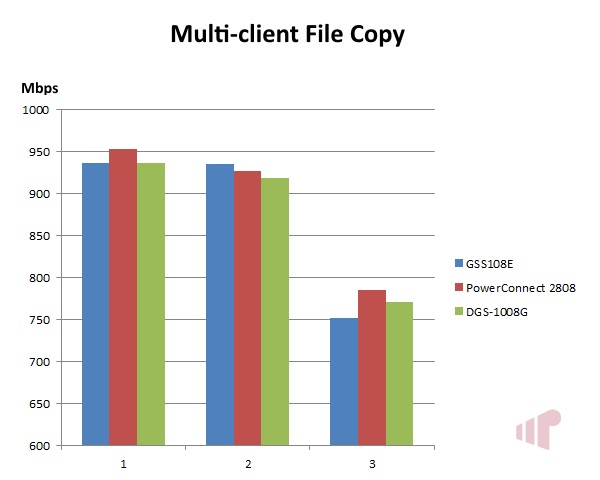 To get a feel for the relative performance of the NETGEAR GSS108E, it was tested against two other eight port Gigabit switches; one managed (Dell PowerConnect 2808), and one unmanaged (D-Link DGS-1008G). The graph above represents the actual throughput of three PCs copying a large file from three other PCs: so two systems per-file copy to ensure that maximum I/O is achievable per set. At first glance it would appear that the third set of systems experienced a load-based performance degradation at the switch. This is not the case however, because after noting this artifact each set of systems was tested on an individual basis to ensure that each set of systems achieved performance similar to what is represented above — with each set demonstrating single test results consistent with what was measured during the multi-client test. The set "3" systems simply don't have the same level of performance as the other sets (coincidentally, it is the only set where one of the PCs did not have an Intel NIC). With that out of the way, we can focus on the relative performance of the switches in each set, leading to the conclusion that while there isn't a significant gap between the three (something that was a bit surprising) the PowerConnect 2808 does enjoy a general advantage, with a negligible difference between the GSS108E and DGS-1008G.
Conclusion
Every network does not need a managed switch, but there are many scenarios where the features they provide will still add value – even in a home environment. The use of VLANs to segment devices that don't play nice with others, internal QoS, and port mirroring (<cough> WireShark :)) are examples of this. The value argument was difficult to make historically with managed switching commanding a significant price premium over their counterparts. With its $70 price tag, the NETGEAR GSS108E takes great strides in reducing this concern. Adding in the fantastic form factor, power consumption, and general flexibility if you've ever been tempted by a managed switch, this one is worth a hard look. Unless link aggregation is a must have feature of course.
Pro:
Low power
Managed features, great price
Includes USB charging
Status lights can be disabled
Flexible mounting
Con:
USB charging is 1A
Link aggregation (port trunking) not available on the eight port model
Thanks to NETGEAR for providing the review sample