Thecus N2560 2-Drive NAS System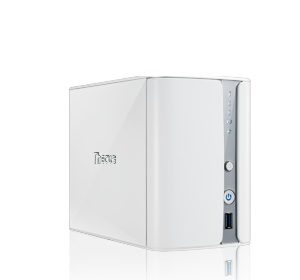 Back in April, we took a look at the 5-Bay NAS N5550 from Thecus, which was one of their first NAS units including an HDMI port to allow hybrid functionality by combining the reliability of a NAS with some of the features of a dedicated HTPC (home theater PC). With conventional hard drives reaching 6TB these days, support for five disks is unnecessary for many buyers , so Thecus has released a two-bay version of their NAS, the N2560. Available in white, this two drive NAS also includes an HDMI port but has a much smaller footprint, which increases the installation flexibility and reducies the potential for noise pollution, alongside a much more affordable price.
DEVICE
There are some similarities between the N5550 and the N2560 below, but for the most part the capabilities from an XBMC perspective should be identical. The biggest difference is the drop in clock speed—down from 1.86GHz to an Intel Atom CE5335 system on a chip (SoC) running at 1.6GHz. The N2560 is a lot quieter running as it doesn't have a full power supply unit (PSU) like the N5550 had, so the only noise generated is from the single 120mm exhaust fan and the hard drives themselves.
Item

Spec

Processor

Intel® Atom™CE5335 (1.6GHz Dual Core)

System Memory

2GB DDR3

LAN Interface (PCI-e)

RJ-45×1: 10/100/1000 BASE-TX Auto MDI/MDI-X
WOL supported

USB Interface

USB 2.0 host port x2 (back x2)
USB 3.0 host port x1 (front x1)

HDMI Output

HDMI port (back x1)

Audio Output

SPDIF Toslink (back x1)

Disk Interface

2x SATA for internal

Power Supply

40W external power adaptor

Power Management

Auto power on after shutdown due to power loss

Buttons

Power button
USB copy button
Reset button

Environment

Temperature: 5°C to 40°C
Humidity: 0 ~ 80 % R.H. (Non-condensing)

Chassis

2 bay Tower

Dimensions (HxWxD)

166 x 114 x 210 (mm)

Weight

1.35(Kgs)/2.98(lb)(NAS only)

Certificates

CE/FCC/C-Tick/VCCI/BSMI
RoHS
WEEE
It's also significantly lighter than its predecessor, coming in at under 3lbs without drives. The unit is only available in a shiny white plastic and metal enclosure, which users will either love or hate. We prefer black when thinking of our electronic components, but the fact that the NAS can be tucked away out of sight because of its small footprint will make it easy to hide.
The N2560 is cooled by a rear exhaust 120mm fan, also on the back are two USB ports , LAN, as well as an HDMI and S/PDIF connector. The power brick is of the external variety, similar to a laptop, which is less heat within the system.
Hard drives are mounted vertically and require the special rails provided by Thecus. Which are tool free and snap into the screw holes on the hard drive, allowing the drives to slide in and out with a lever at the bottom to release. It's a simple and effective system. Unlike some larger NAS units, there is no ability to lock the drives in place.
The front of the system has a blue power LED, a reset button, a USB 3.0 port, and then some LEDs which blink to show activity or errors.
EXPERIENCE
Setting up the Thecus N2560 was very simple, with a browser based setup available. Alternatively for the more uninitiated, there is a Thecus client application which can be downloaded and run to detect and configure the unit. Standard configurations consistent with what we expect from a consumer level NAS unit are available including configuring the array and other sharing and storage settings. We should note that the N2560 comes with the latest version of their OS6, where the previous version had OS5 on it—the only noticeable difference was that the XBMC installation was a simple buton to enable and upgrade, versus the previous version having to download. The interface was smooth and easy to follow with a plethora of options for tweaking and monitoring NAS performance.
The XBMC experience was a bit more challenging for us, as initially the unit refused to boot into XBMC and show on screen. After some troubleshooting with Thecus technical support, they were able to update the unit's OS and that fixed the display issue. Bootup time is lengthy taking almost three minutes to make it into the XBMC experience, but the benefit of running Linux, as the Thecus does, is that it rarely needs to be restarted. We found the experience to be quite responsive and fluid with the few skins that we installed, such as Aeon.
Media playback was nearly identical to what we experienced on the N5550, which is to be expected with the level of processor found on these units. Most all 720p content in any container variety was able to play smoothly without any lag or stutter issues, but the system choked on true 1080p media content. A variety of files of varying bitrates were attempted. All other media files were able to be played, and as long as users understand the limitations of the system, we feel these features will be welcomed by most.
Power consumption was very good, consuming 24 watts in idle with a single drive (30W with two drives). Thecus state that the system can run as low as 9W, but this is only accomplished during low power state where the hard drives are powered down, making the NAS unit less than useful. Hard drive transfer speeds were solid, across a Gigabit router, we found speeds as high as 89MB/s copying from the NAS unit to our PC, and then 27-38MB/s copying from the PC to the NAS. One side note, while playing local media video content over XBMC to a 1080p display, the unit consumed 25.5W.
CONCLUSION
With an MSRP of $380, but available online for less than $240, the Thecus N2560 is an extremely affordable hybrid unit that can serve as a reliable method of backup and redundancy, and also as a secondary HTPC client. Depending on your video playback needs, the N2560 could even serve as a dedicated HTPC, although there are always some sacrifices to make when using a modified version of XBMC specifically optimized for this type of system versus a dedicated PC.
Overall the system is lightweight and accomplishes the tasks which it advertises, as Thecus continues to expand their lineup of hybrid HTPC/NAS units. In the future, we'd love to see some increased options from an HTPC perspective, possibly expanding to supporting Plex or more modifiable versions of XBMC, but that's a minor quibble.
PROS:
Low power system
Quiet operation
External power brick
Responsive XBMC Experience
CONS:
Only available in white
Cannot play 1080p videos
Thanks to Thecus for providing the review sample.