Perfect Home Theater (PHT) T-ITX-6: Thin-ITX HTPC Chassis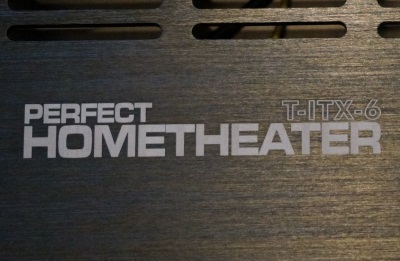 There are many different types of home theater PC (HTPC) enclosures; with most falling somewhere in the spectrum between a throw-everything-including-a-big-O'-GPU-in-the-box and the small-silent-discrete varieties. Supporting only Thin-ITX motherboards the $160 Perfect Home Theater (PHT) T-ITX-6 is firmly located in the latter category. That's not to say that expansion is strictly limited to just an optical disc drive (ODD) however, with the chassis supporting one low-profile PCIe and up to three 3.5" hard drives, or a Slim-line ODD, two 3.5" and one 2.5" storage devices. With such a sleek aluminum profile there must be some compromise required, let's dig in and find it.
Chassis
The PHT T-ITX-6 arrived well protected enclosed in a cloth-like fibrous bag, inside a foam clamshell, inside a high-quality cardboard box, inside a high-quality cardboard shipping box. Needless to say, it made the trip overseas unscathed. Attention was clearly paid, not only to ensuring that the chassis would make it safely but also to the organization of items within the box. This is definitely packaging that you will want to keep for your next moving day, or could easily use to build and ship an assembled HTPC to a less technical friend or family member. I especially appreciated the inclusion of the cloth-like bag; it provides an excellent surface to work on the enclosure, ensuring the brushed aluminum doesn't get scratched.
Like the T-ITX-6, the accessories were also packaged extremely well; for example each set of screws were divided by size in individual zip lock bags – making it easy to locate the right size when the time came to use them. The review sample included two optional components: a right-angle PCIe x4 adapter and the RC-260 (RC-6 compatible) PHT IR (infrared) solution.
Specifications
| | |
| --- | --- |
| Dimensions: | 17.125″(435mm) L x 12.25″(310mm) W x 1.875″(48mm) H |
| Form Factor: | Thin-ITX |
| Power Supply Unit (PSU): | External Thin-ITX (plenty of space for an internal one too if you can find it) |
| Front Panel: | N/A |
| Construction: | Aluminum |
| Display: | N/A |
| Storage: | 3x 3.5" internal or 2x 3.5" + 1x 2.5" + 1x Slim-line ODD |
| Expansion: | Low Profile PCIe |
| Other: | Window for optional IR solution |
The presentation and materials found on the aluminum PHT T-ITX-6 HTPC chassis are impeccable. Seams are tight, enough so that PHT even recommends loosing it up a bit during assembly. The tactile grain from the brushed black finish looks fantastic, and while there might be some difference of opinion on the completely clean front panel, I really appreciated the lack of USB ports and headphone jacks – just a power button, LED, IR window, and disk slot . There is no eject button provided in the space around the slot loading Slim-line ODD, but given the lack of a one-size-fits-all standard for placement this was the right decision. The IR accesory shown is optional, but that doesn't mean the window would go to waste if you decide to skip it because there's plenty of space behind it to install something else – like an external eHome receiver. Inside, one 60mm x 60mm x 15mm fan is included, with mounting holes for two more – one of which overlaps the second 3.5" mount point. Natural ventilation is plentiful, so cooling won't be an issue in most circumstances. The size and design of the case do present a challenge when selecting rotational storage though; I was unable to find a 7200RPM hard disk drive (HDD) that was quiet enough to install in the T-ITX-6. The whiring noise from the drive that would be swallowed up inside a bigger, less perforated enclosure passes straight out into the environment. I was only completely pleased with noise levels from a 5400RPM 2.5" HDD, but low RPM "Green" 3.5" drives were also acceptable. These results weren't too surprising as they match the guidence offered by PHT which specifically calls out surveillance/AV drives.
Before moving on to the build it is important to briefly discuss the heat-sink and fan (HSF) requirements. Because of the T-ITX-6's height, options for low-profile HSF are extremely limited. According to PHT, the number was two, one of which is unacceptably loud. To resolve this PHT offers a special version of the Akasa HSF with a customized RPM profile focused on mimimizing noise and sells it for $14 with the chassis (or $16 à la carte). Given the reasonable price for a screw down HSF that works, it makes sense to grab one when purchasing the T-ITX-6.
Build
CPU:
Intel Pentium Dual Core G3250 (3.2GHz)
Heat Sink and Fan (HSF):
PHT Low profile
Motherboard:
ASUS H81T
RAM:
ADATA AXDS1600GC4G9-2 8GB (2x 4GB) DDR3 1600 1.35v (CAS9)
Storage:

Intel 525 Series SSDMCEAC240B3 240GB mSATA SSD
Hitachi HTS541616J9A00 160GB 5400RPM 2.5" HDD
Western Digital Red WD10JFCX 1TB IntelliPower (~5400RPM) 2.5" HDD
Western Digital Black WD101FALS 1TB 7200RPM 3.5" HDD
Samsung HD103UJ 1TB 7200RPM 35." HDD
Seagate Barracuda ST2000DM001 2TB 7200RPM 35." HDD
Seagate Barracuda Green ST2000DL003 2TB 5900RPM 3.5" HDD

Optical Drive:
Philips & Lite-on DL-4ETS Slim-line Blu-ray
Power Supply Unit (PSU):
19V Thin-ITX
Expansion Card:

NVIDIA GT430 1.5x width PCIe
AMD 5500GT 1x width PCIe
AverMedia DUET ATSC tuner slim PCIe

OS:

Windows 7 Ultimate 64-bit
Windows 8.1 Pro
Assembling the PC components inside the PHT T-ITX-6 was generally quite straight forward. It is important to remember to stick down the included rubber rings anywhere a HDD will be installed to isolate vibrations from the chassis. Given the results from testing 3.5" drives, I was a bit disappointed that there is only one 2.5" mount (under the ODD tray), but this issue is easy to work around with a 2.5"->3.5" adapter. Other than this there were just a few niggles noted: the first that the length of the included PCIe blank makes it impossible to install the rear I/O shield without removing it, and because of the height of the T-ITX-6 I initially had an issue with the SATA power cable that came with the ASUS H81T "tenting" the top of the chassis. This was easy enough to resolve by routing the cable under the support beam (instead of around) and by applying some gentle pressure to shape the cables. It's unclear to me why the included ASUS SATA power cable was so tall when the whole point of selecting a Thin-ITX is to minimize height, and it looks like they include a right-angle version with some of their other Thin-ITX boards. Both of these points are just things that you will need to be aware of when working with the T-ITX-6, but there is one place where I would like to see a slight modification to the case.
UPDATE:
My contact at PHT pointed out that if you connect the right-angle SATA power adapter to the motherboard instead it works around the "tenting" problem.
Taking a look at the ODD installation, we can see that it was not possible to install the Slim-line Blu-ray drive flush against the front panel. Obviously this isn't a big problem, or really even an issue because it does not inhibit functionality in any material way, but I would have preferred that the screw holes were slots instead so that more flexibility was there to position the drive for a cleaner installation.
The ASUS H81T does not have a full size PCIe slot so I was not able to test the right-angle adapter accessory, but I did test fit a few different cards in the T-ITX-6 to hopefully document the parameters. The most important thing I discovered is that very little support is provided by the chassis itself with even the AverMedia DUET TV Tuner PCIe card exhibiting significant downward float. Where many cases with horizontal PCIe mounts will include a brace for the bracket's tongue at the bottom, only the rear I/O shield is available in the T-ITX-6 to anchor the card which does provide some assistance, but not much. In practice, this means that it is crucial to use a rigid right-angle PCIe adapter (like the one PHT included) instead of a cable (if you could even find one that will fit) so that the motherboard can provide the necessary support.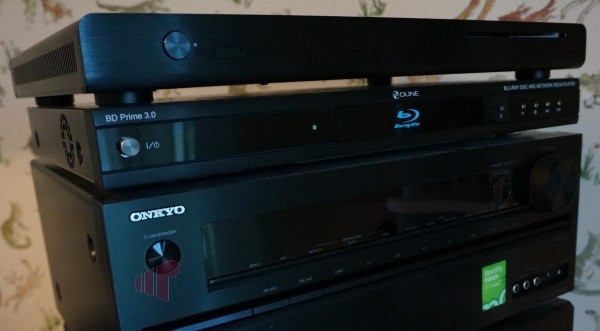 Finally just a relative size comparison versus an ONKYO audio video receiver (AVR) and a Dune BD Prime 3.0. As we can see, it blends in quite well.
Use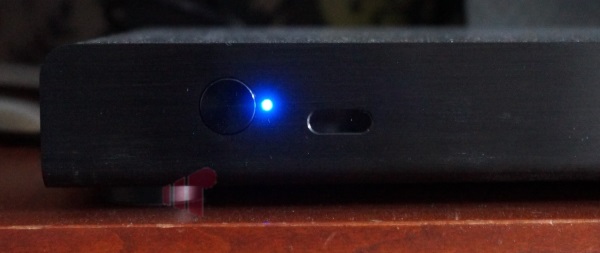 It doesn't matter how great a HTPC chassis looks if the power LED is a spotlight. So the muted blue status indicator on the PHT T-ITX-6 was brilliant in its discretion – just perfect.
By default the power toggle command on the IR solution will trigger a power button press on the PC, so you have the flexibility to control what happens in that case via the PC's power settings (shown above). There are a couple other firmwares available for the IR device that enable Alt-F4, or straight standby, which can be flashed on via this process. If you have an RC-6 based Windows Media Center (WMC) remote already the receiver will work with that the way you expect it to. Both that and the RC-260 remote that PHT sells support two modes of operation: one geared toward 10' apps and the other more towards desktop use. Transport controls and other keys map correctly in WMC and other apps (e.g. XBMC), but you do need to be aware that because of how WMC detects remotes support simple triple-tap does not. Outside of dedicated HTPC apps the ability to flip between modes on the RC-260 to enable pointer movement was great, so even if you plan to use a universal remote it might be a good idea to pick one up so you can program both sets of commands.
Given the way noise passes straight out of the case I was a bit concerned that the PHT T-ITX-6 chassis would exhibit some problems when stress was applied. To apply test this Prime95 was run for eight hours and CPU temperature and fan RPM noted every 30 minutes. As we can see there was no merit in those concerns, even under an extended period of stress the HSF hovered around 1800RPM while keeping the 53W CPU well cooled in the 22 C° (72 F°) room. What is especially interesting about these results is how well managed noise levels were both at idle (inaudible) and under stress (slightly audible) by the PHT HSF and case fan.
Conclusion
The Perfect Home Theater T-ITX-6 looks fantastic, exhibits an excellent cooling profile, performs silently, and provides an amazing amount of expansion flexibility for such a thin HTPC enclosure. After unboxing and spending time hands on with the T-ITX-6 I can't even knock the price; $160 feels good for this premium aluminum chassis. Some might point out that larger PCIe (anything over 1.5x) devices or a five disk RAID array won't fit, but frankly they are missing the point. This case isn't meant for that, it is intended to provide a slim and sleek A/V component that fits in the stack; the kind of HTPC which highlights the HT over the PC. While I can't say that this is the perfect HTPC chassis for everyone, it is exactly what I want from one. So when it was time to write up the "cons" I had nothing. Well done.
Pro:
Build/material quality
Looks great, fits in perfectly with other A/V components
Expansion flexibility in limited space
Excellent cooling
IR solution available
Con:
Thanks to Perfect Home Theater for the review sample.