D-Link DIR-880L Wireless AC1900 Dual-Band Gigabit Cloud Router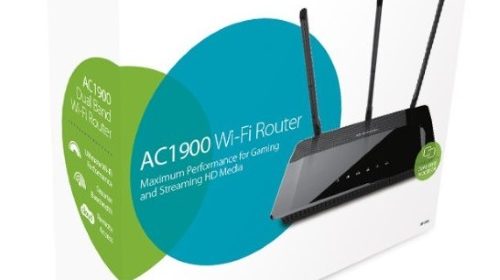 It isn't safe to call it a glut, but we are increasingly spoiled for choice when it comes to 802.11AC routers. Choice is never a bad thing so it was great to see D-Link bringing an AC1900 (1300Mbps 5GHz + 600Mbps 2.4GHz) entrant, the DIR-880L, into the fray. At $175 street ($209 SRP) this wireless router/bridge is $10-$20 cheaper than its rivals from the other major networking OEMs, but offers almost exactly the same features set: 1GHz dual-core Broadcom (BCM4708A) SOC, attached storage via USB 2.0/3.0, three stream 802.11AC, four (LAN) + one (WAN) Gigabit Ethernet. If it can also match the stability and performance, D-Link will have a winner on their hands.
Device
The D-Link DIR-880L AC1900 Wi-Fi Router's packaging is attractive and functional– doing a great job of presenting and protecting the contents. Including the router, getting started information, Ethernet cable, power adapter, and screws for mounting.
Between us, I was never a fan of D-Link's previous cylinder router design, mostly because it meant internal fixed orientation antennas, but also because it made wall mounting more difficult, so I was really pleased to see them return to a more traditional (cough, functional) layout. Naturally, it is a bit more difficult to assemble because the external antennas need to be screwed onto the back of the DIR-880L, but the trade-off is more than welcome. It is also worth noting that the mounting holes allow the router to be mounted antennas up or down, and there are no I/O ports on the front so it will make for a cleaner install even if not wall mounting. Status lights are included for Wi-Fi, Internet access and power, but oddly missing for Ethernet (which come in handy when troubleshooting or looking for a free cable). The LEDs are quite muted though, so only those requiring total darkness from the router will need to break out the electrical tape. It is nice to see that some higher-end devices are coming with a light switch to control status LEDs – hopefully D-Link will consider adding that feature to new models in the future.
Use
D-Link promises "Easy Setup" on the back of the DIR-880L's box and they certainly delivered – it only took a couple minutes to go from powered on to surfing the web. If you do run into trouble, all of the important bits (IP address, Wi-Fi details, and passwords) are printed on the card included in the box. Well done.
The user interface (UI) for the D-Link DIR-880L is clean, modern, intuitive, and easy to use–the integrated firmware update through the UI even works. In fact, the learning curve is probably harder for advanced users who are accustomed to having functionality broken out by content domain (LAN/WAN/Wireless) instead of being presented in a more natural fluid manner geared towards someone less versed in the dark arts of router management. That's not to say that the DIR-880L cannot perform more advanced functions, like port forwarding or static DHCP assignment, just that in some cases you might be overthinking it a bit if the toggle can't be located – I certainly was. That said, those looking for the high degree of tweakability found in DD-WRT or some other community provided firmware (e.g. Asuswrt-Merlin) will be disappointed, because as of this time I am not aware of any custom firmware packages for the DIR-880L. In general this AC1900 router was very stable, reasonably power efficient (8.8W), as well as providing 112MB/s WAN-to-LAN and LAN-to-LAN throughput, and 31.8MB/s read 24.7MB/s write over USB 3.0, but I did experience a blocking issue with a Cisco VPN device where the DIR-880L had to be rebooted every few hours to allow the VPN to function properly. This was the only device and type of traffic I found an issue with, otherwise the DIR-880L worked the way I expected.
Unfortunately, the great ease-of-use story for the DIR-880L is limited to running it as a router. If you decide to flip it into bridge mode, it offers the most difficult configuration scheme that I have run across in any consumer level wireless device. First, you have to change the mode which causes the device to reboot, releasing its IP address and removing it from the network, so if it's not within cable length of the other router it will need to be moved so it can be connected and grab an IP address. Once this is complete, you will need to find it on the network (I looked on my router's client list), and connect to it in a browser. Finally, you configure it much like every other bridge by selecting and authenticating to a wireless network. Unfortunately, after all this effort the device is mostly unusable with frequent disconnections and an unacceptable degree of instability; adding insult to injury USB storage isn't exposed in bridge mode so it isn't possible to create content caches on its side of the network. In testing, the DIR-880L never provided more than 24 hours of uninterrupted wireless connection as a bridge; often needing to be rebooted after just a couple hours to reestablish connectivity. That said, with myriad 802.11AC bridges/repeaters available it is hard to see why anyone would purchase a DIR-880L to use as a bridge, but it is poor that the device shipped with this feature as broken as it is.
To test wireless client performance a large file was copied between two SSD equipped PCs connected via Gigabit Ethernet to the D-Link DIR-880L router and a PC client using an Intel AC-7260 Wi-Fi adapter. The PC client was moved away from the router capturing average throughput at each testing point. It is important to note that the distances in the graph above are not strictly linear, so while they are the indicated distance from the router each point represents a discrete location in a three-story brick house; 1-20' on the first floor, 25-35' on the second, and 40-50' on the third with points 25' and 40' in the stairway landing on each floor (i.e. only one wall between the router and the client at these points). With that out of the way it is clear that wireless performance for the D-Link DIR-880L was good: very consistent with the other AC1900 router (NETGEAR R7000) and almost always faster at a given distance than the AC1750 (ASUS RT-AC66U) included for reference. The most interesting aspect of the results has to be 2.4GHz performance for both of the AC1900 devices at greater distances; especially the DIR-880L.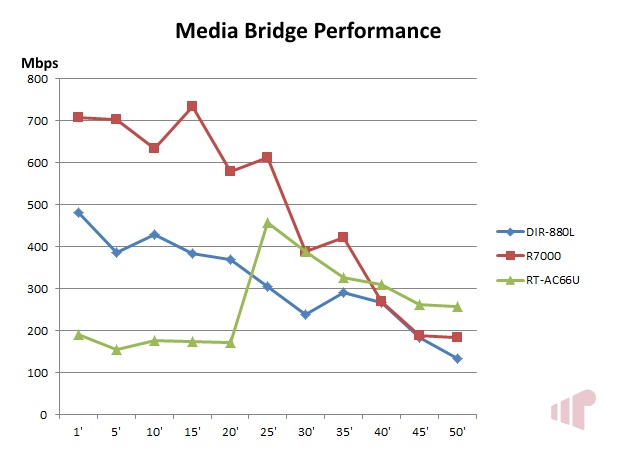 Performing the same test using wired PC clients over a DIR-880L provided wireless bridge produced results not quite as flattering however; with the DIR-880L underperforming both of the bridges. That said given the lack of stability in bridge mode the results are completely academic.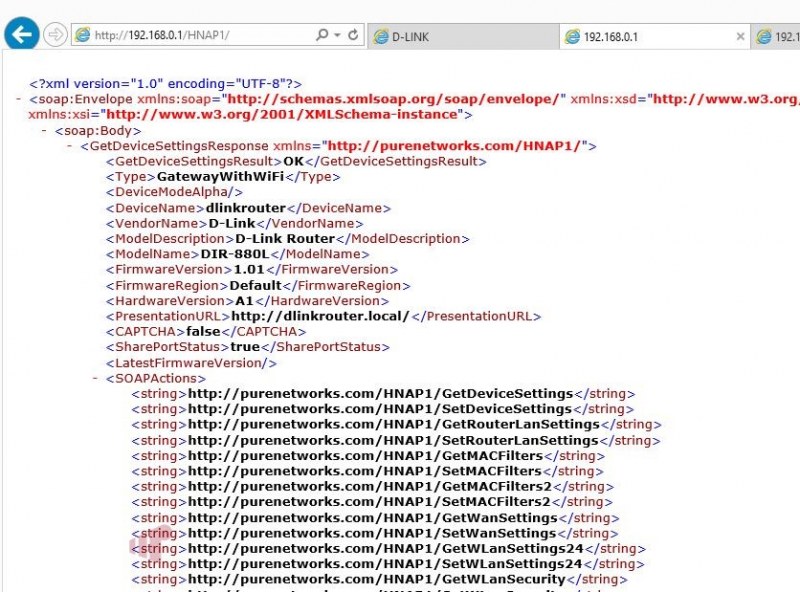 Lastly, just because I found it interesting, the DIR-880L implements Home Network Administration Protocol (HNAP) with the UI using it for configuration and monitoring. This makes it reasonably complex to write tools to monitor the router (I was trying to grab/log the uptime statistics), but can allow for more advanced configuration scenarios by tools which correctly implement the protocol.
Conclusion
With three stream 802.11AC, four Gigabit Ethernet ports, USB 2.0/3.0, and a dual-core 1GHz SOC the D-Link DIR-880L provides all of the essential components of a modern AC9100 Wi-Fi router. The device is flexible, easy to setup and use, performance and general stability are good, and at $175 retail it does all of this for $10-$20 less than other name brand routers. Unfortunately though, because of the blocking issue with the Cisco VPN device despite all of the "success" boxes it ticks, I cannot recommend the D-Link DIR-880L because it does not work for me. D-Link is aware of this issue and those with using it as a bridge – hopefully they will address them in a timely way.
Pro:
Good range & performance
Clean, easy to use router UI
General router stability (note exceptions below)
Con:
Unstable with my Cisco VPN device
Bridge UX is unapproachable for non-technical users
Bridge mode is unstable
USB storage not available in bridge mode
No explicit way to safely disconnect/remove USB storage from the UI
Custom firmware options lacking
Thanks to D-Link for providing the review unit