3M Streaming Projector Powered by Roku – SPR1000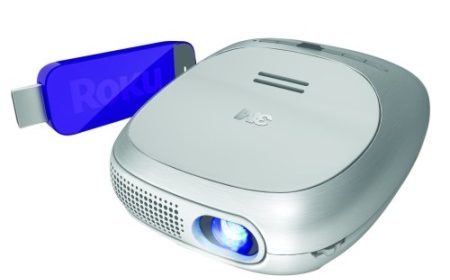 There are many scenarios where a portable projector can be very useful – for business and for play. Providing a reasonably priced option, 3M Streaming Projector Powered by Roku (SPR1000) can tick both boxes, promising to make it easy to host an impromptu outdoor movie night or presentation using this highly portable, battery powered, 480p projector. Also, because it includes a Roku Streaming Stick in the box all of the over-the-top (OTT) goodness that service provides is available in a just-add-Wi-Fi experience. At $189 ($299 SRP) it almost seems too good to be true; let's see where this little projector + streamer shine and where it is lacking.
Device
The 3M Streaming Projector Powered by Roku is surprisingly friendly towards international travelers, with a modular (US and UK plug adapters included) switching power supply provided. The cord is shorter than I would have liked however, with its 70" often too short for convenient placement in many locations–for example when the most suitable receptacle (outlet) is on the projecting wall. Obviously this is simple to fix by adding an extension cord to the travel kit, but a few more feet would have been greatly appreciated.
The projector is a petite 4.25" x 4.25" x 2" and travels easily. Given the price it is not surprising that the picture is not that bright and the speaker poor, but in a quiet, light controlled room there is little to complain about. The 3M projector also offers a 3.5mm headphone jack so dealing with the more onerous of the two issues is easy enough–either with external speakers or headphones. Because the IR sensor is located on the top, using the remote can be a bit problematic when trying to control the projector via the sensible point-it-at-the-device method, but it works perfectly when using the ceiling as a reflection point so not much of a con once overcome. Most users will find it best to bring a small tripod along with the SPR1000, leveraging the included mount. This is strictly optional however since it works well enough on any flat surface, just makes it easier to square/level the picture for viewing. If used only for business-type presentations, fan noise might be an issue as, like most projectors, it can be a bit "buzzy" at times although not enough to be a concern during media consumption.
Taken on its own this minuscule front projector is neat, but it really is the included Roku Streaming Stick that makes the bundle interesting and unique. For the most part the "Stick" is a Roku 2, so the OTT aspects will not be rehashed. Here, like in our previous review, the experience just works – delivering the features we have come to expect, and love, from a Roku. One interesting part about the Roku Streaming Stick is how the device, which was announced as being MHL compliant, has quietly distanced itself from that claim over time in the PR materials. I must admit that the backpedaling was missed in our coverage, so when the device arrived and was tested with an MHL equipped Onkyo TX-NR818, the experience did not end well. Surprised by this, I reached out to Onkyo for an explanation:
The NR818 (and all Onkyo receivers) meet the MHL specification. The Roku stick requires a higher minimum power requirement than that called out in the MHL spec. This could be the cause of the phenomenon.

The 2013 models were designed with Roku's requirement in mind.
Of course there are two sides to every story so Roku was asked to comment on the MHL issues as well. This was the response:
The Roku Streaming Stick is certified to seamlessly work with Roku Ready devices so you need a Roku Ready device for review(http://www.roku.com/streamingstick).
Critical to note that no claims were made about MHL compatibility, just the need for "Roku Ready" which is their certifcation process. It is also interesting considering the original PR for the device listing Onkyo as a launch partner alongside general MHL compatibly, both of which disappeared as the device moved from "announced" to "launched."
Use
For the price, the 3M Streaming Projector Powered by Roku offers a reasonable amount of flexibility. The picture can be reversed or flipped, which combined with the screw mount enables most projection scenarios. There are options for contrast, brightness, and video levels. Unfortunately autofocus or color and keystone correction are not available, but again it is difficult to judge the device too harshly here because of how inexpensive it is. There are no excuses for the poor battery life however, which is only good for an hour forty-five at best–making it pretty much useless as a cordless movie player.
That is not to say that power consumption is bad, just that the battery is too small for extended use given the 21.7W the device requires when playing back video.
Naturally the HDMI port on the 3M projector can be used with other HDMI equipped devices. Generally this worked exactly as expected, both with PCs and CE devices. The only exception noted was when using a DisplayPort to HDMI adapter the colors were wrong.
Conclusion
Overall the 3M Streaming Projector Powered by Roku is a neat, although very niche, device. Its portability and included battery enable some interesting scenarios, but the poor battery life and sub-optimal audio performance limit the usefulness in a broader context. That said, with the right supporting infrastructure it does make an excellent travel companion as long as are you do not leave the grid behind.
Pro:
Portable
Convenient
Includes battery
Price
Con:
Speaker only useful in quiet enviroments
Battery life
ROKU Streaming Stick is not MHL compliant