Yale Real Living Electronic Touch Screen Deadbolt with Z-Wave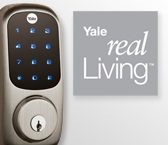 Even those without a Home Automation (HA) system can appreciate the value in a keyless entry option for the home, but the real value for a lock like the Yale Real Living Electronic Touch Screen Deadbolt is realized by leveraging Z-Wave to integrate it in a HA system. After doing that, it unlocks a wide array of actions that simplify home security; offering features like: conditional access, short term key codes, and automated responses to lock and other device events. Other Z-Wave locks offer the same automation features, but the YRD220-ZW full numeric touch screen and excellent build quality set it apart. The additional features demand a premium versus competing devices; let's find out if it is worth it.
Device
Yale Real Living created a solid, well put together touch screen lock. The entire experience from unboxing through the install only further confirms the outstanding quality and fit and finish of the lock. While expensive, the materials and heft are clearly justifiable — it looks great, feels good, and works exactly as expected. Even programming it without a Z-Wave controller is straightforward and simple with voice prompts and clear directions provided.
Install
The lock arrived in a demo cutout, and while that can provide some simple insight into how it works there is no substitute for actually installing and using it in a door. Like the deadbolt itself there was nothing to complain about during the installation. It was straight forward, simple, and the tapered bolt means that even when the lock and strike plate do not line up, everything works with minimal effort. If you have installed a normal deadbolt, installing the Yale Real Living lock is essentially the same–the only real difference is that you need to remember to pull through the power/control cable as it is assembled in the door. One item to note (covered in more detail later), is that because it can be a bit tricky to add the lock to the HA network, it is best to handle inclusion before installation.
When you are done, the lock provides excellent feedback J.
Use
As a keyless entry lock, it is important that security is taken seriously, so it was great to find that the lock will disable itself after too many bad attempts (the count is configurable, as is the timeout) and requires users to press "*" to submit a code. A feature missing in competing makes, which will unlock automatically if the right code is entered.
While the Yale Real Living Electronic Touch Screen Deadbolt can be used without a HA controller, the real value of the lock is as part of a smart home network. In that environment simple things like seeing if the door is locked, or locking/unlocking it remotely, are great demos for visitors, but the truly important piece is how it responds to events in the "smart" home – automating the minutia that can sometimes be forgotten.
Some examples of this include:
Locking the doors when the security system is armed
Turning on lights when the door is locked, or unlocked
Arming the alarm when all the doors are locked
Locking the doors at specific times
Besides automation, integration in the network also provides:
Easier PIN code creation
Time based/conditional access (e.g. Mondays from 9AM – 11AM) for a babysitter or cleaner
Create temporary PIN codes (e.g. a specific week in April)
Send alerts when events occur (e.g. child unlocks the door, a bad PIN is entered, etc.)
Adding the lock to a Z-Wave network is the part that was a bit tricky. Some of this was complicated by Mi Casa Verde's release schedule, where the deadbolt's device id has changed since the last public firmware release for the Vera Lite, but even after updating to the latest beta some additional involvement was required from support to get it included successfully. To be fair, inclusion issues with Z-Wave locks are not isolated to Yale Real Living; I had similar difficulties with my Kwikset locks. Couple this with the need to be within five feet of the controller during inclusion, it is best to make sure that everything is working properly before installation. Once the deadbolt was added, management was simple and straightforward as shown in the gallery above.
Conclusion
It was hard not to be impressed with the fit and finish, ease of installation, and functionality of the Yale Real Living Z-Wave enabled touch screen deadbolt. It works well, is responsive, and provides an experience consistent with its price — which at ~$250 street ($274.99 MSRP), is the only real drawback. Even when judged as a standalone device, it provides an excellent option for keyless entry, but of course the real value is when integrated into a home automation network where events and conditional access rules can be leveraged. Other Z-Wave locks can provide the same feature set and function; they just do not do it with the same panache.
Pro:
Build quality
Full numeric keypad
Enhances code security by requiring a "*" key press to submit unlock code
Home Automation integration
Con:
Price
Can be tricky to add to Home Automation network
Thanks to Yale Real Living for providing the review sample.