Intel Next Unit of Computing – DC3217IYE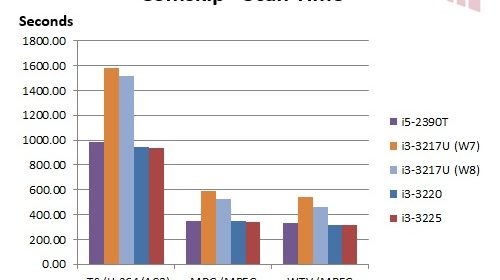 With a 17 watt integrated processor graphics (IPG) in a four-by-four inch chassis, Intel's Next Unit of Computing (NUC) is of obvious interest to home theater PC (HTPC) enthusiasts. This footprint and low-power consumption, coupled with Intel HD 4000 graphics, promises to deliver an incredibly capable client system. It is small enough to hide away, or place discretely next to the other little-black-box content consumption devices; its laptop CPU doesn't make much fuss either. This does not come cheap however, with the commanding a $300 MSRP for what is essentially a "bare-bones" system. You will need to add RAM, an mSATA SSD, and, strangely, a power cable to make it go; let's find out if it lives up to the potential or ends up just an expensive curiosity.
Device
As a sucker for unboxing extras, the "Intel chime", which plays upon opening the NUC, was greatly appreciated. The same cannot be said for the lack of a "Mickey Mouse" (IEC 60320 C6) power cable. While the rationale behind this omission is understood (the same SKU can be sold more broadly across the world), it was disappointing and a potential source of disappointment to prospective buyers as the cord is not commonly lacking in bare-bones systems. Aside from that annoyance, there is little to gripe about – the NUC has excellent build quality, has a solid feels, and is easy to disassemble and install the required RAM and storage. Unlike most consumer-oriented Intel motherboards, the D33217GKE does not include consumer infrared (CIR) or HDMI CEC (HTPC_HEADER) connectors. This is understandable given the form factor budget, but obviously not ideal for this use case. Dual HDMI ports are available however, so those with HDMI 1.4a displays and HDMI 1.3 audio video receivers (AVR) can enjoy 3D without sacrificing HD audio.
D33217GKE Specifications:
Form Factor:
4.0 inches by 4.0 inches (101.60 millimeters by 101.60 millimeters)
CPU Support:
Soldered-down Intel Core i3-3217U
Memory Support:
2x 204-pin DDR3 1600/1333/1066 SO-DIMM (1.35-1.5v) – 16GB Maximum
Chipset:
Intel QS77 Express Chipset
Network:
1x Intel 82579 Gigabit Ethernet
Video:
2x HDMI 1.4a
Audio:
8-channel (7.1) Intel HD Audio via the HDMI interface
External Connectors:

3x USB 2.0 (2x rear / 1x front)
2x HDMI
1x 10/100/1000 LAN

Internal Connectors:

2x USB 2.0 Header
Front panel

Expansion:

1x PCIe Full-Mini (mSATA)
1x PCIe Half-Mini
Opening up the NUC requires removing the four screws located in the feet, which exposes the SO-DIMM and mSATA slots. The DC3217IYE does not include Wi-Fi, providing Gigabit Ethernet and an additional HDMI port instead of Thunderbolt, like the DC3217BY. The antennas and necessary wiring is present should the need to utilize both arise. At some point the D33217GKE motherboard should be available in the retail channel, but does not appear to be yet. So if a custom NUC chassis is on your wish list, removing the board completely only requires turning a few more screws.
The D33217GKE includes Intel's Visual BIOS, providing a straightforward method for manipulating the settings for the system.
System
Configuration:
| | |
| --- | --- |
| CPU: | Intel Core i3-3217U 17W TDP (CPU 1.8GHz max / GPU 1.05GHz max) |
| HSF: | Included NUC HSF |
| Motherboard: | D33217GKE |
| RAM: | 2x 4GB ADATA XPG Gaming Series DDR3 1600 CL9 1.35V |
| Storage: | Crucial m4 mSATA 128GB SSD |
| Power Supply Unit: | Included 65W |
| OS: | Windows 7 Ultimate 64-bit / Windows 8 Ultimate 64-bit / OpenELEC (Linux) |
| AVR: | Onkyo TX-NR818 / Yamaha YSP-2200 |
| Display: | Panasonic TC-P58VT25 / Panasonic TH-C42FD18 |
Like most bare-bones systems, the build is decidedly unchallenging. Remove four screws from the bottom, take off the top, then install the mSATA and RAM. Interestingly enough, there is a free internal USB header and a bit of space on the front, so adventurous modders may be able to install an infrared receiver inside.
While the NUC is BYOP[ower cord], a VESA compatible mounting adapter is supplied – shown here on an ASUS 1080p display. Mounting requires installing the bracket on the back of the monitor, then inserting the provided screws in the bottom of the DC3217IYE. Besides the inherent flexibility this feature provides out of the box, it also enables attachment to the back of a media cabinet, wall, or dresser should your install require it.
Use
One of the more surprising things about the NUC is that despite its relatively slow CPU, it does not feel sluggish. Obviously there are performance trade-offs that are evident when testing CPU performance specifically, but in day-to-day HTPC client activities, clock speed never felt like sacrifice – which stands on stark contrast with other platforms (e.g. Atom/ION and Zacate) targeted at this segment.
Taking a closer look at relative performance, the Intel Core i3-3217U was added to our Comskip results, where the disadvantage of its significantly lower CPU clock speed becomes quite obvious.
Unlike Comskip, which is lightly threaded, Handbrake provides a way to stress both of the Intel Core i3-3217U's cores. There were no surprises here as well, with a significant advantage enjoyed by the higher clocked desktop counterparts.
As we can see, reduced power consumption is the benefit of the loss in CPU performance. This enables the NUCs form factor and, despite the small heat sink and fan (HSF) provided, even when pushed hard noise was not an issue. Although not completely silent during this test, it was only audible within a couple feet of the device, even then barely so.
Media performance was consistent with what we have come to expect from Intel's 3rd generation Core IPG, and because the Intel Core i3-3217U includes HD 4000 graphics this tiny system is madVR capable. Issues with PAL content in Windows Media Center were resolved a few driver revisions back, so the NUC makes for a compact and full-featured consumption device able to bit stream HD audio, render 3D content, and play everything using the GPU or CPU — leaving little to criticize.
Refresh rate accuracy was also consistent with our previous experience with this platform. Not perfect, but reasonably close, with some fluctuation (captured above) but generally around 23.973 for 24p (24000/1001) content.
Features like HD audio support, provided in the 12.x release of XBMC, made the platform became much more interesting now than it was even a few months ago. So it was a good time to test out this option on the NUC. Overall performance was consistent with the standard ease-of-use for which XBMC is known. The only complication was that HD audio bit streaming would not work with the DirectShow audio renderer enabled (the default setting). Switching to WASAPI, which is a better option anyway, resolved the issue. As with other video applications running on Intel hardware in Microsoft Windows, levels were correct with little-to-no tweaking required, provided limited RGB is desired.
However, this was not the case with the OpenELEC (embedded Linux) version of XBMC, with full RGB the only option available without some hacking. Depending on the connected display this may, or may not, be an issue – if like the TH-C42FD18 display used in testing no option for 0-255 input is provided.
Conclusion
Intel's Next Unit of Computing stands out as an excellent option for media consumption. Its form factor, design, flexibly, and build quality uniquely qualify it for client HTPC use or light general purpose computing. While inclusion of features, like CIR and the HTPC_HEADER, that we have come to expect from Intel's consumer oriented systems, were missed, it is difficult to judge too harshly on this point given the clear advantage of its size. If it was possible to ignore the $300 (NUC) + $100 (power cable, RAM, mSATA) required to make it work, recommending the DC3217IYE would require no caveats – only recommendations for the extra parts. Given the i3-3217U's $225 MSRP, the price tag is understandable, but perhaps not competitive, given the way this market segment is developing.
Pro:
Form factor
Power consumption
Capability
Con:
Price
Form factor compromise paid in part with the loss of features like CIR and HTPC_HEADER found on other Intel systems
Complete power cable is not included
Thanks to Intel for providing the review sample.