First Look – Ceton Echo Windows Media Extender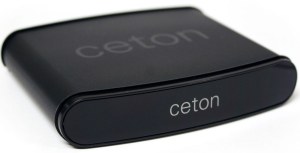 The XBOX 360 has ruled the Windows Media Center (WMC) extender market since it killed off third-party completion with the release of Windows Vista, but for many the brutish gaming console's size, appetite for electricity, and unpleasant noise levels made it unwelcome in the A/V stack. With a lithe chassis, miserly power consumption, and a modern system-on-a-chip (SOC) offering the potential for proper HD file support the Ceton Echo could be just the thing to breathe fresh life into Microsoft's aging platform. Our sample just arrived so it has not been run through the wringer yet, but since the hardware is set and pre-orders starting it is worth taking a look to getting a basic understanding of what the Echo has to offer. Check back later for our full review when the software is finalized.
First Look
With all the competition between little black media boxes Ceton can be forgiven for the Echo's prominent logo placement, where it taking space on the front (currently lit when on, but should be controllable at launch), the top, and the bottom of the device. The chassis is extruded aluminum with a solid, quality feel very consistent with its price. Similar to many modern streamers connectivity is limited to HDMI and TOSLINK (optical S/PDIF), but power is provided via a mini-USB port on the back. This an interesting option, because it raises the question whether it is possible to power the Echo directly off a TV with USB – and it is as long as the display can provide the 3-4W demanded. There is some variance between TVs though, so it may not work, but at least with the Panasonic VT25 tested it was a resounding success. This is of course and unsupported configuration, but too slick a possibility to not include here. Unfortunately HDMI CEC does not appear to be enabled in the BETA, so we will have to test that later, but assuming that Ceton adds the feature it will make the Echo just about perfect for a low-touch-back-of-the-TV install.
Where USB power provides flexibly, the included wall wart takes it away in spades – requiring at least four inches of clearance off the wall. It is of course swappable for something slimmer, and provides easier access to other electrical standards when Ceton releases in other locales I just wish the behind-the-dresser use case had carried more weight during planning.
The urge to compare the Echo to over the top (OTT) media streamers, like the Roku 2 and AppleTV, because of form factor is somewhat understandable, but the feature sets are too fundamentally different to find any real value in doing so. In fact, the best competitive device is the (no longer available) SageTV STP-HD300 also shown in the gallery above. OTT streamers provide access to services like Netflix, VUDU, Amazon Video, etc., but are extremely limited when it comes to consuming local content. As an Extender for Windows Media Center the Ceton Echo provides access to the WMC experience without connecting a PC to your TV. In some cases a second home theater PC (HTPC) can be used with the primary WMC digital video recorder (DVR), but even if all of the channels are not encrypted only an extender provides Live TV and a useable experience when viewing files as they record. Both areas where the Echo has been tested, works as expected, and consumes much less power when doing so than a HTPC. Consumption of other file types is an area where significant additional focus will be paid in the full review, but time and readiness did not allow for that today.
Where the Ceton Echo has a quality feel about it, my first impressions of the remote are not positive. More time is required to see if it grows on me, but so far the only strongly positive thing I can say is that I am really glad that there are discrete power buttons included. Otherwise the lack of lettering on the number keys (which make triple-tap difficult) and poor tactile response from the buttons signal strongly that it is intended for programming a universal and not much else.
Wrapping Up
Over the next few weeks our Ceton Echo will be tested much more thoroughly, but with the pre-order page on Newegg going up today and a $10 gift card plus free shipping (by 11/30) available for a limited time, it seemed important to get as much information out there as possible. While the answers to most of the "will it play X" are still unknown the hardware is solid, low power, and completely silent – if you've been waiting for a more discrete Windows Media Center Extender the Echo is it.