XPAND YOUniversal Electronic 3D Eyewear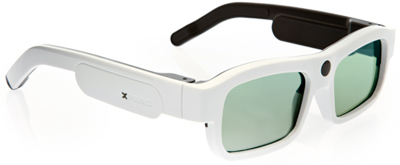 We last visited the topic of universal active 3D glasses technology with our XPAND X103 review. With the introduction of the Full HD 3D Glasses standard in 2012 stereoscopic 3D products, the display and eyewear industry have matured away from the mish-mash of proprietary communication mechanisms. Standard-compliant products can utilize radio frequency (RF) and/or infrared (IR) for the communication link between displays and glasses. In theory, any vendor's glasses complying with the standard will work with any standard-compliant display (so long as each product has the same logo, e.g. "Full HD 3D RF" or "Full HD 3D IR").
XPAND has been a key player involved in the Full HD 3D Glasses initiative so we're expecting great performance from their newest YOUniversal Electronic 3D Eyewear–especially considering that XPAND operates the testing center for products seeking certification. XPAND's YOUniversal 3D eyewear seeks to improve upon their X103 offering by offering compatibility with the new Full HD 3D Glasses standard, several new fit and finish options, a rechargeable Li-ion battery, and software to allow for firmware updates and user customization. The primary selling point of XPAND's solution is that the glasses are compatible with every major active shutter 3D display instead of operating with only a single vendor's display technology.
Active vs. Passive 3D
If you're not familiar with the technologies, here's a brief primer. Both active and passive techniques rely on stereoscopy. Active shutter 3D systems present alternating images destined for the left or right eyes and requires synchronization between the display and the glasses to allow the glasses to block out either the right or left eye coordinating with the image being presented. Passive systems most often (but not always) utilize polarizing filters to separate out left and right images to each eye. In the home theater, active shutter systems are typically considered the most accurate due to their ability to present 1080p per eye while passive systems on LCD panels generally display 540p per eye.
Specifications
3D Technology:

Active Shutter Glasses

Lens Type:

LCD

Primary Sync Method:

IR

Expandable Sync Method:

Radio Frequency (via RF Dongle, sold separately as accessory or bundled with YOUniversal Electronic 3D Eyewear)

Battery Life:

35 hours

Battery Type:

Rechargeable Li-ion Polymer Cell, 135 mAh

Weight:

1.62 – 1.66 oz (46 – 47 g)

Dimensions:

Small: 5.5" x 1.83" x 6.09" (139.7mm x 46.4mm x 154.7mm)
Medium: 5.67" x 1.67" x 6.09" (144mm x 42.3mm x 154.7mm)
Large: 6.32" x 1.8" x 6.47" (160.6mm x 45.8mm x 164.4mm)

Colors:

Red/White
Blue/Black
White/Black

Sync Protocols:

XPAND Emitter
XPAND Cinema
Acer
Bang and Olufsen
HP
JVC
Nvidia
Panasonic
Sharp
Vizio
LG (models w/ IR sync)
Samsung (2011 and newer require RF Dongle)
Mitsubishi (May require external emitter)
Philips (May require external emitter)
Sony (May require external emitter)
Test Equipment
Samsung C8000 and Panasonic UT50 plasma displays, along with Samsung SSG-2100AB/ZA 3D glasses (2010 model year, IR) and Panasonic TY-ER3D4MU 3D glasses (2012 model year, RF, medium size), were used for this review.
Packaging and Hardware
The XPAND YOUniversal 3D glasses are packed inside a plastic clamshell which requires a cutting instrument to open–a bit of a disappointment after our experience with the interesting capsule-shaped package of the XPAND X103 glasses.
Included in the package are the following:
One YOUniversal Electronic 3D Eyewear
One Glasses case
One RF Dongle (optional)
Two nosepieces
One Multifunction port to USB cable
One Microfiber cloth
Our review sample was a size large with blue/black color. It is great to see XPAND offer three sizes and three color combinations for better personalization since the fit and feel of 3D eyewear is an important factor in the enjoyment of 3D content.
The YOUniversal glasses are thicker and heavier than our Panasonic and Samsung glasses. The construction of the YOUniversal eyewear appears as though it will be less susceptible to breakage and perhaps more durable. The obvious con is that the glasses are heavier. In practice, however, they were comfortable to wear even after watching feature-length films.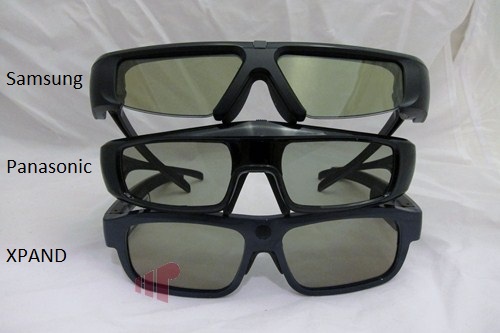 The lens size and shape are bigger on the YOUniversal glasses compared to both the Samsung and Panasonic glasses. This improved "framing" performance offers a tangible benefit for wearers because the frames are less visible in addition to the area of peripheral view outside the glasses being much smaller (and less distracting).
For those cursed with the burden of wearing eyeglasses for corrective vision, we found the YOUniversal 3D eyewear to be superior in comfort and "framing" performance compared to both our Panasonic and Samsung 3D glasses.
There is a removable silicone plug on the right side of the YOUniversal glasses that smartly functions as a charging port, a USB communications port with a PC and an attachment port for the optional RF dongle. All included items can be easily packed away in the high-quality, protective, felt-lined plastic case when not in use.
Operation and Picture Quality
The YOUniversal 3D glasses have one button that manages power and selects the synchronization mode/pairing with the display. The functionality of the switch is fairly simple: a single press will power on the glasses and then a press and hold of the button for three seconds will initiate an automatic detection of the IR sync protocol or an automatic RF pairing (if using the RF dongle). A red LED in the glasses will blink while the pairing/detection process takes place. While there is a manual selection method, we found it unnecessary since our Samsung IR protocol was detected automatically. With our Panasonic Full HD 3D RF display, we found the pairing process an even quicker and better experience because the Panasonic UT50 on-screen display automatically indicates when the glasses have been paired and what their level of charge is.
We first watched Tron: Legacy on the Panasonic UT50 and at no point during the film was there any synchronization issues utilizing the Full HD 3D RF standard communication. No matter how we moved within the room or even when we left the room, the YOUniversal 3D glasses with the RF dongle stayed in sync.
Sadly, the same could not be said for our IR-based Samsung plasma. While the YOUniversal 3D glasses detected the Samsung IR protocol, they fell out of sync so often– several times per minute– as to make the experience more torture than enjoyment. This was a surprising result considering XPAND's X103 glasses fared much better than Samsung's own glasses in this regard.
To judge picture quality, we viewed samples from Avatar, Tron: Legacy, and How to Train Your Dragon. The YOUniversal 3D glasses produced images that were only slightly warmer than both the Panasonic and Samsung glasses. Luminance differences were not easily discernible– a welcome relief considering the big difference we experienced with the X103 glasses and the Samsung glasses previously. In practice, the differences observed were so minimal, they are barely worth mentioning.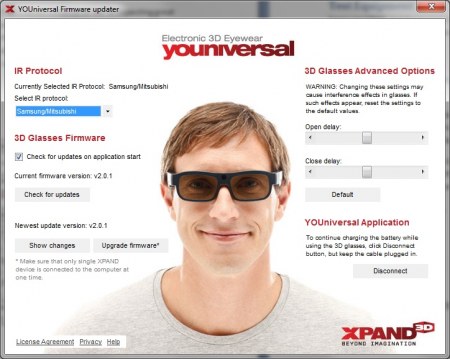 XPAND offers a PC software application which provides a mechanism for updating the YOUniversal 3D glasses firmware. Additionally, the application allows setting the default IR sync protocol and customization of the shutter delays. Using the application to adjust the shutter delays is potentially helpful in situations where there are luminance issues—we only wish this tool existed with XPAND's X103 glasses.
We did have one snafu in operation where the YOUniversal glasses were behaving erratically and in a manner not consistent with normal operation (e.g. sometimes they were completely unresponsive to a button press).The issue was rectified by utilizing the PC software application to reload the firmware and clear out any configuration settings. This ended up correcting the issues we were having. While we don't know the exact cause of the issue we experienced, we speculate that it may have had something to do with switching between use with the RF and IR sync methods.
Conclusion
With this year's arrival of products supporting the Full HD 3D Glasses standard, consumers will have a much more positive and interoperable experience with active shutter technology—especially RF-based products. You may be wondering why you should even consider XPAND's YOUniversal Electronic 3D Eyewear. After all, every vendor's product complying with the IR or RF standard will interoperate. XPAND's YOUniversal 3D glasses show their value if you happen to utilize a pre-standard-compliant display and a standard-compliant display or an RF-standard and IR-standard compliant display.
In many respects, XPAND has a wonderful pair of glasses in the YOUniversal Electronic 3D Eyewear. Their "framing" performance, fit and finish options are the best we've seen. The downloadable PC application allows for firmware updates and shutter configurability. Our Full HD 3D RF experience was excellent. Ideally, we would like to see the RF dongle built into the glasses, as it offers superior performance for 3D viewers going forward when compared to IR.
Perhaps the best killer feature of XPAND's YOUniversal 3D glasses is that they are truly universal and will work with just about every active shutter display manufactured and even in some theatres using XPAND's active sync technology. The inability of the glasses to synchronize reliably with our Samsung plasma was the biggest letdown we experienced. We will hold out hope that XPAND will be able to correct this issue in a firmware update.
At their current street price of about $75, the XPAND YOUniversal Electronic 3D Eyewear offers a compelling value for consumers who can make use of the flexibility provided and are looking for something a little more durable and higher quality than less-expensive products. The only catch is that the current price does not include the optional RF dongle that was included in our review sample. We do know that the RF dongle will be available at retailers shortly for about $20. You'll be able to differentiate between RF-bundled (models ending in 2, e.g. X104 LX2) and non-RF-bundled versions (models ending in 1, e.g. X104 LX1) using the model numbers. With a total price of $95, it becomes difficult to justify if purchasing solely for use with standard-compliant displays, considering Samsung and Panasonic glasses range between $20 and $50.
Pros
"Framing" performance
Fit and color options
Perfect Full HD 3D RF performance
Universally compatible
Upgradable and configurable via PC application
Compatible with some 3D cinemas
Cons
Severe IR synchronization issues with Samsung plasma
Experienced an operational anomaly only corrected by uploading firmware
Thanks to XPAND for providing the review sample.