nMEDIAPC HTPC 7000B Micro-ATX / Mini-ITX HTPC Case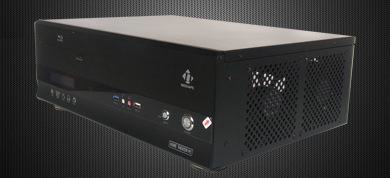 nMEDIAPC has made a name for itself in the home theater PC (HTPC) community for consistently delivering well-built, good-looking, and reasonably-priced chassis comfortable in the A/V stack. Offering a brushed aluminum front panel and a street price of $80, at first glance the HTPC 7000B seems to carry on this tradition. Coupled with two 120mm fans, we should expect excellent cooling from this full-height enclosure, but with a depth of just over twelve inches there are sure to be trade-offs where the form factor is both an asset and a liability; keep reading to find out how this case measures up.
The Case
Specifications
| | |
| --- | --- |
| Dimensions (W x H x D): | 17" (430mm) x 5.47" (139mm) x 12.15" (308mm) |
| Motherboard Support: | Micro-ATX, Mini-ITX |
| Power Supply Unit (PSU): | Standard ATX |
| Front Panel I/O: | 1x Mic, 1x Headphone, 1x USB 2.0, 1x USB 3.0 |
| Case Construction: | Aluminum (front panel) and steel |
| Storage: | 1x 5.25", 3x 3.5" |
| Expansion: | 4x Full Height PCI/PCIe |
| Active Cooling: | 2x 120mm (1x 3-pin, 1x 4-pin Molex) |
| Extra Features: | – Support for optional VFD modules, like nMEDIAPC's PRO-LCD- IR Window |
Like most modern chassis, the nMEDIAPC HTPC 7000B was packaged securely;–while the box displayed clear evidence of abuse suffered in transit, its thickness, the quality of shipping materials, and buffer space provided within proved more than adequate to deliver it unscathed. The fit-and-finish of the case's thick, brushed-black aluminum front panel is excellent, and while the texture difference found on the steel panels does not have the same level of visual or tactile appeal, it would be unjust to judge too harshly on this point given the "value" price targeted by the enclosure. However, the blemishes found on the unfinished PCI blanks unnecessarily detract from the presentation, and while the impact is limited because they are only visible from the rear, nothing should be tarnished this early in its life-cycle. Thought was clearly paid to HTPC use with muted LEDs for both power (blue) and hard drive activity (red); in fact, there is little to complain about regarding the exterior, just some nitpicks regarding the inputs on the front (I would have preferred they were hidden either behind a panel or placed on the side) and I found nMEDIAPC a bit too generous when it came to labels on the case – "Blu-ray" = good, "PHOTO/VIDEO/MOVIE/MUSIC/WWW" = not so much.
Like most of their cases, the HTPC 7000B supports nMEDIAPC's PRO-LCD vacuum florescent display (VFD) module for displaying status. The software included with the optional hardware is adequate for Microsoft Windows Media Center (WMC) users, but support for other popular applications like SageTV, JRiver Media Center, or XBMC is lacking so their users will need to find another solution (e.g. LcdWriter) that either provides native status sinks or the ability to write your own. Unlike many other chassis, the HTPC 7000B includes a window for a user provided infrared (IR) device without forcing the purchase of a bundled, often sub-optimal, receiver. Access is somewhat restrictive (I had to tape a CIR module diagonally), but the fact that it is there is a significant bonus for those with a motherboard that offers support. Hopefully more OEMs will follow suit and we can see some standardization around aftermarket IR modules in the future.
Two 120mm fans are provided on one side of the HTPC 7000B. Although they are both the same model, the power connecter, and therefore voltage, is different for each–one is a three pin, and the other a four pin Molex. Intake vents are provided on the other side of the case, next to the set of 5.25"/3.25" mounts, along the rear above the power supply unit (PSU) and I/O panel so good cross flow is possible. Depending on the components installed in the chassis, it is likely that only one of the fans will be necessary to provide adequate cooling (more details on this later), which is a good thing because while the three pin version is quiet enough for all but the most demanding, the 12V (four pin Molex) is more audible than I prefer.
The Builds
Intel Build
| | |
| --- | --- |
| CPU: | Intel Core i5-2500K |
| GPU: | Intel HD 3000 |
| Motherboard: | Intel DH67BL |
| HSF: | Swiftech MCX-VCore heat sink + 92mm Arctic Cooling PWM fan |
| RAM: | G.SKILL Ripjaws Series 4GB (2 x 2GB) 240-Pin DDR3 SDRAM DDR3 1600 (1.5v) |
| Optical Drive: | 1x Lite-On iHOS104-06 |
| Storage: | 1x Intel X25-M G1 80GB SSD1x Samsung F1 1TB 7200RPM |
| Expansion: | 1x Ceton InfiniTV 41x Hauppauge Colossus1x AverMedia DUET1x Hauppauge HVR-1600 |
| Power Supply Unit: | Antec Earthwatts 380W 80+ PFC |
AMD Build
| | |
| --- | --- |
| CPU: | AMD A8-3800 |
| GPU: | Radeon HD 6550D |
| Motherboard: | GIGABYTE A75M-UD2H |
| HSF: | ARTIC Alpine 64 PRO Rev.2 |
| RAM: | 4GB (2x2GB) Patriot Gamer 2 Series, Division 2 Edition DDR3 1600MHz (1.65v) |
| Optical Drive: | 1x Lite-On iHOS104-06 |
| Storage: | 1x Intel X25-M G1 80GB SSD1x Samsung F1 1TB 7200RPM |
| Expansion: | 1x Ceton InfiniTV 41x AverMedia DUET1x Hauppauge HVR-16001x Hauppauge Colossus |
| Power Supply Unit: | Antec Earthwatts 380W 80+ PFC |
The nMEDIAPC HTPC 7000B supports full length GPU, but as a non-gamer my parts bin does not include anything sufficient to adequately test this claim–yet in looking at the pictures of the chassis with a motherboard installed, I find no reason to doubt it either. Without a giant GPU on hand, two integrated processor graphics (IPG) from AMD and Intel where installed inside the enclosure alongside four tuner/encoder devices to look for issues and restrict air flow during the stress test. In general, both builds were very straightforward, with little demanding specific attention except the ease with which each went into the case – in fact there was only one area which requires special attention.
The HTPC 7000B's specifications note that it supports three 3.5" hard drives, and while that is technically true the conditions under which three normal-sized drives can actually be installed into the chassis are narrow enough that the claim should at best carry a giant disclaimer. The easiest way to understand the issue is by looking at the gallery above where it should quickly be obvious why two of the three mount points are not suitable in most scenarios. When a Micro-ATX motherboard that places the 24 pin power connector at the front (read "most") and an optical disc drive (ODD) are selected only the one located under the 5.25" bracket available. That said, since the front bracket supports 2.5" devices, it is possible to get an SSD (or laptop HD) and a full-size HD in the chassis, so the situation is not as dire as it would be otherwise- but this is clearly an area where some compromise is required by the enclosure's shallow design. Fortunately the worst of this issue should be limited to this generation because nMEDIAPC is planning to add 15mm (0.6") to the depth of the HTPC 7000 in the next production run. The date for this change is not known at this time though, so if it is a blocking issue for you please let us know in the comments and we provide an update as it becomes available.
To test the HTPC 7000B's thermal capabilities, a looping file transcode session was run using Handbrake to keep each of the four-core CPUs maxed out for twelve hours with CPU, PCH, and HD temperatures captured at each hour alongside the current fan speed in two sessions; first, with one case fan (the three pin) connected, and again with both the three and four pin fans moving air. Unfortunately, the four pin model does not provide a monitoring lead so its speed is not represented in the graphs above, but we can see the effects both in slightly lower temperatures and the speed of the other fans in this test condition. Room temperature was 25.5-26°C (78-79°F) during Intel Build testing and 24.4-25°C (76-77°F) when evaluating the AMD Build, which is likely cause for differences in HD temperatures measured. In each of the four scenarios, we can see that that each metric was well-controlled and held within acceptable constraints for both component temperature and fan speed, although as mentioned previously, the 12V fan was a little louder than I generally prefer. Given the results with one fan, those utilizing an IPG or low-end GPU should find that configuration comfortable; more demanding environments with strict noise requirements may find a replacement with a 4 pin PWM fan desirable.
Conclusion
nMEDIAPC consistently delivers home theater PC chassis that strike an excellent balance between form, function and value. With a high quality aluminum front panel that fits comfortably in the A/V stack, [just] enough expandability to satisfy most users, and a price (~$80) that will not break the bank, the HTPC 7000B slots cleanly into this tradition. Its shallow depth limits the chassis' potential for significant amounts of storage, but for those who require this form factor or do not need more than an SSD + HD in their HTPC there is little reason to hold back when shopping for a full height Micro-ATX enclosure.
Pro:
Attractive
Price
BYO IR Support
Cooling performance
Power LED is perfect for HTPC use
Con:
3x 3.5" claim a bit disingenuous in current revision
Front panel a bit too "PC"
Thanks to nMEDIAPC for the review sample.