Ceton InfiniTV 4 Quad CableCARD Tuner – Part I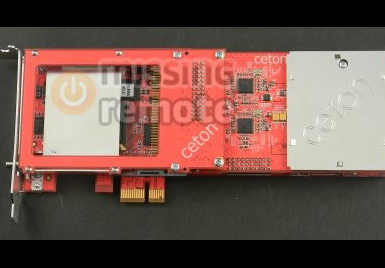 | | |
| --- | --- |
| | Christmas came early this year, at least for those of us eagerly awaiting Ceton's once fabled InfiniTV 4 Quad CableCARD Tuner. The Ceton InfiniTV 4 arrived at my home yesterday (Wednesday, August 4th) a little after lunch. I knew it was coming so I planned ahead and decided to head home for a late lunch. My plan was to take some photos, install the card, call Comcast to pair the Cable CARD, eat lunch, run through the Media Center tuner setup; all within an hour. Not everything went as planned, find out more after the break. |
UPDATE for BEGINNERS or NEW TO CABLE CARD:

Before you get started with CableCARD you should know some information that is vital:

As wonderful as CableCARD inside your HTPC is, the CARDs are ONE-WAY Tuning devices.
As a result, going with CableCARD over your Cable's Set Top Box means you will lose access to all On-Demand channels
Pay-Per-View is still possible (it will show up in Media Center's guide) however you will need to call into your cable provider to purchase it
In certain areas with Motorola or Cisco CARDs which have migrated to Switched Digital Video (SDV) you may need to get a Tuning Adapter from your cable co. as well–usually free
Most cable companies will provide a single CableCARD at no additional cost, but don't be surprised if yours asks for a fee–normally less than the cost to rent a STB but still a couple of bucks.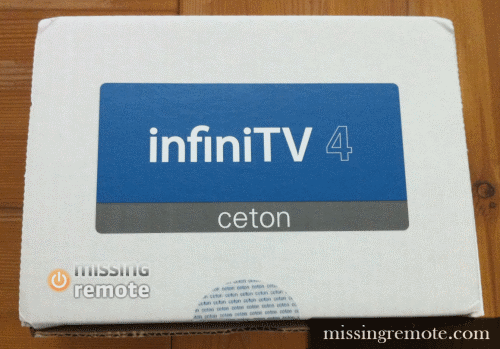 As is almost always the case, things did not go as planned. No fault of Ceton's though. I went a little trigger happy taking photos of the box and the contents. I like to think I am environmentally conscious and try to do my part to reduce waste so I was happy to see the InfiniTV package is simple, snug and has little waste. The box includes the 1- The InfiniTV 4; 2- A low profile PCI bracket, the card comes with a standard PCI bracket, 3- A coax adapter cable; 4- A Quick Installation Guide. What, no driver disk? That is right; you will need to download the drivers from Ceton via their InfiniTV support page (Update: The drivers are now available to download).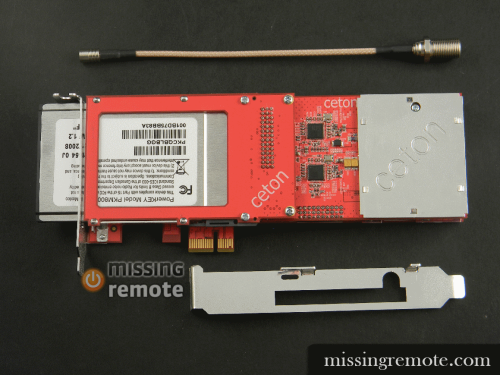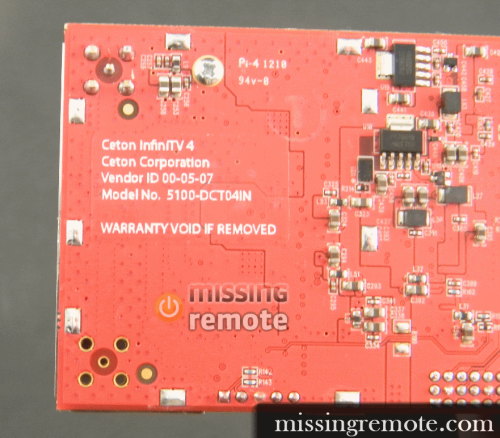 By the time I finished taking photos and actually installed the InfiniTV in the primary test HTPC it was time to head back to work. What concerned me is that, despite my attempts to prepare for the InfiniTV there was a big unknown—the CableCARDs. For those of you who have not had the displeasure of owning an ATI TV Wonder Digital Cable Tuner (ATI DCT) let me explain. I've had a total of 3 ATI DCTs, two external and one internal. I purchased them (used) almost six months ago to tide us over until either another CableCARD solution was available or the Hauppauge HD PVR went on sale. I was very excited to try them out and like any excited geek enthusiast tried to prepare ahead of time. I picked up several CableCARDs from my local Comcast store (not an easy feat but more on that later). Out of the three CableCARDs I received, only one worked. Not only that, but the single card that worked only worked in one of the three tuners, the other two failed to recognize it. I had read the horror stories on how sensitive the ATI DCTs were and how unreliable CableCARDs were but I never expected a 2/3 failure ratio.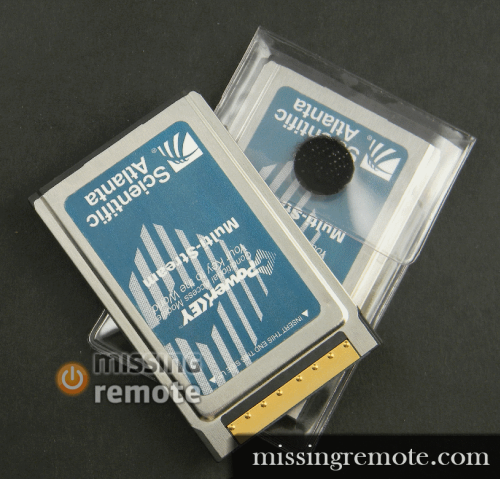 So back on track, I had a meeting scheduled so I had no choice but to head back to work and leave the InfiniTV installed yet not configured. After my meeting I remotely connected to my HTPC to see what I could do over Remote Desktop Protocol (RDP). I had a few issues initially but again, no fault of Ceton's. Let me offer two bits of advice here:
Download the latest drivers immediately before installing or at the very least check for a newer version prior to installing.

I had downloaded the drivers the day before and without verifying used an older package. Luckily the updated driver did not require any cleanup to install properly over the old one.

Ensure your Windows Media Center is current on cumulative patches.

Running the Digital Cable Advisor tool is a requirement to utilize CableCARD tuners from within Windows Media Center. At a minimum you should have the February 2010 Windows Media Center Cumulative Update for Windows 7 (KB977863) but highly recommend the June 2010 Cumulative Update for Media Center for Windows 7 (KB981078).

If you have not run the Digital Cable Advisor before, a helpful hint is to run Windows Media Center (7MC) in windowed mode. It requires administrative rights to run and if you are using 7MC in full-screen mode the UAC prompt will not be visible and the install may fail. For a better understanding of the Digital Cable Advisor please see MissingRemote's post "Digital Cable Advisor Tool Available Now."
Once I got the drivers installed, I verified the InfiniTV4 is visible under both Network and Network Connections. I knew I couldn't run the Windows Media Center TV setup over RDP so time to call Comcast. Note: Under normal circumstances your next step would be to Set Up TV Signal from within Windows Media Center. If you have not installed a CableCARD tuner in the past make sure to follow Ceton's instructions.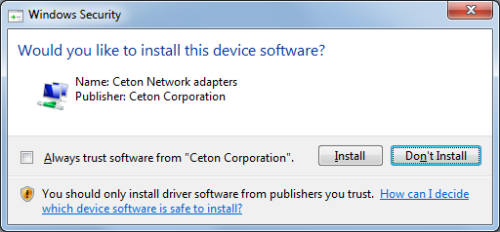 Note: The install also installs a Windows Service for use with Tuning Adapters (TA). If you do not use, as is my case. You can safely uninstall the service via Add\Remove Programs
I knew the drill, or at least I thought I did. I used the device's website to get my CableCARD ID and Host ID and called Comcast. First thing they asked for was the CableCARD serial number. Uh? I was not asked for this in the past. The technician informed me that they probably had the serial number already in the system but since I had three unpaired Cable CARDs at home she would need to know which one I was using, this made sense. I didn't have the serial number though and I knew the Windows Media Center CableCARD activation screen didn't provide it. I was in luck; the device website provided the serial number. After providing the serial number and Host ID (CableCARD ID was not asked for) I was told to wait up to 45 minutes for the pairing and authorization to complete. [Editor's Note: Comcast definitely has your serial number(s). When they give the card to you, they scan the barcode on your Card and if you look at your receipt it has the serial number on it. So if you're pressed for time, you can rely on your receipt and jot things down there]
I had a few more hours of work before I could get home and finish the setup so I wasn't too worried. But it seemed like such as waste of a few test hours. I called my wife and asked if she would setup the tuner for me. She was a little reluctant but she also had a show she wanted to watch, and eventually she agreed. I told her to follow the instructions provided on the Quick Installation Guide, skip the CableCARD activation step and give me a call if she ran into any issues.
Five minutes later I get a call—it worked. I was amazed–no issues, no questions, and in less than five minutes my wife and daughter were watching BravoHD in the living room and my son Cartoon Network HD in his room via a Media Center Extender (MCX). This was huge; my kids have not had Live TV in their bedrooms other than a few ATSC and ClearQAM channels in months.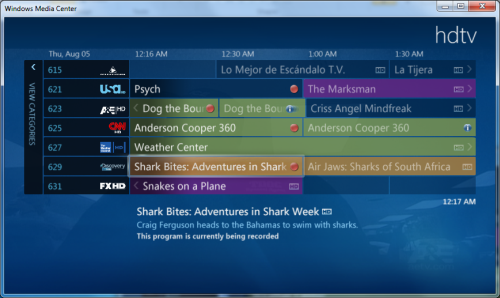 I asked my family to relax and watch as much HDTV as possible over the next couple hours. While they enjoyed their Live TV I had fun going through the device's webpage. As you can see below, everything you need and more is available. For those interested I've also made a corresponding Media Center Add-in that I'll make available to download at the end of the review series. You should not need to access once everything is setup and working well, but I wanted to be able to quickly access the tuner temperature information via the 10' interface.
As previously mentioned, the Spousal Acceptance Factor (SAF) is something most of us who live with others must comply to. In my particular case, SAF has a direct correlation to my purchasing power. As such, say hello again to Gatinha (aka Mrs. Mikinho):



Ceton, thank you for the InfiniTV 4—my hats (or ears) off to you. Finally a product that works, and just in time for Shark Week! I have been waiting (and increasingly less patiently) for a product to come along that would facilitate TV time. I've been told "it is working; it is the consumer, not the product". I beg to differ. And if it is, why is he spending our money on products I can't use without breaking or having to "learn" how to use? Sometimes this would lead to me taking out my frustration on the remote control (yes honey, I am the reason it rattles).

Tuning into your favorite TV shows like The Big Bang Theory, Castle, True Blood and Dexter, should be effortless and simple, right? Wrong. In fact, it has been a very frustrating ordeal and has been for the past 6 months or so [Editor's note: Approximately 6 months ago Comcast reduced the number of ClearQAM channels available in our area. We went from ~40 channels down to 6]. Here are a few examples: 1- I am a channel-hopper, I like to flip through channels. With our previous setup I could not do that. It was simply too slow—slow, slow, slow! Ok I may be exaggerating just a smidgen due to my lack of patience, especially during downtime. But when making a selection it would take several seconds to respond and then a few more to get a clear picture. 2- Constantly receiving a weak signal error. 3- The channels would lag regularly. It was almost impossible to watch a show in its entirety, from start to finish, without any interruptions of some sort. In a nutshell, I was very unhappy.

When my husband mentioned this new product that was going to solve all these issues I'll admit I was skeptical. In fact, I tuned out the entire conversation. I thought to myself, "Great, another tuner that is going to magically work!" But I love my husband and thought I would give him one more chance.

I am very pleased with the outcome. Immediately I noticed how much faster it works. I was thrilled. After experimenting for an hour, changing channels, recording, etc…I realized there was no lag time. No weak signals. I can watch a show and record several others at the same time, an option I did not have before [Editor's note: Not exactly true, for the few ClearQAM and ATSC channels we could record up to 9 channels at once but having to explain that doesn't bode well for stability and ease of use]. Everything is working perfectly, better than I had expected. I also noticed an improvement in the picture quality; the HD channels seemed more clear and crisp. Not sure if the Ceton InfiniTV4 tuner has any effect on the quality of the picture but I saw a great improvement.

If you are encountering the same issues, or similar, as I have in the past then I highly recommend investing in the Ceton InfiniTV 4 tuner. It is pleasing to know that there is finally a product out there that works and that I can use without any disruptions. My only question, why has it taken so long?

This is great news for my husband who will never again have to hear me cry out: "Why can't we just watch normal TV like normal people!"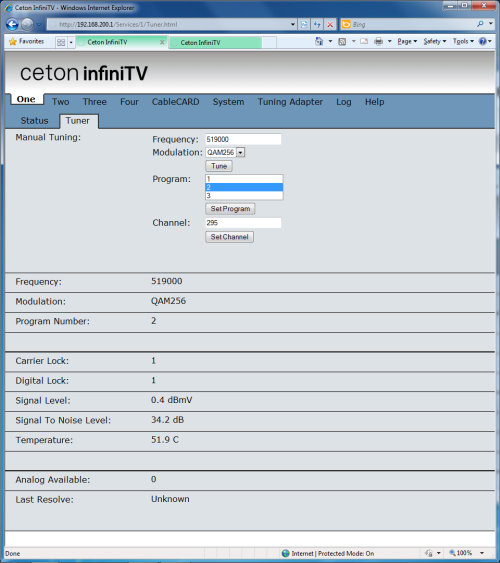 Despite the urge to come home and enjoy a few hours of HDTV bliss, I was on a mission. I had spent the previous night scraping together five make-shift test HTPCs. My wife also wanted her dining room table back.
The Test Machines

HTPC #1 – i5

HTPC #2 – i3

HTPC #3 – i7

HTPC #5 – C2D

HTPC #6 – Atom

Enclosure

Moneaul MonCaso 320B (link review)

Mini-Box 350M w/ Magma Express 1

Antec Fusion v1

Antec Mini P180

Supermicro SuperChassis 836E1-R800B

Motherboard

Intel DH57DD (review pending)

Intel DH57JG

Intel DH57DD

Asus P5E-VM HDMI

CPU

Intel Core i5-670

Intel Core i3-540

Intel Core i7-960

Core 2 Duo E8400

Intel Atom D510

RAM

8GB DDR3

4GB DDR3

4GB DDR3

4GB DDR2

4GB DDR2

Video Card

Intel HD Graphics

Intel HD Graphics

eVGA NVidia GT 240

eVGA NVidia GT 220

eVGA NVidia GT 210

Recorded TV Storage Drive

2x WD Black 1TB (64MB Cache, RAID0)

Intel X25-M 160GB

WD Black 2TB(64MB Cache)

WD Green 1TB (64MB Cache)

WD Green 1TB (64MB Cache)

Tuners

Ceton InfiniTV4, ATI DCT, Hauppauge HD PVR, AVerMedia AVerTVHD Duet, SiliconDust 3x HDHomeRun and AverMedia AVerTV USB HD PVR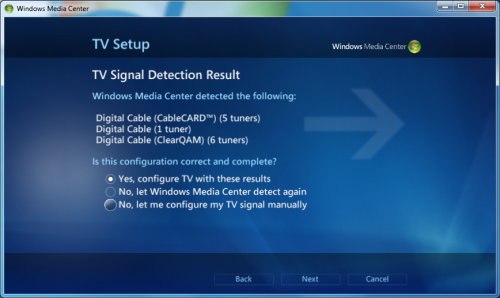 * Note: I also tested in WHS v1, WHS v2 (Vail) and Windows 2008 R2.
I won't go into much detail in Part I but here are some highlights:
Extremely stable. I had two issues, neither Ceton's fault. 1- I either provided the wrong Host ID or Comcast had a typo that prevented CableCARD authorization; 2- I had a bad coaxial cable which lead to issues tuning HBOHD. After replacing the cable everything worked beautifully.

From our experiences, the majority of support issues that arise with consumers will most likely be pairing issues outside of Ceton's control.

Fast channel changing. Typically in the 2-3 second range but when all four tuners were in use channel changing would take a little longer, up to 5 seconds. Still much better than any other tuner in the system, including the Comcast set top box.

Excellent picture quality. This is source and channel dependent but it performed much better than my ATI DCT.

Low power usage. I had a 3 watt difference between not having the InfiniTV installed and having all four tuners in use.

Extremely low CPU usage. On the i5-670 I could record four HDTV channels and fluctuate between 5%-8% total processor utilization. When you add Live TV that jumped up to ~20% due to ehshell.exe (the Media Center Process) which includes UI and video decoding tasks. I tested with using all four tuners for Live TV via the console, a Linksys DMA2200, an updated Slim Xbox 360 and an original Xbox 360.

After measuring performance counters for over 12 hours, almost no lost network packets.

Again, after constant use on all four tuners for over 12 hours very little heat. Each tuner averaged in the 50°C-55°C range. Using an IR thermometer I could not read any area higher than 59.7°C. In the MonCaso 320B, the most cramped case tested, the InfiniTV increased the ambient temperature by approximately 6°C. Well within an acceptable range.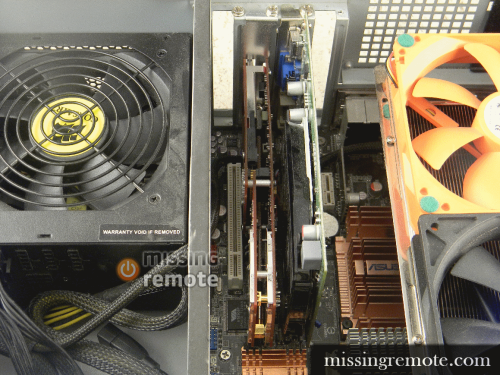 Now for the bad news:
If you were planning on picking up an InfiniTV4 to use as a ClearQAM Quad Tuner, think again. At least until Microsoft releases a patch. As is, Windows Media Center is not able to use the InfiniTV4 as a ClearQAM tuner due to the lack of onboard analog NTSC tuner. How is this related? No clue other than the ATI DCT had an analog NTSC tuner so it looks like something in Windows Media Center requires it.

WHS v1 is not supported. The drivers are for the W7 architecture only. See Part III for Vail and Windows 2008 R2.

Network bridging is NOT currently available. If you were planning on installing the InfiniTV4 in the basement and using network bridging to utilize in your living room HTPC you'll have to wait for a firmware update. It is coming, just not today or tomorrow. Personally I'm happy Ceton focused on stability, performance and keeping the resource utilization as lightweight as possible—it shows.

DRM. Yes you are subjected to DRM and your cable TV provider's use of copyright protection flags. If you ordered an InfiniTV4 I'm assuming you knew this. Here in Houston, the only content Comcast not marked as Copy Freely (0x00) is premium channels. This varies per provider and by region, as seen below you can see the copy protection level for the specific channel you are watching on the InfiniTV4 device webpage.
Check back for Part II where I will go into detail on performance and tuner comparison. Part III will cover SageMCTuner, External PCI-Express via the Magma Express 1 and virtualized HTPCs. Many thanks to Ceton for providing an early pre-order unit. And special thanks to Jeremy Hammer [Ceton] for his patience and help answering questions.