QNAP NMP-1000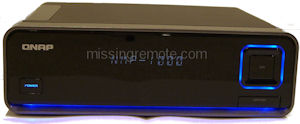 Review: QNAP NMP-1000

These days, small form-factor networked media players are all the
rage. It seems that you cannot turn around without tripping over a
device from another manufacturer trying to compete in this market.
We
recently had a look at the Box Office from Patriot and the O!Play HDP-R1 from Asus. Today I bring to the
table the NMP-1000 from QNAP. Starting where others leave off, this
unit offers similar specs as other units but with the addition of a
3.5"
hard drive bay. Read on to see how it will fit into your home
theater
setup.
Introduction
QNAP Systems, Inc. is a privately held company founded in 2004 and is
dedicated to bringing world class NAS storage, professional NVR video
surveillance, and network video players to consumer, small/medium
business, and entry level enterprise market segments. QNAP leverages
not only hardware design but also a growing core competency in software
engineering that is precisely focused on bringing to market products
that offer the highest available performance coupled with outstanding
reliability, scalability, and ease of installation and use. QNAP is a
multi-national company with headquarters in Taipei, Taiwan, and
subsidiary offices in China and the United States.
Here is a closer look at the specs from QNAP:
Networking
TCP/ IP, HTTP, CIFS/ SMB, NFS,
AFP, FTP, DDNS, DHCP client, BitTorrent P2P
File System
NTFS (system default)
FAT32, EXT3
Client Supported
Microsoft Windows 2000/ XP/
2003/ Vista/ 7
Mac OS X
Linux and Unix
User Management
User account management (max. 128
users)
User group management (max. 32 groups)
File System
Management
Network share management
(max. 128 shares)
Unicode support
Web File Manager
System Tools
HDD standby mode setting
System firmware upgrade
System logs
TV System
NTSC/ PAL
Max. Resolution
1920 x 1080p (Full HD)
Screen Aspect
Ratio
4:3 or 16:9
Audio Formats
FLAC, WAV, WMA, AAC, PCM, AC3, MP3,
M4A, DTS, OGG
Video
Formats

Codec: MPEG1, MPEG2, MPEG4,
XVID, H.264, H.263, WMV9, VC1

Container: AVI, MPEG/MPG, VCD (ISO,
MPG, NRG), DVD (VOB, IFO, ISO, NRG), WMV, ASF, TP, TS, TRP, M1V, M2V,
M4V, M2P, M2T, M2TS, BDMV, MTS, MOV, MP4, RMP4, MKV, TOD, MOD, 3GP

Image Formats
BMP, JPEG/ JPG, PNG
Playlist
M3U, PLS, WPL, ASX
Subtitle
Compatibility
SRT, SUB, SMI, TXT, ASS, SSA,
SUB (with idx)
Online Contents
Flickr photos, Apple movie trailers,
Internet radio, weather forecast
File Server
Share files across Windows/ Mac/
Linux and UNIX and centralized management
FTP Server
Access file from remote location via
FTP server
Supports up to 16 concurrent connections (NAS
mode)
Download Station
PC-less BitTorrent download
Unique remote download utility QGet (Windows/
Mac) for remotely drag download task
Content Management
Automatic categorization of local
and remote disk data
User rating of video and music files
Photo sorting by date taken
Parental control
User Customization
Home menu style selection
Subtitle size and location settings
Multilingual
Support
English, Traditional Chinese,
Simplified Chinese, Japanese, Korean, French, German,
Italian, Spanish, Russian, Swedish, Norwegian,
Finnish, Danish, and Polish
Remote Share
Up to 6 remote shares via SMB/CIFS or
NFS
Auto share folder discovery on Microsoft network
Discover and playback from UPnP/DLNA supported storage
devices
Hardware Up Close
The NMP-1000 is a nice unit. While not quite as small as some other media players, this unit also supports the use of a 3.5" SATA hard drive internally so that media can be stored locally on the unit instead of being forced to stream everything over the network.
The unit itself is made up of lightweight hard plastic material found all over the place today. The front is has a smooth black finish to it while the rest of the unit is matte black – similar to the Patriot Box Office device. The side of the unit contains a removable panel which hides a tray that slides into the unit to hold the 3.5" drive which makes it very difficult to insert the drive improperly.
NMP-1000 Front
NMP-1000 Rear
The front of the unit provides a home for a power button on the left and a 4-way directional pad with OK button on the right. This directional pad allows the user to navigate through the NMP-1000 menus without needing to use the remote. The middle of the unit hides an LCD that displays whatever menu option is currently highlighted as well as relevant media info when displaying content. This allows the user to navigate through the menus without needing to turn on a display. This can be very handy for playing music without turning on a TV. Along the entire bottom of the front panel is a decorative blue LED that turns on when the unit it booted up. This light can now be turned off with a menu setting if desired (with a recent firmware upgrade).
The rear of the unit holds enough IO ports to make this unit useful in practically any environment. Besides the obligatory power connector there are also USB and eSATA ports that allow this device to show up as an external drive when connected directly to a PC; HDMI, Component, S-Video and Composite outputs for video, Coax, TOSLink and Composite outputs for audio, Ethernet and two USB ports to add external storage as well. There is also a small fan but there is no need to be concerned over noise levels. Throughout the extent of my testing I never once noticed more than a quiet whir that was quickly forgotten in the background.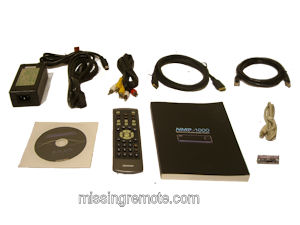 NMP-1000 accessories
Included with the NMP-1000 are the power supply, RCA cable, HDMI cable, Ethernet cable, USB cable, multi-language users guide, remote (with battery) and a CD with software for connecting to the NMP-1000 from your PC. This is a fairly comprehensive kit that should be enough to get you started. I applaud QNAP for including the HDMI cable which is often left out with other units.
Usage
Right off the bat, I have to say that setting up the NMP-1000 is extremely easy. If you plan to stream all of your content to the device all you need to do is connect the box to your network and to your TV/AVR. If you plan to store content locally in the device you will need to do the previously mentioned steps, but also install a 3.5" hard drive. Once the unit is powered up you are ready to go. There are of course a few settings that can be tweaked to your liking such as assigning a static IP address or specifying HDMI or SPDIF audio, but for many users the default settings work well enough.
NMP-1000 splash screen
Main menu
Navigating the NMP-1000 is very easy. The main menu divides your content by types, meaning that there is a separate area for videos, music or pictures. You can also select all content types. Once you select which type of content you are looking for you can navigate through your directory structure and see only that type of content. All other types of content will be filtered out and not show up. If you select All Media then nothing is filtered and all of the folder's contents will appear.
Media location selection – local, networked or streamed
Example of YouTube streamed content
There was only one problem that I ran into while using the NMP-1000 and it was related to getting the files onto the unit. There are two ways to move content to the NMP-1000: remotely over the network or locally via USB or eSATA. When using eSATA I was never able to get the device to show up on my laptop. USB however worked as expected with the unit showing up as a removable hard drive so I expect that the eSATA issue is a problem with my laptop and not the NMP-1000. Network access works well due to a gigabit Ethernet port which allows fast file transfers.
NMP-1000 video player
NMP-1000 music player
When not functioning as a media playback unit the NMP-1000 can either be completely shutdown or else go into NAS mode where all of the media playback functionality is turned off but the unit can still be accessed over a network. This allows you to copy files to and from the unit like a regular (single drive) NAS device without spending the extra electricity on things like video output or decoding. It's not a huge power savings at 17 watts in NAS mode versus 18 watts in regular mode but every little bit helps. And switching back to regular operation is nearly instantaneous with a touch of the power button.
Weather on NMP-1000
Shutdown or NAS mode
The item of primary importance when considering a unit like this is not looks however; the primary feature is the unit's ability to play your media. In this respect I can say that the QNAP NMP-1000 works very well. The specs indicate that the unit can play back almost any formats known to man and I can say that the specs are correct. I threw a battery of video and audio files at the unit – which included VC1 with AC3 audio in M2TS, VC1 with PCM audio in MKV, TS, AVC with AAC audio, VC1 with WMA2 and WMA3 audio, MP4, VOB, well you get the idea – and it was able play them all back without issue or hesitation.
Conclusion
Overall the NMP-1000 is a very capable unit. It is very responsive when navigating menus. The unit was able to play a multitude of audio and video formats which covered everything in my test suite. In the end, the hardware was more than capable of handling the workload. And on top of its ability to playback your media the NMP-1000 can also function as a home NAS as well as a BitTorrent client. While the unit may not be as small as other media player devices the NMP-1000 offers the ability to use a 3.5" hard drive allowing up to 2TB of internal storage. However, these capabilities do come at a price and that price is an MSRP of $440.
Pros:
Native support of most video codecs
Quiet operation
Sleek design
High stability
NAS functionality
Bit Torrent client
Cons:
You can find the QNAP NMP-1000 at AMAZON for $432 or NEWEGG (unavailable at the time of this writing).
Thanks to QNAP for providing the review unit.