IOGEAR GKM561R Wireless Keyboard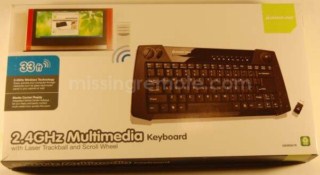 IOGEAR GKM561R Wireless Keyboard

Finding the right wireless keyboard and mouse for your HTPC can be a huge chore. For me the ideal solution has to have a wireless range greater than 10', good battery life and combines a compact keyboard with a pointing device in the same chassis. The IOGEAR GKM561R has the looks and specs to get it in the door; let's take a closer look to find out if it has the capability to make it a keeper.
Specifications
| | |
| --- | --- |
| Wireless Frequency: | 2.4GHz |
| Connector: | USB |
| Range: | Up to 10m (33') |
| OS Support: | Windows XP, Vista (32/64), Mac OS X (multimedia keys not supported) |
| Trackball Resolution: | 400/800/1200 DPI (user selectable) |
| Battery Type: | 2x AA |
| Size: | 14.125" (W) x 6.5" (H) x 1.5" (D |
The GKM561R is an averaged sized compact USB keyboard operating at 2.4GHz. This is a very crowded slice of spectrum also used by 802.11b/g/n, microwave ovens, cordless phones, etc. so it is not surprising that the range is "Up to 10m (33')". In distance testing I had a hard time reliably going beyond 4-5m (12-15') and infrequently had difficulty within 2m (6') of the HTPC with the dongle plugged directly into the I/O panel. The HTPC is located in the bottom slot of an A/V cabinet so I suspect that my environment is more challenging than most. Every 2.4GHz keyboard I've tested (except my ancient Gyration – RIP) struggles in this scenario (e.g. my VidaBox is only reliable within 1.5m) so while wireless performance was not flawless, the IOGEAR's range is good enough that "PC" tasks (i.e. web surfing or programming) are quite possible from the coffee table without frustration. After inserting a 1m (3') USB extension cable (A Male to A Female) between the I/O panel and the dongle which allowed it to be mounted in a higher location outside the cabinet range increased dramatically in line with IOGEAR's 10m (33') claims.
As a standard Plug-and-play keyboard the GKM561R can be used to configure the BIOS and does not require addition drivers to work, but unlike most wired USB keyboards it cannot wake from hibernation (S4) — wake from standby (S3) is supported. Before moving on it should be noted that while Windows 7 is not explicitly listed in the supported section the keyboard works without any extra effort.
Layout and Thoughts
Inside the box we find the keyboard, USB dongle, cleaning cloth, two AA batteries (not shown) and instruction manual. I didn't spend much time looking at the instructions as usage is straight forward (plug in the USB dongle), but some of the finer points like Media Center (MC) key usage that may be missed by less technical users are covered. I found that the default RF channel selection worked well enough that I didn't have to reset the keyboard to get acceptable range; the experience may vary between environments, so the reset process (press the buttons on the dongle and bottom of the keyboard) is explained as well.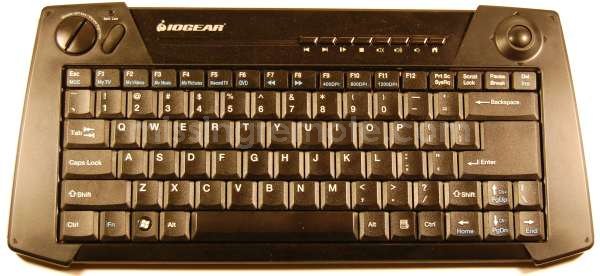 Like all compact keyboards the GKM561R demands some compromise, but for the most part the layout is functional and the presence of Media Center specific keys along the top (Fn + Esc-F8) is an excellent bonus. Rounding out the HTPC focus of the board a full set of media control keys (stop/play/previous/next/etc.) are located above the standard keys. The keyboard also includes a scroll wheel with middle click and a battery status light alongside the left/right "mouse" buttons on the top left edge. I wasn't able to test the battery indicator as the included alkaline AAs are still going strong after a couple months of use. Also, because some wireless keyboards struggle with rechargeables, I tested with a couple Panasonic 2100mAh finding performance to be exactly the same.
Having a trackball integrated in the top right corner is quite welcome
for a longtime fan of trackballs compared to alternatives — like the
Microsoft Media Center keyboard's "stick". The trackball is best used
by gripping the keyboard with both hands and using your thumbs to
drive. It can also be used while lying on a flat surface, but I found
prolonged use in that orientation unnatural. I was happiest using the
1200DPI (Fn + F11) setting, finding the 400 and 800DPI settings too slow
for comfortable use. The pointer was a bit jumpy at times, so
precision work might be difficult.
The only real complaint with key placement/selection is that Page Up, Page Down, Home and End (bottom right) are not dedicated keys requiring the Fn key (bottom left) to be held while pressing the respective arrow key. For many users this might not be an issue; I use those keys frequently during PC tasks (mostly programming), but they are also quite useful when navigating SageTV.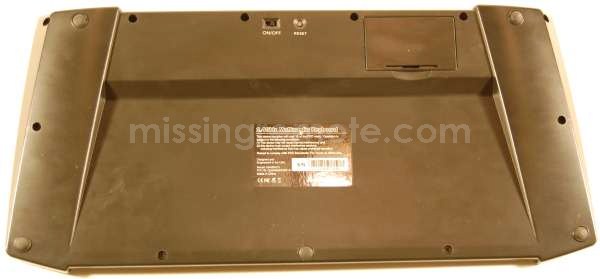 The reset button, battery compartment and power switch are located on the bottom of the keyboard. At first I questioned the usefulness of a discrete power toggle, but quickly found it to be an excellent feature in an HTPC keyboard. This is big not only because it increases battery life but also explicitly takes the keyboard out of the input chain. This eliminates "random" mouse pointer appearances when the dog (or kid) throws a toy at the A/V cabinet, removes the need to disable the keyboard/mouse as a device that can wake from standby, and allows for more flexible orientation while not in use (i.e. can be stored vertically).
Lastly a quick look at relative size; with the GKM651R on top, Microsoft Media Center keyboard in the middle, and a VidaBox ACC-BT-KBLTB wireless keyboard on the bottom.
Conclusion
Combining a reasonable price (MSRP $62.95; currently $44.99 at Amazon / $56.99 at Newegg), good wireless range, and the right look this keyboard and trackball combo is a solid contender in the crowded compact wireless keyboard market. While I feel that trackball precision and performance could be better, it is really only an issue for extended PC tasks that most HTPC users avoid.
Pros:
Price
On/Off switch
Wireless Range
Integrated trackball
Scroll wheel with middle click
Media and Media Center keys
Cons:
Trackball a bit jumpy at times
Home/End/Page Up/Page Down require Fn+
No Fn lock