EFO Wireless Keyboard Comparison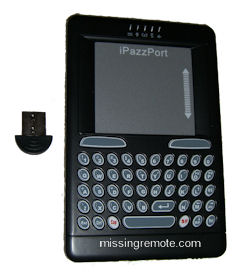 Review: EFO Wireless Keyboard Comparison

Recently we looked at the EFO RF Wireless Handheld Keyboard which worked pretty well overall. Today we are going to compare that with the new Bluetooth version, the EFO Bluetooth Wireless Handheld Keyboard. How well will bluetooth compare to RF? What else has been changed with this keyboard? Is it worth the additional cost? Read on to find out.
The Comparison
The EFO Bluetooth Wireless Handheld Keyboard is very similar to the RF version (reviewed here) with a couple of differences, the biggest being that this version uses Bluetooth instead of RF to communicate wirelessly (as the name implies). The touchpad and physical buttons are in the same location as the RF version but they keymap is different. For example, the top row on the RF version is the QWERTY keys, but the same row on the Bluetooth version is the number keys. Another difference between them is that the touchpad on the Bluetooth version has a vertical scroll area whereas the RF version is all touchpad.
| | |
| --- | --- |
| | |
| EFO Bluetooth Wireless Handheld Keyboard | EFO RF Wireless Handheld Keyboard |
My first focus when comparing the two keyboards was range of use. As it turns out the range is almost identical. Both are rated to 10 meters and in my usage the RF version had about one more foot of range. In both cases they worked through multiple walls as well as the floor of my house up to a range of almost exactly 10 meters. It is important to note here that the RF keyboard can be impacted by the amount of RF noise that is in your environment in the 2.4GHz range. In my testing environment there weren't many other devices operating at that frequency. Things that may affect performance here include other wireless mice, keyboards, networking, even a microwave. At the same time, Bluetooth is also affected by additional devices being operational in the area. In my testing environment there were no additional Bluetooth devices to interfere with.
As previously mentioned, the key layout is a bit different between the two keyboards. After giving each setup a fair amount of time to test with I found that both layouts worked well after getting used to them. The Bluetooth layout is nice because the numbers are all primary button functions (useful for say changing channels) but the effect of this is that the symbols, punctuation and arrow keys are now secondary functions, so it's not as convenient to write emails or do web addresses. On the RF version, those keys were swapped (numbers and some symbols were secondary functions and punctuation and arrows were primary button functions).
| | |
| --- | --- |
| | |
| EFO Bluetooth Wireless Handheld Keyboard | EFO RF Wireless Handheld Keyboard |
The Bluetooth touchpad adds vertical scrolling functionality that was sadly missing in the RF version. The right side of the touchpad is dedicated to this purpose. This makes navigating websites a bit easier, but arrow keys are always available. A commonality between the two keyboards is that there are no Page Up, Page Down, Home or End keys though. This makes website navigation a bit more difficult if you rely on these keys.
| | |
| --- | --- |
| | |
| | |
One thing that I did not like about the Bluetooth version of the keyboard is that pairing is required for the keyboard to work with an operating system. In general this isn't a problem, especially for use with an HTPC where you will only be using the keyboard for occasional maintenance. The problem that I ran into was that there is no native support for it in the BIOS so you cannot use it to change any of your settings; and if you are like me and use GRUB to select between multiple operating systems to boot from, you cannot use it there either. It should not be an issue for most users but it is certainly something to be aware of. The RF version did not have this limitation.
Conclusion
Overall, I found the EFO Bluetooth Wireless Handheld Keyboard to be a solid performer. Even at longer distances I did not run into problems with missed characters. Battery life is nice and long; the RF keyboard has been running for over 4 months of non-heavy use on a single charge. After initial charging, the battery did not show any signs of running out of power during my testing period. I like the addition of the vertical scroll area that is commonly found in laptop touchpads. This is a nice, small and light keyboard with backlit buttons that I feel would work well for maintaining an HTPC. Unfortunately still, as with the RF version of the keyboard, there are no function keys or Windows key.
Pros:
No driver necessary
Very small size
On/off switch for power savings when not in use
Rechargeable battery
Backlit keyboard
Bluetooth interface (wireless and not line of site)
Good range
Vertical scroll zone
Alphanumeric keys are layed out same as QWERTY keyboard
Cons:
Need to pair the keyboard and receiver in each OS used
Not supported in BIOS
Lots of "regular" keys are not present – Tab, Shift, etc
Non-standard key layout
No marked keys (different shapes or tabs) to indicate where you are on the keyboard without looking down
Punctuation and arrow keys are secondary functions.
I would like to thank EFO for supplying us with review units.