New WHS Battle – Old HP EX475 vs New EX487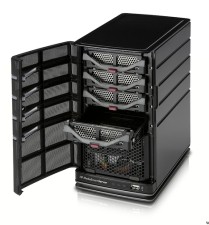 Battle of the HP WHS Boxes – EX475 vs the new EX487

If you are like me, you couldn't wait to get your hands on the initial
HP MediaSmart Windows Home Server system when they first came out last
year. I received one and put it to the Battle of the Windows Home Servers
, and it did wonderfully going par for par and even surpassing what
could be done with custom built WHS. And for the time, it was the
dominant and trophy for the Windows Home Server platform. HP did not
rest on their laurels however, and recently released an update to their
original series with the EX480 and EX485 MediaSmart Servers. There are
plenty of in-depth reviews
regarding these new Windows Home Servers, but I wanted to look at this
from the eyes of a happy first generation HP WHS user. I'm sure many of
your owners wondered if you had made a mistake being an early adopter,
and just how much of a difference is there in the new versions.
Appearance
At a glance, the new EX485/487 systems appear identical to their older brethren except for a few small changes. The top bezel of the unit is now a matching black color, instead of gray. And the dark blue lights for the drive bays has changed from a dark (and rather bright) blue, to a much more appearling softer, light blue color. Nothing revolutionary, but small touches that show paying attention to customer feedback.
Those changes are nice, but definitely wouldn't make you trade in your old WHS box for this, so let's move onto performance.
Performance
I have read every review on the EX487 systems, and read the spec changes, but I did not expect what I found. First, let's take a look at a table of the spec differences between the older EX47x series and the EX48x:
| | | |
| --- | --- | --- |
| Model | EX470/475 | EX485/487 |
| Processor | AMD Sempron 1.8 GHz 64-bit Processor | Intel Celeron 440 2.0 GHz 64-bit Processor |
| Memory | 512mb DDR2 RAM | 2Gb DDR2 RAM |
| Hard Drives | 500Gb/1Tb | 750Gb/1.5Tb (2 x 750Gb) |
| Ethernet | 10/100/1000 | 10/100/1000 |
| USB | 4 (1 front, 3 rear) | 4 (1 front, 3 rear) |
| eSATA | 1 | 1 |
From my review, you may remember that life with the 512mb RAM in the EX475 was fairly painful, as the experience was far slower than I was comfortable with, given all the activity I do with my WHS. I often Remote Desktop into it and always enjoy playing/testing with new add-ons. I had upgraded my 475 to have 2gb DDR2 RAM, so I really didn't expect to see that noticeable a difference simply because of the CPU upgrade…boy was I WRONG!
In my initial testing/experience with the new line of home servers, is that they are significantly (even shockingly) faster than its predecessor. Having had an original version with the memory upgrade, I can only conclude that the Intel Celeron chip IS really that much faster than the Sempron 1.8.
| | |
| --- | --- |
| | |
| Nice beefier system specs | Just a tad bit more storage than the EX475 |
Tasks such as remote desktop now promptly show up where before they would take a slight delay to appear and render the desktop. The WHS Console loads up faster as well, and browsing around also is nice and quick. It's an interesting position to be in as a reviewer–I had accepted the performance of the previous generation just based on the fact that it was a lower performance chip, but seeing this new performance simply wowed me, and makes this come quite close to my home-brewed WHS box I had built with a Core2Duo chip.
In addition to the physical performance, I've also been pleased with the noise levels from this device. A few months after owning the older EX47X, I began to notice that the fan noise had increased and began being girlfriend-noticeable–where the girlfriend asks me, "What is that noise? Make it stop." In other words, NOT good. Browsing through the various WHS forums, I know I am not alone with having fan issues, but it wasn't significant enough to service. The new EX487 I received is significantly quieter (and maybe it's just the joy of having it) than even the original EX47x when I had first turned it on.
Only time will tell if both the performance and noise benefits of the new EX48x series maintain, but it's off to a fantastic start, superceding it's predecessor right from the start.
Software
Outside of the technical specifications, the MediaSmart software received the most attention in its overhaul with its 2.5 Update recently released. There were some significant offerings brought to the table (again, answering the cries of their users). From the HP Press Release:
The new software enables the HP MediaSmart Server to
automatically convert videos (including unprotected DVDs) into two
resolutions. The original, high-resolution file will stream to most devices
on a home network including PCs, Macs and gaming systems.(2)

The mobile resolution version of the video can be
downloaded and played on popular mobile devices including the iPod touch,
iPhone and PlayStationPortable (PSP).

The video converter will transcode most popular video
formats into both high and mobile quality MPEG-4 (H.264) versions.

"Our enhanced software features will help
eliminate the frustration people experience when attempting to stream their
videos to connected devices in the home or remotely to their mobile
devices," said Jason Zajac, vice president and general manager,
Worldwide Attach Group, HP.

In addition, owners of an iPod touch and iPhone can
download a new HP MediaSmart Server iStream application(3) at no
charge from the iTunes App Store, enabling them to stay connected to their
digital media stored on the MediaSmart Server. Users can easily access their
pictures, listen to their music collection and watch their favorite videos
– all streamed directly to their mobile devices from their
HP MediaSmart Server.

Other software enhancements include an improved mobile
streaming user experience, a more robust HP Media Collector, an improved
Apple Time Machine configuration, and the ability to create public and
private albums in the Photo Viewer.
Full disclosure: Not suprisingly, the community has figured out how to run this 2.5 Software on the older EX470/475 boxes already…albeit with a bit of effort.
| | |
| --- | --- |
| | |
| The new Main start page WHS Console Page | A vastly changed web page for the server. |
That being said, the software improvements are pretty nice, offering a facelift to the main central user interface for both the WHS Connector software as well as your remote login page. The coolest feature for users is the ability to convert your media files. While this isn't a feature that you probably haven't already learned to use with a 3rd party software, it's nice to have it integrated, and HP does a good job of making a fairly technical task seem simple. Also, the ability to stream them remotely as well really closes the loop on what users would expect from their central home server. If you can stream all your media remotely, then you never have to worry about having a separate collection for work and home!
Setting up the software with Twonky Media was nice, however, with all the benefits that Power Pack 2 includes I found myself with less need for Twonky since I am a Media Center Extender user (and PP2 does WONDERS for that). It was a slight annoyance to have to install power pack 2 myself, but it's a simple enough update that I can understand the business decision to not make new images.
| | |
| --- | --- |
| | |
| Slick online photo share… | And the console interface to setup the photos. |
There's plenty more that's included, but I wanted to briefly cover the main ones you home theater folks would be interested in. Those, along with the already existing features make it a wonderful addition.
For a full run-down review of all the software offerings, check out Alex's review .
Update: On 5/5/2009, HP Announced that they would offer the software update to ALL EX47x users! Kudos to HP, so now you can uncheck this as a reason to upgrade.
Conclusion
The MSRP of the new EX485/487 is $599/$749 respectively, but can be found with various deals for much less. That being said, if you already own an EX470/475, then that is a sunk cost. So you really need to weigh your options. If you are comfortable with ebay or feel you have a friend/family member who could use a bit of reliability, then sure, why not sell your old one to them and enjoy the performance benefits the new one includes.
I'm sure a lot of geeks have already done the CPU and RAM upgrades themselves, to whit there will probably not be a motivation to upgrade. The software is a nice revision as well, but a lot of that will be available to older systems as well. For me, the speed benefits provided were significant, and that along with the quiet noise levels would make it very appealing to go the sell+buy route. The money I would lose in the exchange would be worth it for the benefits. My parents on the other hand, I would probably just as well have them keep their original WHS, until maybe the next version with even bigger and better upgrades that they might notice.
Bottom line, if you never felt comfortable doing the CPU and/or memory upgrades, and have noticed the sluggish performance–or maybe you just can't help but install all the 500 WHS add-ons–then the upgrade is worth it and the speed benefits are obvious. If you have already done the CPU/RAM upgrades or you never noticed any sluggishness and are using the old one just as stock, then it would not be worth the upgrade cost.
Either way, you can't go wrong, as both systems are great and have set the bar quite high for other competing WHS boxes.