Hulu on the Desktop, Remote Friendly…Officially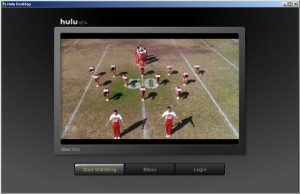 When Hulu started shutting down Boxee and other addins that utilized its service for a 10′ experience interface, people assumed one of the following–either the big content providers were uncomfortable blurring the line for television shows on their computers via a remote interface, or that they were working on something themselves and wanted the market to themselves. For better or worse, it appears that it was the latter.
Hulu just announced a Hulu Labs section of their site, and to kick things off have launched the Hulu Desktop application. The idea is exactly what you would imagine: to bring the Hulu content to a 10′ friendly interface. If that sounds eerily familiar, it's because it is the same idea that Boxee, Secondrun, and a wealth of others had been trying to achieve…it just took them longer.
Either way, the good news is that we now have an application that will bring Hulu to the 10′, without fear of it getting shut down (we think, right?). So witout further adeu, let's take a closer look and see how Hulu does. As I have started on a few other reviews, here is a video showing the experience in whole, and the speed you can expect:
System Requirements
FAQs

A lot of questions you may be having can be answered from the FAQs and System Requirements page. Most notable from here, is that this application is for both MAC and PC, but sorry Linux folks (if you haven't, go check out Boxee on Linux!).
As such, I felt it was appropriate to mention those here. Everything is fairly straight forward, with the nicest bit being that you do not need to have a profile setup to use it:
What are the minimum requirements to run Hulu Desktop on my PC/Mac?

PC

Intel Pentium Core Duo 1.8GHz (or equivalent)
At least 2.0 GB RAM
Windows XP or later
2 Mbps Internet connection or greater
Flash 9.0.124




Mac

Intel Pentium Core Duo 2.4GHz (or equivalent)
At least 2.0 GB RAM
Mac OS v10.4 (Tiger) or later
2 Mbps Internet connection or greater
Flash 9.0.124



How is Hulu Desktop different from Hulu.com?
Hulu Desktop runs directly on your computer and does not require a web
browser. It provides an alternate way to browse and view content from
the Hulu Library.
Is the same content on Hulu.com available on Hulu Desktop?
Generally speaking the Hulu library on Hulu.com will be available
through Hulu Desktop. While our goal is to have the same content
library available on through all of our distribution channels, we work
together with our partners to determine availability of their content
on these various channels.
Do I need and account to use Hulu Desktop?
No account is required to use Hulu Desktop, just download and enjoy.
Can I access my profile and queue from Hulu Desktop?
Yes, you may login to Hulu Desktop and access your queue, history,
subscriptions, playback quality and closed captioning preferences. Your
profile details, privacy settings and friends are not accessible from
Hulu Desktop.
Which remote controls work with Hulu Desktop?
Hulu Desktop will work with Apple and Windows Media Center remotes.
Remotes that are compatible with Windows XP and Vista can be purchases
at most electronics retailers.
What devices support Hulu Desktop?
Hulu Desktop is currently only available for Mac and Windows PCs. Hulu
Desktop is not supported on Linux or on consumer electronic devices
Why does Hulu Desktop require me to install Flash?
Hulu Desktop is built on Flash, and thus requires it to be installed to
function properly. You will only be prompted to install Flash if you do
not have it on your computer, or if you have an older version.
Please click on the link below for:
Why do I have to update Hulu Desktop to keep using it? Why can't I continue to use an older version?
Using the latest version of Hulu Desktop will ensure that it will
always work. As we make changes over time, older versions of desktop
may not be compatible with these versions.
Above and Beyond
Above & Beyond
HULU on the Desktop does a LOT of things right, which is pretty impressive considering this is their first attempt at a 10′ Interface. Everything needed will work with the Apple or Media Center remotes, the interface is peppy and responsive, and fairly easy to learn. The speed of course, will depend on your internet connection, but even on a slower connection I found it to be very acceptable.
| | |
| --- | --- |
| | |
| Main HULU Desktop Interface | And the useful interface |
The experience is not mind blowing, but the content is very well presented to users. The interface is more of a side-to-side scrolling, similar (eerily) to how Boxee works. It is easy to see where you are and also to migrate around to find newer content. I found the "recommended" section to be a nice feature especially as tv shows are going on hiatus. The ability–but not mandatory–to use your HULU profile to manage your queue and to view your history is a nice addition, but does not come close to the social features of Boxee.
| | |
| --- | --- |
| | |
| Episode View | Content playing with on screen display items |
Content played fast and the quality seemed very on par with what you would get from the HULU.com website. The advertisements seemed to be the same as well and played automatically before the program. The most pleasant surprise I found was that content continuously played in its order without having to QUEUE items up–making it nice if you are trying to get through an entire season of shows, rather than having to continuously go back and add the next one.
Falling Short
Falling Short
The real question everybody must be thinking (as I was) is how does Hulu Desktop compare to the Boxee, Secondrun and other competitors who were crushed down by Hulu? The answer is an uncomfortable not so bad. The benefit of software titles like Secondrun and Boxee were that they not only merged Hulu content but also a variety of other on-and-off-line media in a single, easy to use interface. Boxee in particular was wonderful as it could be installed on so many different and lower cost devices.
| | |
| --- | --- |
| | |
| Main Series Page | Episode Guide |
Now here's the disturbing part. As I mentioned originally, users had to infer what the motives behind the shutdowns were from Hulu's perspective, and things got clearer (or so we thought) when the CEO of Hulu, Jason Kilar, posted a blog about it:
"Our content providers requested that we turn off access to our content
via the Boxee product, and we are respecting their wishes. While we
stubbornly believe in this brave new world of media convergence — bumps
and all — we are also steadfast in our belief that the best way to
achieve our ambitious, never-ending mission of making media easier for
users is to work hand in hand with content owners. Without their
content, none of what Hulu does would be possible, including providing
you content via Hulu.com and our many distribution partner websites."
The obvious question remains–if this was the REAL motivation for the actions in such, then WHY do the "content providers" not have any problems with HULU doing essentially the same thing as Boxee?
I'll leave that point to your discussion and continue onward with the review. Aside from that issue, there is not a lot going wrong with the HULU application, quite impressive considering it was just released and of course, with the trendy "beta" tag. I feel the interface is a bit simplistic and that the Hulu webpage does a better job of having items stand out. I believe the approach that SecondRun.tv has done, making better utilization of the backdrop artwork is a much more attractive piece.
Also, the initial start page is a confusing item, serving as a portal of sorts where it gives you the main screen showing what you were last playing, and then the buttons: Start Watching, Menu, Login. I really wish (and hope that in the future) Hulu considers allowing users to toggle having to see this screen. For most, it will be useless as they will always want to jump to the Menu screen, so why not let the user decide? The only benefit I could see for Hulu is that if you do not have recently played content, that then it will start playing its own content…a nice pitch for advertisers?
Final Grade
Grade: Approved for Everyday Use
I will make this point very simple: if you find yourself using Hulu on a regular basis, and have a computer connected to your television, then this application is a MUST HAVE. There is nothing else on the market (yet…where's that Boxee fix for Windows and Hulu? :-D) that will allow you to access all the Hulu content with a remote, and this time without fear of it getting shut down.
| | |
| --- | --- |
| | |
| Same ads as normal | Easy to use Search via Remote |
The interface is easy to follow, the performance is fantastic. Sure, it does not have the gorgeous layout of SecondRun.tv, or the social items of Boxee (or much of anything else), but I cannot fault Hulu for that, as their primary goal is Hulu content only.
| | |
| --- | --- |
| | |
| Individual Content Information – Add to Queue | Alphabetical Listing of Programs |
I still can't help from walking away from this review feeling, well, slimey. Hulu went out of its way to shut down all of the 10′ applications that were pulling their content (yet maintaining all the ads), and I still struggle to understand their reasoning for doing so. I would *love* to have a Q&A session with Hulu's CEO to further discuss, so If you're reading this, please contact me!