Life With a Plugin, Episode 11: Queensberry Fight Network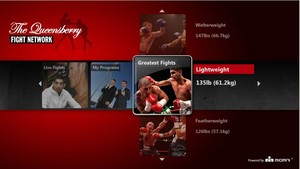 It was recently announced, that the Media Center world has been lucky enough to gain a few new online spotlight programs, including the Olympics & the Queensberry Fight Network. Being a large fight fan, I was excited to see what the Fight Network had to offer, so that's why I'll be covering it first. Having never heard of it, I was anxious to see what it had to offer.
Overview
The idea behind the Queensberry Fight Network Media Center plugin is very simple–bring live & older boxing matches to your home theater without having to leave the 10′ interface. Sorry Mixed Martial Arts fans, but when they say "fight," they just mean boxing.
The Network was started in part by Frank Warren, a Hall of Fame boxing promoter from the UK, and the content is primarily focused on boxing matches from England. All the content, however, comes at a cost. While a brief preview of the file is free, to purchase the content costs $2.99, and that's only for permission to view it for 24 hours.
| | |
| --- | --- |
| | |
| Main, Gorgeous Interface | Reminder you have to pay to watch |

Above & Beyond
As you can see from the screenshots, the interface is designed beautifully. It is extremely responsive and everything loaded quite promptly, which is a must for a streaming video portal. Also, besides the initial installation (I miss meedio) being 2′, the rest of the app is completely 10′, even for registering an account & paying for a fight.
In addition to the beautiful design, one can admire what Queensberry Network is trying to achieve with their streaming of LIVE pay-per-view events. Of course, also coming at a cost, but for people around the country who may not have access to view a US PPV event, it could be an ideal situation.
| | |
| --- | --- |
| | |
| Simple to view purchase | Conditions to your purchases…err…rentals |

Falling Short
Ok, so the one thing I know everyone will harp on, is that this site is not Free at all. And to be fair, I'm not opposed to a commercial portal with content you want. However, it would have been nice to have at least a small selection of some free fights to wet someone's appetite. Speaking on behalf of US fight fans, you'd be hard pressed to name fighters other than Amir Kahn or Ricky Hatton, so maybe some free exposure would help for the fighter, as well as for the channel.
Also a big dissapointment is the DRM restriction–and by restriction, I mean absolute control. Everything costs $2.99, and everything will only last for 24 hours. In this day & age, with so much content able to be copied, burned, shared, or at least kept, it's a big shortcoming that not only do you need to re-purchase fights to watch them, but there's no "buy" option to own it.
Finally, the picture quality leaves much to be desired. Seems like just standard 480p from the ones I checked out. I'd imagine in time, this would progress to HD quality, but for now, be prepared for some lackluster quality. Again, not a huge deal, but it's amplified when you are required to pay for it.

Grade: Once A Year
British boxing fans might disagree, but for folks in the United States with ESPN Classics, we're able to watch classic boxing matches for free, everyday. Having to pay $2.99 for a 24-hour permission to watch a boxing match is frustrating with all the DRM arguments going on. Although, I can appreciate that at least the payment is with US Dollars instead of EUROS.
The site in general is slick, and I think a great example of the power that lies with the MCML abilities of Media Center. And for fans of British boxing, there does seem to be a healthy amount of fights. If you're in the US but with limited television opportunities, then the ability to stream a live Pay-per-view event could make a weekend wonderful.
I've said since the beginning, that the key to the Online Portal succeeding is to get large partners, with very compelling content. To be fair to our readers, I'm just not sure a British Boxing portal is going to boost Online Spotlight..well…into the spotlight. I think what it will do, and something I can appreciate, is show other companies the RIGHT way to do things, and hopefully give others the idea to how to reach you, the Media Center community.

Product Vitals
Website: http://qfn.miomni.com/mcml/download.php
Creator: Miomni
Price: Free to sign up, but $2.99 for basically everything else.