Hava Platinum HD Review: Part 1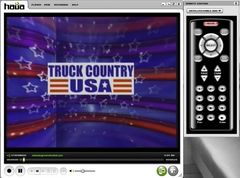 Placeshifting is a term that has been around the Media Center enthusiast world for a while now. Although not perfected, it has certainly come along way in the past couple of years. Programs like SageTV and Orb, and hardware like Slingbox and Hava have allowed you to take your TV whereever you may roam. I am fortunate enough to take a look at the latter and will be presenting a multi-part look at the Hava HD Platinum. Roughly, the review parts will look like this: (subject to change of course)
First look, setup, and initial impressions with placeshifting

Detailed look at home network placeshifting (component input quality) and internet placeshifting

How the Hava integrates into MCE via two different methods

Small Q&A session with HAVA! Get your questions in!
Introduction
HAVA, yes that is all caps, is a placeshifting device that allows you to stream a video source on your home network or an Internet connection. The particular unit I will be looking at is the HAVA Platinum HD. What is that you say? streaming HD? Well, that topic will be hot before the end of the article. To start off with, let's hit the usual specs taken from the website.
Specifications:
A/V capture base-band inputs (Composite, S-Video, Component)
Built-in hardware MPEG encoder (ViXS Xcode 2105)

Market leading MPEG-2 and MPEG-4 Advanced Simple Profile formats
Can encode incoming video stream simultaneously into 2 different output formats
This allows local viewing at home, and remote viewing over the internet, simultaneously
Dynamic bit rate and frame rate adjustment
This ensures best quality video and audio without hiccup, at all times

Base-Band Audio/Video Inputs

Composite Video
Left and Right Audio
S-Video
Component Y-Pb-Pr
Auxiliary Audio (currently not supported in software yet)

Pass-through Outputs for every A/V input for connection to TV set or other A/V equipment.

Allows for convenient end-user installation in existing home theater setup.
Note: no pass-through Output for the Auxiliary Audio

Macrovision detection (not currently supported yet in the HAVA software)
Networking: Wired Ethernet (802.3) 10/100 Interface
Front panel LEDs
IR Emitter for set-top box control
Connectors

A/V Input/output mini-phone jacks – 1 Vp-p, 75 Ohm video, 10 dBV, 47 kOhm audio
S-Video Input/output jacks – 1 Vp-p, 75 Ohm
Y/Pr/Pb (HD) input/output mini phone jacks – 1 Vp-p, 75 Ohm component
Auxiliary Audio mini-phone jack 10 dBV, 47 kOhm
802.3 Ethernet RJ-45
IR Blaster output
Power — 9V DC 1 Amp
PC Client
Driver on the PC represents the HAVA Platinum HD device as "Virtual" WDM TV Tuner device, fully compatible with Windows Media Center under Windows XP and Windows Vista.
This allows to fully enable the TV Feature of an MCE PC via the home network, without requiring a TV tuner and TV source connection on the PC.
Setup for configuring HAVA PLATINUM HD

The Setup Wizard locates the HAVA Platinum HD device and automatically connects to it for configuration
Configuration includes selection of the set top box (STB) to ensure successful IR control, and configuration of the unit for remote viewing over the internet

IR learning could be provided for cases where IR codes are not readily available for the STB. (Note: IR learning not currently implemented in HAVA software build)
Remote viewing setup is fully automated and requires one push of a button on the Setup UI.
(no manual port forwarding or firewall configuration on the router is required in almost all cases)

PVR Application

HAVA Platinum HD is compatible and can be used out of the box with Microsoft Media Center Edition (XP or Vista)
Monsoon HAVA PC Client is provided for non-MCE configurations.
Monsoon HAVA PC Client can be customized for OEM branding.

PC Client Requirements

Desktop or laptop computer with minimum Intel Pentium 1.2 GHz or equivalent (1.5 GHz or higher recommended)
Operating System: Windows XP (Home, Pro or MCE) SP2, or Windows Vista (all versions)
System RAM: 512MB for WinXP, 1GB for Vista
Disk space: 75 MB to install the HAVA software; at least 500 MB for time-shifting; 10 GB recommended for recording
Available RJ-45 Ethernet port on PC
Wired or wireless home router with available Ethernet port
Special Features
High quality full D1 MPEG-2 video for home viewing and simultaneous CIF MPEG-4 for remote viewing over the internet
Send your video content to multiple clients at once on the local network
(number of simultaneous clients dependent on available local network bandwidth)
Dynamic video quality adjustment based on available network bandwidth
Internet browsing, e-mail, chat and access to other standard applications off the home network can be run simultaneously with video streaming from HAVA Platinum HD
At-Home Requirements
DHCP-enabled router recommended
TV source: any analog video source, including but not limited to digital cable box receiver, satellite receiver, IPTV set top box, or PVR such as Tivo, ReplayTV, etc.
Broadband internet connectivity for remote viewing (recommended 300Kbps upstream)
Let's discuss the very first point. It mentions that it allows capture of Component video. Those are specs to die for when talking about a capture device. However, it is a bit of a let down. HAVA (and all other hardware placeshifting devices) take component HD and convert it to 6 megabit MPEG2. This "should" be an improvement over s-video capture as you are starting with a lot more information. HD streaming will be tested in part II of this article.
One great thing about the HAVA device is that it allows you to multi-cast one video source. This allows you to view via the internet and home network. Whether you want to watch the same program as someone at home is another question :). This lends me to think you would want the HAVA device to have its own cable connection. Although, it does have pass through connections just in case you are the sole user.
It comes with all the appropriate wires to get you started, including IR blasters, and component video cables.
Also worth noting is it's compatibility with MCE. It has a software driver that tricks MCE into thinking it is a TV tuner :). So you are able to use the MCE interface to control your HAVA box. The benefit here is that you are able to stream your video source to any MCE machine on your network. We will be testing this functionality in part III of the review. This little nugget is one of the main reasons I decided to review the HAVA Platinum HD.
Pics
Quick Pics
No review, it seems, is complete without naked hardware flung about the place in suggestive poses with that come hither look. Below, you will find our obligatory undressing section of the HAVA HD, box, and of course the cables it comes with.
| | |
| --- | --- |
| | |
| Front of retail packaging | Back of retail packaging |
This is your standard retail packaging fair that you will see at most stores. A couple of things should catch the consumer's eye. If you are a Media Center enthusiast, you will notice that it is compatible with Vista MCE and 2K5 MCE. As I mentioned earlier, we will cover this in another article. The other thing that you should notice is that it has the Full HD logo on it. Does it add to confusion? Yes, I think it does, but them are the games in the HD world these days. The HAVA HD takes HD and down-converts it to 6 megabit MPEG2 for streaming. While this should be an improvement, this could mislead consumers to think they will get full HD via network or internet streaming.
| | |
| --- | --- |
| | |
| Back of HAVA HD | Front of HAVA HD |

Everything is done via mini-plugs which keeps the unit nice and small. Ever see the back of a modern receiver? :). The front is a simple looking front with a few LEDs to brighten things up. They are actually status LEDs letting you know power, connectivity and activity.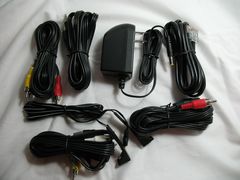 Cables and adapters
Included Cables:
Two Composite Cable sets
Two Component Cable sets
IR Blaster Cable
Cat 5 Network Cable
Setup and Software
Setup
The hardware portion of the setup was dead simple. By following the quick setup guide that comes bundled, you won't have any problems at all. You can choose to use a pass through mode which means you will only need one cable box and you are in a situation where you don't have to worry about interfering with the video source. If you are a bit more serious, you can dedicate a source such as an extra cable box and you won't have to worry about switching channels remotely while your significant other is watching TV :).
For my initial testing, I used an extra non-HD cable box from my cable company. As I mentioned earlier, setup was a breeze. I simply positioned the IR blasters and hooked up the Composite A/V cables.
Software wise the setup is a little more complicated, but easy enough to get through. It was no worse than any other windows program out there. Given that this hardware is aimed at the mass market rather than computer, more specifically HTPC enthusiasts, Monsoon had to keep things simple for this product to sell.
As always, grab the latest software and install. You never know how out of date the included install CD can be. Below are a few of the setup shots to give you a feel for the installation process.
| | |
| --- | --- |
| | |
| Setup – Choosing your video source | Setup – Configure your IR blaster |
| | |
| --- | --- |
| | |
| Setup – Fine tuning channel changing | Setup – Setting up Internet streaming |
As you can see, it is relatively easy to setup. As a matter of fact, this is much simpler to setup then every media center software I have tried to use. Monsoon goes a touch further and offers an automatic update feature which is really nice.

HAVA Player
I had to take a step back when reviewing the HAVA TV player. The goal here is to stream your TV across a network or Internet, not a full fledged media center solution. Think of it as comparing TheaterTek to say SageTV. To elaborate a bit further, HAVA takes your video source, including your UI and streams it over the internet. This is perfect for the average user who has grown accustomed to their CableBox DVR or even TiVo interface. Coming in under $200, you can't really expect a full featured media center.
| | |
| --- | --- |
| | |
| HAVA Player with virtual remote | HAVA player streaming guide. |
The HAVA player is as easy to use as any TV is. You simply press the remote button in the lower right hand corner and you are set to remote control your cable box or other video device. If you are on a local network, the player will automagically detect your HAVA device and you are set to go. However, if you are going to remote view, you will need to manually setup your HAVA.
You also have the option to timeshift or record items in local viewing mode. Without an EPG, it makes it a pain in the butt to schedule items. When remote viewing, you are only allowed to stream items that have been recorded rather than actually implement items. This is just a natural extension of being able to save programs that you have been watching or timeshifting. It seems a bit half-baked and this is why I would recommend having your HAVA hooked up to a PVR.
Conclusion

PlaceShifting Experience
The placeshifter player is the exact same as the local player which keeps your experience consistent. You don't have a lot of control over your placeshifting options. You can set a max bitrate or you can let the program decide what is best. In my experience with HAVA I found the program does an excellent job in keeping your watching experience stutter free. It takes a couple of minutes upon starting the program for the program to negotiate what bitrate is best but after that it is smooth sailing. As long as you have 250+ Kb upload from your computer and the same bitrate at your remote PC you should get a decent quality video with few drop outs. In my experience the quality and stability of the stream are on par with other software solutions such as Sage and Orb.
I really recommend teaming this up with a PVR. Live TV really stinks most times and having access to a library of pre-recorded TV shows really adds value.

Conclusion
If you are looking to stream TV to a remote computer without investing a full Media Center setup, look no further then the HAVA. For under 200 dollars, you can't complain about much especially with Sage and MCE integration. The only thing that keeps this unit from being a killer piece of hardware is not having access to your PC's audio library. I hope in a future version they are able to make this happen.
This is no doubt a MissingRemote.com recommended product.
Stay tuned for part two and three where I examine the quality of the component inputs and how well it integrates with SageTV and MCE.