Auzentech X-Meridian 7.1 Soundcard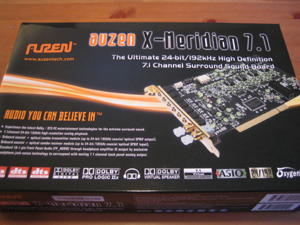 Auzentech X-Meridian 7.1 Soundcard


The X-Meridian has been on the market since last fall and has developed a strong following among the HTPC audiophile market. With high quality DACs and replacable Op-Amps this sound card shows a lot of potential. Let's take a look at how it performs in an average home setup and on our audiophile test bench.
Just two and a half years ago, Auzentech released their first sound card the X-Mystique to much fanfare. It was the first sound card to offer support for encoding multi-channel audio to Dolby Digital. Prior to that the only options were the old nForce 2 MCP-T motherboards. Shortly thereafter Auzentech debuted the X-Plosion, the first sound card to offer DTS Connect technology bringing yet another option to the consumer. With the X-Meridian, Auzentech hasn't taken just another baby step forward. They've taken a giant leap. Offering all of the prior DTS and Dolby tecnologies is just the start. The X-Meridian also uses some of the highest quality DACs on the market and allows for user replacement of the Operational Amplifiers offering a whole new level of user customization of the sound card previously unavailable to consumers in this price range. I'm really excited about taking a closer look at this sound card.
Update from Auzentech:
Limited Edition – No Longer Available
Thank you to all the audiophiles who made the X-Meridian a success. As of June 2007, this soundcard is no longer in production due to
limited chipset availability. Some retailers may have inventory on hand
for a limited time.
Auzentech will continue to provide driver updates, technical support, and add-on boards for owners of the X-Meridian.
Alan: This review is loooong overdue. It was a carry over from HTPCNews that did not get the proper attention for that very reason. Thank you to Auzentech for being so patient. We highly recommend you look at their sound cards as they have been innovating since the came into the market a short time ago. Though the card is discontinued, the review is stil a good read :).
A First Look
With X-Meridian and camera in hand, let's take a quick look at the contents of the box. Then we'll move on to examining the card itself and everything that it offers. Apologies for any slightly fuzzy photos, I am but a young padawan when it comes to taking photos with my new digital camera. I promise they'll get better over time.
The X-Meridian comes packaged in a nice retail box. Logos of supported technologies are liberally sprinkled across the box. I suppose when you have a lot to offer, you might as well as tell the world. Specifications are outlined on the side of the box.

The back of the box contains details of all of the major features and explains in what situations you might make use of the different technologies that it offers.

The box is sealed with an Auzentech seal on both ends. It is not possible to open the box with removing one of the seals or tearing the box. This is something you should look for to make sure that you don't have an open-box product being sold as new.

The card comes cleverly packaged. It hangs suspended inside of the clear plasitc casing, which itself hangs in the interior orange cardboard casing. It seems very unlikely that any bumps or bruises the box takes will be transferred to the card.

Inside the box we have both the X-Meridian sound card and a nice package of items in a ziplock baggie.

Inside the bundle is a installation disc, a warranty card, a fiber optic cable and a manual. The manual is quite detailed and explains all the DSP modes, potential install issues and was a step above most manuals I've recieved with hardware.

The card supports SPDIF-In/Out connections using either fiber optic or coax cabling. The first sign of bling, both the bracket and the connections are gold plated. There are 3.5mm jacks for Mic In, Line In, Front L/R, Side Surround L/R, Center/Sub, Back Surround L/R,

These are the coax to fiber optic adapters. It's a clever solution that I have not seen used before on other cards. It's a definite plus to have the flexibility to use either type of cabling without the need for an additional bracket occupying a second pci slot.

The X-Meridian 7.1 – To the far left you have the input/output connections. The white 4-pin connector on the top left connects an additonal external microphone through the X-Tension add-on board (discussed later). Adjacent are connections for front panel inputs. On the top right you'll see connections for Aux-In and CD-In. Bottom right aligned vertically is the main connector for the X-Tension add-on board. About an inch below the top of the board you'll find four socketed operational amplifiers in a row. These are user replaceable and are something we will explore more later. Below them you will see 4 Digital-to-Analog Converters. Below those, front and center is the Oxygen HD Sound Processor, the brains of this sound card.

The rear of the card is very clean. Labels show where the different connections are and that's about it. Required data about compliance with differerent standards can be found here. The card is RoHS compliant for the European market.

The CMI 8788 Oxygen HD processor is the heart of the X-Meridian. It is a 32-bit/192kHz multi-channel sound processor. Supporting ASIO along with numerous technologies from Dolby and DTS, this processor is not just the heart of the X-Meridian but also it's brain.

The Asahi Kasei AK4396 is one wicked Digital-to-Analog Converter. It's a 2-channel 24-bit/192kHz DAC. Sporting a Total Harmonic Distortion + Noise of 100 db, Signal-to-Noise Ratio of 120 db and Dynamic Range of 120 db. These specs are just rediculous and this DAC should outperform many of the AV recievers on the market today.

You have to love the little touches of bling on the sound card. The Op-Amp is the AUK S4580P, a dual channel model. It's a solid, quality Op-Amp with good specs but there are others out there that people may find more pleasing. We'll take a closer look at these later and maybe explore the option of replacing them.
Features
Much of this is available through the Auzentech website. I just wanted to quickly and succinctly summarize the features and specifications of the card.
Highlights
Pure electrical connections via gold plated PCB, jacks and metal bracket.
Pure optical connections via Onboard Toslink input and output, Toslink Fiber Optic Cable.
Swappable dual DIP type Operational Amplifiers (OPAMPs) for do-it-yourself upgrade for ultimate analog sound quality and color.
Available Dolby Pro Logic IIx for transforming 5.1 channel surround sound into 6.1 or 7.1 channels Movie, Music or Game listening modes.
Stunning realism for PC games, music and movies through the real-time interactive capabilities of DTS and DDL.
Clear 24bit resolution that works with today's Windows XP and tomorrow's Windows Vista.
Superior output levels with more that 115 dB signal-to-noise ratio.
Compatible with Auzen X-Tension DIN
The Auzen X-Tension DIN is now available for $59.99. There are rumors floating around that another may version will be released that will be HDMI compatible…..and I'm not talking SPDIF passthrough….but full HDMI-audio compatible. The rumors further contend that it will support coupling with a video card for single HDMI cable connection to your AV system. We'll have to see what happens over the next few months.
Surround Sound Techologies
Dolby® Pro Logic® IIx
The age of 7.1 surround sound for the home is here. But it's not just reserved for DVD movies encoded in Dolby Digital EX. With Dolby Pro Logic IIx, any movie, CD, TV program or video game can be enjoyed through this enhanced surround sound technology.
Pro Logic IIx is the first and only technology to expand any existing stereo- or 5.1-channel audio for a 6.1- or 7.1- channel playback, creating a seamless, natural surround soundfield that immerses you in the entertainment experience.
Three listening modes–Movie, Music or Game–allow you to tailor the audio to meet the different needs of the programming. In Game mode, for instance, special effects signals are routed to the surround channels for fuller, dramatic impact. Music mode features three additional user controls:
Dolby Center Width adjusts the balance of the main vocals in the center and front channels.
Dolby Panorama creates a seamless, wraparound surround effect.
Dolby Dimension lets you set a deeper or shallower surround soundfield.
Dolby Pro Logic IIx seems to work without a hitch allowing you to upmix audio to 6.1 or 7.1 playback. This is exactly the same upmixing technology offered on many Audio/Video Recievers. For those that are driving a 6 or 7 channel amp, this will come in handy.
DTS® Connect
DTS Connect is the latest thing from DTS that turns your PC into an action-packed entertainment experience that surrounds you in sound. Make your movies, music and games come alive in exciting, dynamic, multi-channel DTS Digital Surround®, the same sound format found in movie theaters. DTS Connect is a whole new way to enjoy your PC. DTS Connect makes it easy to turn your computer into the ultimate PC sound entertainment experience.
Dolby® Digital Live
Enjoy audio from your PC or game console through your home theater with Dolby® Digital Live. A real-time encoding technology, Dolby Digital Live converts any audio signal into a Dolby Digital bitstream for transport and playback through a home theater system. With it, your PC or game console can be hooked up to your Dolby Digital-equipped audio/video receiver or digital speaker system via a single digital connection, eliminating the confusion of multiple cables and ensuring the integrity of the audio signal
Both DTS Conenct and Dolby Digital Live seem to do the trick….I'm not sure my ears can hear the difference between the two in this decode EAX -> encode DD/DTS -> decode DD/DTS scenario. What seems to be useful about having both is the other features the bring with them such as Dolby Headphone, Pro Logic IIx, Neo, etc…
Dolby Headphone – 5.1 surround sound through any pair of headphones.
Dolby® Headphone technology allows users to wear any set of headphones and listen to music, watch movies, or play video games with the dramatic surround effects of a 5.1-channel soundtrack.
Realistic 5.1 surround sound from any set of headphones
Processes 24-bit/96 kHz audio, such as DVD-Audio which produces surround sound bit-for-bit identical to the studio masters.
Superb surround sound with Dolby Pro Logic II from stereo music and movies.
Enables enjoyment of surround sound without disturbing others.
Improves listening comfort and reduces "listener fatigue."
Allows stereo content to be heard as 5.1-channel surround sound (when combined with Dolby Pro Logic II).

Gaming – Tomb Raider – Legend: I played the game for quite a while without any effects enabled to become used to the existing soundfield. I swiched on Dolby Headphone and the impact was instant and drastic. I suddenly became more emmersed in the game. Lara's foot steps echoed and reverbrated around the tunnel I was walking through. Leaving the tunnel, the space suddenly seemed more open. It was like listening to your own footsteps instead of just hearing a footstep sound effect. In the next scene, while under attack from a helicopter, I could clearly hear the chopper moving around me in the soundfield. Turning Dolby Headphone back off reverted the chopper to just an existing sound that no longer had a direction to it or location in space.
Movies – The Matrix – Lobby Shooting Spree: Enabling Dolby Headphone here had an amazing impact. It made my headphones transparant, like I was listening to a full 5.1 surround speaker setup. It successfully recreated front to back motion and provides a much more real feeling to the audio putting you in the middle of the action. I know I'll be using Dolby Headphone anytime my fiancee is asleep and I'm listening with my headphones on.
Specifications
Below you'll find the published specs of the X-Meridian. For HTPC users there are a few items of note. But depending on your connection type you'll find different things interesting.
Analog Users: First is the 4 24-bit/192kHz Digital-to-Analog Converters. These are a must for high quality analog output on all 8 channels. They are matched with 4 end user swappable DIP-type Operational Amplifier sockets. This makes it nice and easy to replace to mid-fi stock Op-amps with the hi-end Op-amps of your choice. Many users are opting for the LM4562 from National.
Digital Users: If you prefer using S/PDIF to connect your HTPC to a receiver or pre/pro the X-Meridian offers some nice perks for you too. The card supports both fiber optic and coax connections to a 24-bit/192kHz transmitter that can also be set to 44.1kHz, 48kHz and 96kHz. There are also a number of valuable encoding technologies that will allow you to get the multi-channel audio from your video game to your AV receiver. Both DTS Interactive and Dolby Digital Live are supported. The card will take any multi-channel audio and encode it as either DTS or DD respectively allowing it to be passed over the S/PDIF connection and decoded by your AV reciever. Without this you won't hear someone sneak up behind you in your favorite first person shooter.
Soundcard Specifications
Additional inputs available using the Auzen X-Tension DIN, sold separately
The C-Media Oxygen HD CMI8788 Audio Processor is the heart of the AUZEN X-MERIDIAN 7.1.
4 pcs 24-bit/192kHz AK4396VF (120dB-part spec.) DACs for 7.1channel output. (24-bit/192kHz in 7.1channel playback)
1 pc 24-bit/192kHz AK5385VF(114dB-part spec.) ADC input (24-bit/192kHz recording)
1 pc CMI9780 AC'97 2.3 CODEC for AUX input, CD input, MIC input (16bit/48kHz playback/recording)
Integrated up to 192k/24-bit S/PDIF transmitter for 44.1kHz,48kHz, 96kHz, 192kHz SPDIF output.
Supports onboard high grade special COAX+OPTIC combo type transmitter module for up to 192kHz SPDIF out.
Integrated up to 192k/24-bit S/PDIF receiver for 44.1kHz,48kHz, 96kHz, 192kHz SPDIF input.
Supports onboard high grade special COAX+OPTIC combo type receiver module for up to 192kHz SPDIF input.
Standard 10PIN Front Panel Audio supports connectivity for stereo audio output and a microphone input from most new chassis. (All 7.1channel analog output muted by jack connection sense of front panel headphone out / Dual MIC input available by back panel mic input and front panel mic input)
DTS® Interactive – A real-time 5.1 channel encoder.
DTS® Neo:PC – An upmix matrix technology.
Dolby® Digital Live (DDL) – A real-time 5.1 channel encoding.
Dolby® ProLogic IIx surround processor spreading stereo audio into 7.1 channel surround sound.
Dolby® Headphone technology, conveying 5.1 surround and 3D gaming audio over stereo headphones.
Dolby® Virtual Speaker solution, bringing amazing virtual surround sound fields via general two speakers.
C-Media FlexBassTM – LFE channel crossover frequency setable from range 50 to 250Hz in Small speaker mode and Small/Large speaker selectable.
C-Media Magic VoiceTM, popular feature for disguising your tone in online chatting.
C-Media Xear 3DTM 7.1 Virtual Speaker Shifter technology.
C-Media's unique Karaoke functions: Microphone Echo, Key-shifting.
Individual 10-band EQ for each channel, 27 global reverberation environments.
Supports most industrial standards of 3D sound for PC gaming, including EAXTM 1.0 & 2.0, A3DTM 1.0, and DirectSoundTM.
Swappable DIP type OPAMP controlled preamp out circuit (4pcs output control OPAMP IC with DIY socket)
Surface mount type OPAMP controlled preamp input circuit (2pcs input control OPAMP for ADC and 1pc MIC input gain control)
5Vrms (Differential DAC output with gain adjustment / approximately full swing from +/- 8V dual power supply)
Proper OPAMP control circuit (large capacity 1A +8V, -8V, dual power supply circuit) for high quality audio quality, prevent audio distortion at high volume level.
Upgrade Extension available (Extra 6.35mm MIC / Extra Digital I/O sold separately)
Supported operating systems:
Microsoft Windows® 98SE / ME / 2000 Service Pack 3(SP3) / XP Service Pack 1(SP1) / Server 2003 SP1/ XP Media Center Edition 2005 (MCE) / XP x64 Edition.
Installation
Installing the Hardware
Well, let's get this guy installed. The X-Meridian is a fairly large card and is full height, so isn't an option for any of the low profile HTPCs unless they use riser cards. Time to crack the case open and see how this card runs.
I followed the instructions to see how good they were. I was quite surprised. The manual was much more comprehensive then most hardware install instructions and it also included a number of steps which helped ensure things would install smoothly the first time. There are also some approriate warnings that if system instability results or there are any issues to try changing PCI slots, reseating the card and such. It seems like they tried to cover the bases of some simple problems in hopes of getting the consumer up and running faster and reducing the number of tech support calls.
Step 1: Disable any motherboard sound in the BIOS. This is sound advice and while sound cards won't always conflict, if you only need one sound card then this advice may make the install go smoothly.
Step 2: Uninstall any software/drivers for the old sound card/on board sound. Good advice, but for an inexperienced person it isn't always easy to determine which program needs to be removed in Add/Remove Programs. For instance, in my install I have to run the broader nVidia uninstall program and then inside that de-select the audio driver.
Step 3: Turn off the power supply, unplug it.
Step 4: Crack that baby open! (My words, not theirs 🙂 ) Now let's move on to actually installing the card.
| | |
| --- | --- |
| | |
| As you can see, the test bench has only a single empty PCI slot. Luckily that's all we need here. | Card slid in and sits firmly without issue. As you can see, the card is quite large and nearly the size of my ATI Radeon 9800 Pro. |
| | |
| The rear PCB plate is gold plated as are all the connectors. You can see how the coax to fiber optic connectors sit in the bottom two S/PDIF connecotrs. There are two connectors for Mic-In and Mic-Out. Then there are four more for the 8 analog channels. | Ahh….cabling. What fun. I went with Monster Interlink 400 MkII. They were about $30 / cable for .75 meters. There are not many options available for 3.5mm stereo to RCA. Many cables won't fit when inserting multiple sets. However, these worked just great. |
| | |
| Here's a close up of the Monster Interlink MkII. The cables I purchased are only .75 meters long so they don't add too much to the clutter back there. They're quite sturdy and well built. | Here you can see, the three plugs with blue stripes provide my 5.1 analog output. They had no issues being adjacent to each other as some cables have a tendency to do. |
Installing the Software
At this point in time, I explored the contents of the CD a little and determined that there were more up-to-date drivers on the Auzentech website. I downloaded those instead. Note for posterity: Driver version on CD seemed to be 8/23/2006. Online drivers were definitely newer and a large percentage of the files were modified. Latest version of the drivers (as of publication) addressed my largest concern which was that if the system was configured for more than 2 speakers, during 2-channel playback the Front R/L would be replicated to the Rear R/L. This isssue had now been completely fixed based on my testing.
As soon as the computer was reassembled and all wired up I booted right up. Right away Windows XP prompted that it had "Found New Hardware". At this point Auzentech asks that you hit 'Cancel' and run the 'Setup.exe' from either the CD or the drivers downloaded from the internet.
Things seem to be going smoothly….uh oh. Driver install failed….hmm. Software recommends reseating the card and trying again. Well seeing as I couldn't leave well enough alone and had been multi-tasking during the driver install, I decided to just reboot and try again. This time I closed all background applications and ran the setup again. Apparently, the second time's the charm. Drivers and software installed without issue. As it shut down the PC, I heard the Windows shut down jingle and new that all would be well.
When Windows restarted, there was a little Xear3D logo down in the system tray. Compared to prior driver revisions some of the extra useless add-in software provided by C-Media had been removed. Let's get this card up and running and see how she performs.
Configuration and Calibration
Software Configuration
Let's take a look at the control panel and all the different configureation options. The screenshots are not from the most recent driver version, however there are little to no changes that i found in a quick comparison between the two versions.
This is the main configuration screen for the X-Meridian. From here you can access many, many options. On the left you can select how many speakers you have. Sadly, there are no odd numbered configurations so you have to work inside the constraints. You can enable both S/PDIF and analog audio at the same time. Volume Levels and Delays can be adjusted for each of the channels.
Dolby ProLogic IIx – Upmixes signals to 7.1 The sliders allow you to move the soundstage towards you and away from you and also adjust the width of the soundstage. You can select to have it optimized for either movies or music.
DTS:Neo PC – Similar to Dolby ProLogic IIx. Upmixes signals to as much as 7.1 and allows for adjusting the soundstage. Also can be optimized for either music or movies.
7.1 Virtual Speaker – Using this mode you can virutalize an entire complement of 7.1 speakers. You can adjust the levels of each of the virtual speakers. You can also combine this with either DTS:Neo or Dolby ProLogic IIx.
Dolby Virtual Speaker – When using only 2 speakers you can enable Dolby Virtual Speaker which virtualized 5 speakers. You can select whether the speakers are against the walls or farther into the room.
Dolby Headphone – Designed to be used with headphones and create a surround sound effect with only a pair of headphones. This effect can be paired with either Dolby ProLogic IIx or DTS:Neo.
Mixer – The next tab in the control panel allows for adjusting the levels of the different inputs and outputs. This is where you select current recording/passthrough input. Balance and Master Volume are also adjustable. I ended up calibrating to 50 on the the dot.
Effects – Different effects can be applied from this control panel for those that desire them. Many different options are available. Different environments can be selected as well as their size. You can also apply manual frequency adjustments as well as select one for they type of music you are listening to. Multiple equalizer settings can be saved.
Karaoke & Magic Voice – This configureation tab allows you to set up karaoke and also a few options that allow you to alter the sound of his voice.
FlexBass – This control tab allows you to adjust LFE Crossover Frequency. You can adjust from 50 Hz up to 250 Hz in increments of 1 Hz. Speakers can be set as either large or small. The bass management can also be turned off if you don't want to use it.
Just a simple informational page that provides data
about driver version, DirectX version and allows for
enabling and disabling of the system tray icon of the
configuration control panel.
System Calibration
Once I set up the sound card in the control panel then next step is calibrating the system. Calibration of the system was pretty straight forward. I used the Digital Video Essentials disc and calibrated everything to 75db. Calibrating in my home set the dial right to the 50 percent mark. I made some minor trim adjustments on the volume tab to level the speakers and everything was perfect.
Subjective Testing of X-Meridian
Initial Impressions – My Setup After Calibration
My Own Ecclectic Stereo / 4-Channel Surround Setup (Phantom Center)
Denon AVR-2105
R/L: Bang & Olufsen RL140 x 2
RS: Definitive Technologies ProMonitor 100 MKIIs x 2
Headphones: Sennheiser HD 570
Stereo Music Playback: I worked through some of my favorite pieces from a disc of critical listening pieces. Overall the X-Meridian handled the material well, although a few flaws seemed to come through. In Spanish Harlem, performed by Rebecca Pidgeon, her high-pitched staccato voice is reproduced perfectly, maintaining space in-between notes. The maracas in the background (back and to the right) had a distinctly clear sound that resolved the difference in each maraca shake. Sadly, the piano that enters partway into the song was not as transparent as I would have liked. Moving on to If I Could Sing Your Blues by Sara K., the card demonstrated that it could easily handle both a wide and deep soundstage. The trumpet player in this song is standing ten feet away from the microphone and the X-Meridian handled the flawlessly, clearly imaging the trumpet where it belonged in relation to the front and center singer. With the entrance of a piano and percussion set later the sound was also able to create a soundstage that seemed wider than my speakers were apart and at the same time kept focus in the center. There's a piece by Livingston Taylor called Grandma's Hands that is an great example of mid-range purity and his voice comes through crystal clear with a nice smooth mid-range. The piece is acapella and of particular note, the finger snapping of the other performers has an authentic quality to it that well replicates the sound of my own fingers snapping.
In an interesting saxophone piece called Ask Me Now, Joe Henderson plays his saxophone while facing away from the microphone. There's a very high level of detail evident in this piece, exemplified by capturing both the breath of the player as he breathes into the saxophone and also the sound of the saxophone keypads making contact with the body of the instrument. This might just be interesting because I once played the saxophone, but it recreated those sounds I expected to hear, which are so often either stripped or not captured in recordings. A few last test songs took a quick look at transients, bass resonance and dynamic range during which the X-Meridian performed well in all three.
Movie Playback: Flipping through a few movies, I found that movie playback is just as strong as music playback. In Be Cool, Linda's voice comes through strong and clear when she performs showing the same smooth, clean mid-range as noted before. In Mr. & Mrs. Smith there are a number of good opportunities to get a feel for the low end of the frequency spectrum. The card performs well, but without a subwoofer in my system right now I certainly didn't get that blown away feeling…but that's more my lack of sub then the soundcard. Overall does a great job in movies.
Modding the Card w/ Better Op-Amps
Removing Stock Op-Amps and Installing New Ones
Let's install new operational amplifiers and see if we can improve the sound of the X-Meridian. We'll try the National LM 4562A and see how it performs. There are also other good options from Analog Devices, including their line of Burr Brown op-amps.
| | |
| --- | --- |
| | |
| Here we have the X-Meridian, the four replacement operational amplifiers and a butter knife….the only tool you really need to replace a chip. You could also use a chip puller, but with a gentle touch a knife will do the trick. | Closeup of the National LM 4562A operational amplifers. Nothing particularly special from the outside. Just 8-pin chips with a part number on them. |
| | |
| This are the four replaceable op amps that we will be removing. They are located on the upper right hand side of the sound card. Note their orientation so that you insert the new op-amps correctly. There's a little notch at the top that indicates which side should be towards the top of the card. | Here, I am removing the second op-amp. You can insert the tip underneath the chip and gently pry it up. Do a little on one side, then move the knife to the other side, back and forth lifting a little bit at a time and the chip should come out without too much troble. If you're not comfortable with this chip pullers can be found at Radioshack for a few dollars. |
| | |
| Here's an empty socket. Very exciting! | And the final product with all four op-amps replaced. |
Lets get this back in the computer and take her for a spin to see how she sounds.
Impressions
Very nice! There was a definte improvement compared to the stock op-amps. The LM 4562NA provided improved transparency and higher level of detail. Across all the music I listend to, there was a clear improvement in any use of the piano, which seemed to be a weakness before. There was also a noticeable improvement in detail in the maracas in Spanish Harlem. I noticed something I hadn't before. Listening closely you could actually hear the slight rattle of a couple of beads as the musician adjusted the maracas into place before beginning to play. In Played Twice performed by the Fred Hersch Trio, the performance was much more lifelike than my prior listening of the recording. Overall there was a very improvements all around. Apparently demand has been so high that Auzentech has upgraded to this operational amplifier for Front L/R sound on it's new X-Fi Prelude soundcard.
Conclusions
First, I'd like to apologize to both the readers and Auzentech for the delay in publishing this review. Life has taken me by storm the past six months and that led to the delay of getting this reveiw done.
The X-Meridian 7.1 turned out to be an excellent quality sound card. With the ability to add operational amplifiers of your choosing for all 8 channels and it's Dolby Digital encoding capabilities this card brings a lot to the table. This card offers the flexibility to meet any users needs. The only thing it lacks is support for the higher tiers of EAX, and that is now added in the latest offering from Auzentech, the X-Fi Prelude 7.1. I'm very exited to see what Auzentech has in store for us in the future, and it's exciting to see innovation in the realm of sound cards again.
Pros
– Quality Analog Output
– Replaceable Operational Amplifiers
– Dolby Digital Encoding
– DTS Encoding
– Upmix Channels to 7.1
– Dolby Headphone
Cons
– Price is a little on the higher side
– Discontinued (at least the X-Fi Prelude should be a good replacement)
Thanks to Auzentech for the review sample. The following album was used for critical analysis. As an album, the disc has the ability to really push a sound system to its limits and offers some excellent tracks for auditioning equipment. I highly recommend it for anyone looking to push their stereo hard.
Auditioning Material – The Ultimate Demonstration Disc: Chesky Records' Guide to Critical Listening
Spanish Harlem – Rebecca Pidgeon
If I Could Sing Your Blues – Sara K.
Maiden Voyage – Leny Andrade
Grandma's Hands – Livingston Taylor
Correnteza – Ana Caram
Played Twice – The Fred Hersch Trio
Ask Me Now – McCoy Tyner / Joe Henderson
Sweet Georgia Brown – Monty Alexander
I Love Paris – Johnny Frigo
Flute Concerto in D – Vivaldi / performed by The Connecticut Early Music Festival Ensemble
Festival Te Deum – Benjamin Britten / performed by the Westminster Choir
The Royal March – Stravinsky / performed by Solisti New York, Ransom Wilson conducting
Best of Chesky Jazz and More Audiophile Tests, Volume 2