Hubitat Elevation C-8 Released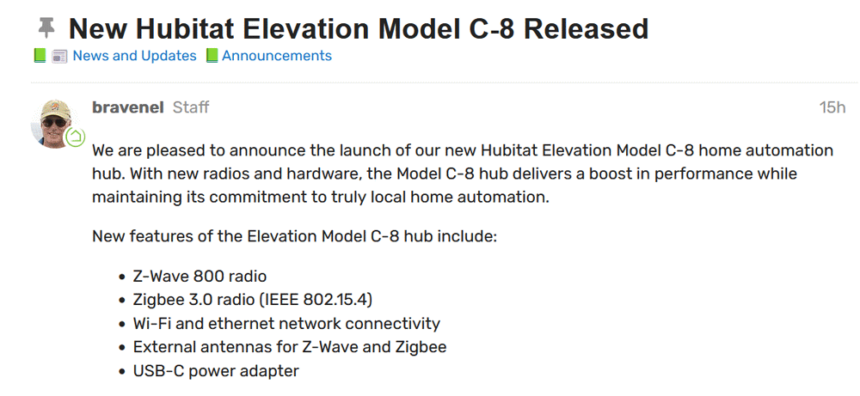 Hubitat just released what looks to be a solid upgrade from the previous (C-7) version of the Elevation home automation controller. Key changes are the Zigbee radio update (which should enable Matter/Thread compatibility later this year), inclusion of Wi-Fi (no word on what standard), and external antennas. External antennas might be the biggest improvement, at least IMO. Hopefully, it will make it easier to deploy the hub in more locations. I put mine in a closet in the middle of the house exactly because it (a C-5) was having trouble communicating with the door lock on the other side of the building. The price, at $149 isn't bad either.
New features of the Elevation Model C-8 hub include:

Z-Wave 800 radio
Zigbee 3.0 radio (IEEE 802.15.4)
Wi-Fi and ethernet network connectivity
External antennas for Z-Wave and Zigbee
USB-C power adapter

The new radios, combined with the external antennas, increase the range and reduce RF latency when communicating with the more than 1,000 smart home devices that are compatible with the Hubitat Elevation Model C-8 hub. With the recent addition of the Apple HomeKit integration, the Hubitat Elevation hub is also compatible with all of the major voice assistants from Apple, Google and Amazon.

Now with integrated Wi-Fi radio, setup is simpler than ever using go.hubitat.com 43. Hub placement options are opened up, no longer requiring an Ethernet connection. Ethernet is still the recommended best form of hub connectivity.

A free migration tool allows current Hubitat Elevation Model C-5 and Model C-7 owners to transfer all of their automations and Z-Wave and Zigbee devices to the new Model C-8 with just a few clicks. Our Hub Protect subscription service 25 will now support backup and restore of Zigbee radio as well as Z-Wave radio and then entire user setup for C-8.

The new Zigbee radio in the Model C-8 is Matter/Thread capable, and a platform update to add Matter compatibility is expected later this year.

The Model C-8 hub is available now for purchase at hubitat.com 541.