ecobee4 is now official, sports Amazon Alexa support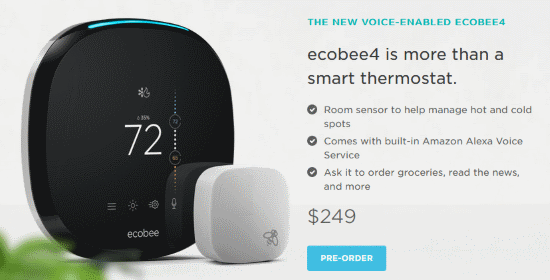 The ecobee4 fortold by Zatz Not Funny! has arrived. Well sort of – you can now pre-order the smart thermostat for $249 (or $313 to include two additonal sensors) with an expected ship date of May 15th. Not bad at all considering that it suports Amazon Alexa (saving you a Dot purchase) and includes a remote sensor.
Be comfortable in the rooms that matter.

Most thermostats only read the temperature in one place (usually the hallway) which can make other rooms uncomfortable. ecobee4 comes with a room sensor to help manage hot and cold spots.

When you place sensors in your favorite rooms, ecobee4 can read the temperature and detect occupancy. That's how it ensures comfort in the rooms that matter.