ASUS launches XFINITY compatible CM-32 AC2600 Cable Modem Router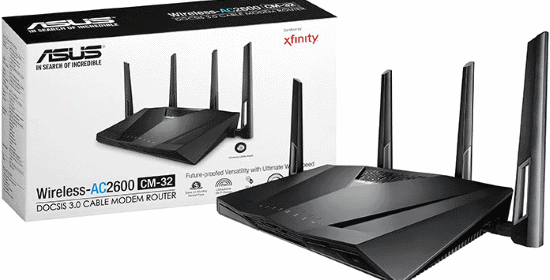 Retail cable modems aren't a new thing, but OEMs are increasingly developing combo modem + Wi-Fi Routers – with the CM-32 ASUS's newest entry into the market. Looking at the spec's it appears to be a "future proof" 32×8 DOCIS 3.0 design with 802.11 AC2600 included. It does lack voice though, which is a bit off putting considering the $250 SRP. Many of the competative devices in this range are VOIP enabled.
ASUS Launches CM-32 AC2600 Cable Modem Router

— CM-32 combines an ultra-fast DOCSIS 3.0 cable modem and 802.11ac Wi-Fi router in a single device designed for Comcast XFINITY® and Spectrum® networks —


Fremont, CA (April 28, 2017) — Ditch the monthly cable modem rental fees with the new ASUS CM-32, an all-in-one DOCSIS 3.0 compatible cable modem plus 802.11ac Wi-Fi router designed for today's gigabit cable speeds. With a best-in-class Wi-Fi design featuring MU-MIMO support, 4×4 antenna for extended range and 1734Mbps of bandwidth on the 5GHz band plus 796Mbps on the 2.4GHz band, the CM-32 is perfect for 4K streaming, online gaming, video conferencing, live broadcasting, and more. For additional information and details on the ASUS CM-32, please visit us at ASUS Edge Up.

AVAILABILITY & PRICING

Powered by an Intel® Puma™ processor with certification for Comcast XFINITY and Spectrum networks, the CM-32 ensures worry-free compatibility right out of the box. ASUS CM-32 is available now at Amazon and other leading resellers with a suggested MSRP of $249.99. Please contact your local ASUS representative for additional information or visit us at ASUS Edge Up.

###

About ASUS

ASUS is one of Fortune magazine's World's Most Admired Companies, and is dedicated to creating products for today and tomorrow's smart life. Our comprehensive portfolio includes Zenbo, ZenFone, ZenBook and a range of IT devices and components, along with AR, VR and IoT. ASUS employs more than 17,000 people worldwide and over 5,500 world-class R&D talents. Driven by innovation and committed to quality, the company won 4,385 awards and earned approximately US$13.3 billion of revenue in 2016.