Intel announces "Compute Card" to replace Compute Stick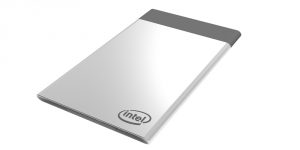 You can read more about what the Intel Compute Card is and what's inside in the linked article, but when you do that keep in mind how awesome a HTPC this make. Where you buy a chassis which provides the basic shell connectors (Ethernet, HDMI, SATA, etc) and you can easily upgrade the CPU/GPU every few years as they add fancy new features.
Intel mostly missed the boat on smartphones, but the company is trying to establish a firm foothold in the ever-broadening marketplace for connected appliances and other smart things. Intel's latest effort in this arena is its new "Compute Card," a small 94.5mm by 55mm by 5mm slab that includes a CPU and GPU, RAM, storage, and wireless connectivity.