Loki "smart" Wi-Fi thermometer Kickstart[er]s today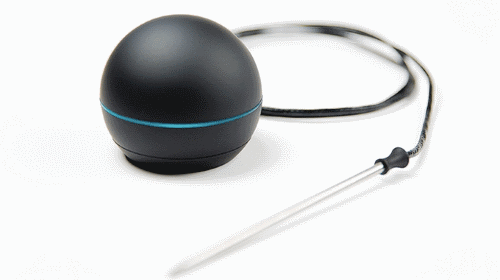 As a fan of "smart" technology and cooking, I was immediately interested in the Loki thermometer when I heard about it. From what I understand the orb senses when your food is going to be ready and let's you know that it's time to take it off. Making it much easier to get the perfect, bloody (or not) meat. For someone who can never get that my pork loin quite right (always overshooting, grrr…), I'm going to have to join the early queue.
Loki is the premier smart WiFi meat thermometer designed to help track your main course to a perfect finish, while you enjoy the party or game across town!

Whether you're cooking a turkey in the oven, steak on the grill, or brisket in the smoker, Loki lets you set it and forget it.

Loki monitors, tracks and records your meat's cooking progress and sends notifications to the Loki app on your iOS or Android mobile device when your meat is ready. Run out of fuel in your grill? Need a suggestion for cook times, temps or recipes? Loki knows, and so will you!

Now for the best part! You can receive Loki notifications anywhere your mobile device is connected. So go to work, to the gym, or out with friends, confident that the status of your masterpiece meal is at your fingertips.

What other meat thermometer does all that? Exactly… that's why we call Loki the most advanced meat thermometer on the planet.