Brewie automated brewing machine at Gadget Show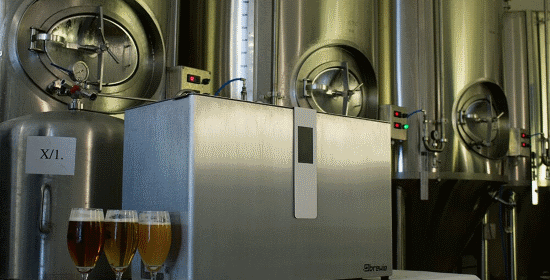 I have to admit that covering a home beer brewing machine is a bit of a strech, but first-off IT'S A HOME BREWING MACHINE and secondly about the only time I don't have a cool malt beverage companion when sitting down for a movie is when it's a distillate of said beverage. So definitely part of the home viewing experience, at least for me. Anyway, I digress. If you missed the chance to have a look at Brewie at CES, and are heading out the Gadget Show (which is open to the public), might want to have a stop at their booth and try a sample.
If you have the chance to attend Gadget Show Live 2016 in England I'd like to invite you this week to our Booth // N93 at NEC Birmingham between the 31st of March and 3rd of April. We would love to show you how we automated fully the more than eight thousand year old tradition of beer brewing while we also kept the original steps, art and freedom in it. Brewie is now in pre-order stage but by August you will be able to find the beer robot in many stores worldwide. You should see it while brewing and tell your audience about it before the official release!

We will also have some delicious beer brewed by Brewie on tap so it is definitely worth to stop by.