MantelMount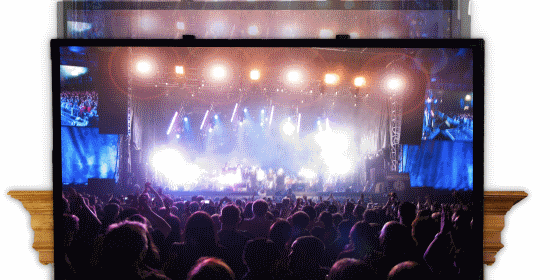 Mounting your TV over the fireplace is a horrid place to put it, but unfortunately many times it's about the only place in the room where you really can – especially in a lot of modern houses. In the past, I've always offered simple guidance on it: DON'T. Besides the obvious problem with viewing angles, you also end up looking up at the TV. Which, unless you have a dentist's chair in the main room means you're putting a lot of strain on your neck.
I don't generally like PR emails, but every so often one pops up that makes the deluge worth it. MantelMount is one of these. It's an insanely simple idea, so simple that it's genius; really wish I'd thought of it. Of course, I'm sure that a lot of engineering went into it to make sure that it works correctly and won't drop off the wall, and it helps that the inventor is a mechanical engineer. The innovation is that the mount not only swivels and tilts, but also can be lowered in front of the fireplace. Putting it in a much better position for viewing angles, and also bringing the display closer to the viewer (most of us sit too far from our TVs). There's 3" of space for a center or soundbar between the temperature indicating handle and the bottom of the display, and it also support top mounted audio if your tastes run a bit larger. Not surprising that it was a CEDIA 2015 best new product finalist. While it's not as cheap as some mounts, the $400 seems pretty reasonable for what it is and what it does. Right now it's only available for US buyers, but MantelMount is expecting to begin distributing in the UK, Australia, and Canada within the next six months. Very slick!
Placing a TV above a fireplace moves the image you're trying to watch well above eye level. Think back to the last time you went to the movie theater and had to sit in one of the front three rows. Chances are you walked out of the theater with a stiff neck. Cranking your neck into an unnatural position for an extended period of time is going to cause neck pain. Worse, doing so day after day, even for short periods of time can have lasting effects such as chronic headaches. With MantelMount, you'll avoid that altogether.