NETGEAR @ CES 2015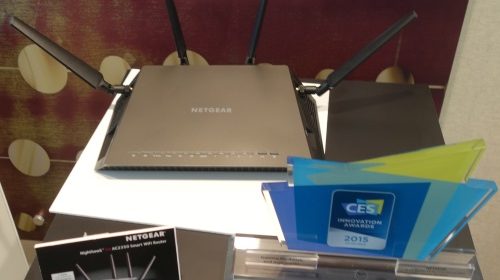 NETGEAR had a lot to show at CES this year besides routers, and we ended up skipping those because with the rapid release schedule (AC3200 & AC2400 launched earlier) there wasn't anything new. That's not to say that they've been standing still in the networking space with several new product to enable more bandwidth around the house.
Most notable was the AC1900 Wi-Fi extender, but the volume will be with the AC1200 and AC750 plugin models. If this looks familiar, it should because it looks a lot like last year's extender lineup – just faster. Advancement in Powerline has also occurred, with a new 1200Mbps model also shown. Besides the spec jump all around NETGEAR was also showing of a new configuration UI – which looked very slick and intuitive and should go a long way towards addressing one of the common complaints about their products (the UI can be hard to use).
NETGEAR also significantly updated the UI for their NAS products, giving it one of the sleekest and most functional designs I've seen. More importantly though, they also showed off the ReadyNAS 202/204 which are based on a dual-core (why not quad?) ARM Cortex-A15 SoC and demo'd some of the advanced features of the BTRFS file system – which enables really smart, time based file level backups. If this feature lives up to what was shown, it will be an amazing home backup solution (review unit already requested) and for HTPC users Plex comes installed on the box.
NETGEAR has been in the mobile hotspot business for a while, but I didn't know that they also made a dedicated home model with huge LTE antennas (I thought they were for Wi-Fi, but those are internal) – which is great for people like my parents whose only option for broadband is Verizon Wireless. They also had their new "Around Town" hotspot. The "Around Town" is very unique in that after paying a [pretty steep] $199 upfront cost for the device and 1GB of data, there isn't any recurring fee until you need to purchase another GB of data for $25, but the data never expires. Only time will tell if this is crazy or genius, but it is a really interesting and innovative approach.
Arlo isn't new per se, it launched a few months ago, and there wasn't anything on display that we don't already know about the battery operated wireless camera, but it was great to see it up close (the waterfall demo demonstrated extreme confidence in the waterproofness) and have a look at the controller/hub.