NETGEAR Announces Arlo Smart Home Security Kit (VMS3230)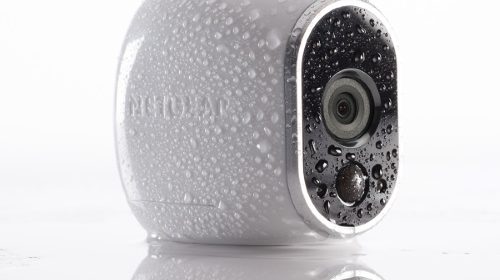 The rapid expansion of products in the Home Automation (HA) space this year has been amazing. As the "Internet of Things" gains ground, OEMs who have only dabbled in the past are focusing more on delivering holistic solutions. Today, NETGEAR becomes one of these vendors with their Arlo product line. Currently this only manifests as wireless video monitoring solution that leverages an 802.11N base station (hub) to provide the link between local cameras and Cloud (aka remote Internet) based monitoring intelligence, but should expand over time to incorporate more of what we expect from a true HA system.
The cameras are wireless, mostly weatherproof (IPX5 rate), and battery operated (four+ months expected life from a CR123) so there is a significant degree of flexibility and portability for locating them around the house or yard. As someone who's spend too many hours dragging wires through the attic for a traditional security camera install, this is very welcome. Configuration should be relatively painless as well because of the time NETGEAR put into making the hub and cameras mesh together – vs. pairing them off an existing Wi-Fi network. This approachability should help the newbs, but I suspect that it might be a bit off-putting for those who want more room to tinker; although this is really something that will need to be tested both from a first-run usability and tinkerability standpoint. Like most (cough all) systems where the intelligence is mostly Cloud based, if you lose your network the system goes with it. Long term, NETGEAR has plans to leverage other data solutions (e.g. 3G/4G radio) or failback to local [Ready]NAS, but at launch it the system is completely dependent on your ISP.
The ease-of-use and flexibility doesn't come cheap however, come January expect to pay $350 for the "Arlo Smart Home Security Kit (VMS3230)", which includes the hub and two cameras. Adding a camera (up to four can run off one hub) will cost $170. On first pass that seems a bit pricey, but it is mitigated somewhat by the 200MB of life-of-the-product online storage and promised ease-of-use. Personally, if NETGEAR can expand the Arlo family rapidly, or membership in the AllSeen Alliance delivers a richer ecosystem past video monitoring I can see the upfront cost being quite reasonable in the long run. Check out the full PR for camera specs and more details. Also, since my comments above are a summary of a reasonably involved conversation around the Arlo product with NETGEAR's PM, let me know if you have questions in the comments. If I don't know the answer off-hand, it shouldn't be too difficult to run it down with NETGEAR.
NETGEAR INTRODUCES WORLD'S FIRST 100% WIRELESS HIGH-DEFINITION SMART HOME SECURITY CAMERA

The new Arlo Smart Home Security Cameras deliver no cords, no wires, and no worries – wireless the way it should be

SAN JOSE, Calif. — November 5, 2014 — At a press conference this morning in San Francisco's InterContinental Hotel, NETGEAR®, Inc. (NASDAQ: NTGR) (www.netgear.com), a global networking company that delivers innovative products to consumers, businesses and service providers, announced a breakthrough in self-monitored home security with its new Arlo™ Smart Home Security Camera (www.Arlo.com).

Arlo is the first and only 100 percent wireless WiFi security camera with crystal-clear, high definition video. Monitor your home from every possible angle, inside or out, with these outdoor-ready cameras that are equipped with night vision to give you HD video around the clock. The combination of easy installation, battery-operated true wireless design, and weatherproof construction provides you with the ability to set up a camera wherever you want, without worrying about finding a power outlet or the hassle of inconvenient power cords. The clean compact design of the Arlo camera – smaller than a bar of soap – takes up minimal space so you can easily and discreetly place them where you want – from the baby's room to the tree trunk in the front yard, or on the backyard fence.

Arlo's real-time notifications give you peace of mind that your home, children, pets, car, vacation rental, small business, or any other site of importance, is being monitored. You'll get email or app notifications with best-in-class cloud access on your smartphone or tablet. With the intuitive free Arlo app, you can watch live streamed or recorded videos, see motion event recordings, customize activity alerts and arm/disarm motion-sensors. Arlo will alert you instantly if an event occurs, and you can tap into as many as four simultaneous camera streams to watch from your desktop, notebook computer or favorite mobile device. You'll never again have to wonder if your children arrived home safely, if the package was delivered as planned, whether you left the garage door open, or what (or who) is getting into your trash bins at night!

The Arlo Smart Home Security Camera Kit (VMS3230) includes:

Two HD outdoor cameras equipped with motion sensors and night vision capability
Smart home base station that can also "talk" to other connected devices
Four magnetic dome mounts – two for securing each camera wherever you need it, and two extra mounts to make moving the camera around the home super easy
200 MB of free cloud storage for videos
Free apps for displaying and managing the cameras and video from iOS or Android™ smartphones and tablets
Access via popular browsers on Mac® computers and PCs

"With the explosive growth and early adoption of the Internet of Things (IoT), consumers are telling us they value smart devices that help them monitor property and loved ones to give them peace of mind," said Pat Collins, vice president of smart home products at NETGEAR. "But not everyone needs a professionally-monitored, expensive security system with 24/7 surveillance, and on-call personnel. Furthermore, people want to place cameras in places where a power outlet is difficult to come by. Arlo is the only camera that can deliver secure monitoring in HD, without the need for a power outlet at all. Because the camera is battery operated, you can take it anywhere inside a perimeter of up to 150 feet from the base station. Because it's easy to initialize with a push of a button, setup is super easy."

The Arlo Smart Home Security Camera offers many desirable capabilities and benefits that will make remote monitoring hassle-free, day or night, indoors or out:

Patented 100 percent wire-free design for easy placement and convenient relocation from room to room
Stunning HD detail (720p resolution) with a wide 130-degree field of view to catch the activities you need to see
Night vision for crystal-clear images even in the dark
Robust, weatherproofed double-shell case for maximum protection from sun, wind, rain, snow and curious pets and children
Motion sensors activate customizable alerts for real-time email or app notifications
Easy setup with magnetic mounts for installing multiple cameras in minutes
Compact, discreet form factor for inconspicuous placement
Ultra-low power consumption with long-lasting battery life up to 6 months*
Secure cloud storage infrastructure and up to four concurrent camera streams to mobile or desktop browsers
Free apps for iOS and Android smartphones and tablets and for the Kindle™ for watching live streamed or recorded videos

Thirteen percent of U.S. broadband households have a smart-home connected device and nine percent of U.S. broadband households express a willingness to purchase a smart security camera with advanced features, according to research from Parks Associates, a market research and consulting company specializing in emerging consumer technology products and services.

"The smart home industry has seen a major spike in the development of intelligent devices as companies aim to help consumers do more based on their lifestyle needs, preferences and desires," said Stuart Sikes, president of Parks Associates. "Arlo Smart Home Security brings home security to the 21st century, creating a safer environment for consumers."

The Arlo camera is designed to enable devices to communicate with one another and even act as triggers for other connected devices. NETGEAR is partnering with innovative IoT device manufacturers to further enhance the Arlo Home Security Camera. To that end, NETGEAR has formed a partnership with LiFX® (LiFX.co), a leading provider of WiFi and mesh radio enabled, multi-color, LED light bulbs. The integration of LiFX light bulbs will bring endless manipulation of home lighting to Arlo customers. Stay tuned for the exciting developments of this partnership and others in early 2015.

Pricing and Availability

The NETGEAR Arlo Smart Home Security Kit with two cameras (VMS3230) will become available for online purchase in January 2015, at an MSRP in the U.S. of $349.99. Add-on cameras (VMC3030) will be sold separately at an MSRP in the U.S. of $169.99. Items sold separately require an existing Arlo Smart Home Security Kit.

More Information

Learn more about NETGEAR Arlo Smart Home Security at www.Arlo.com. See the Arlo video at www.Arlo.com/Arlovideo.

About NETGEAR, Inc.

NETGEAR (NASDAQ: NTGR) is a global networking company that delivers innovative products to consumers, businesses and service providers. For consumers, the company makes high performance, dependable and easy to use home networking, storage and digital media products to connect people with the Internet and their content and devices. For businesses, NETGEAR provides networking, storage and security solutions without the cost and complexity of big IT. The company also supplies top service providers with retail-proven, mobile broadband solutions for their customers on the go. NETGEAR products are built on a variety of proven technologies such as wireless, Ethernet and Powerline, with a focus on reliability and ease-of-use. NETGEAR products are sold in approximately 45,000 retail locations around the globe, and through approximately 36,000 value-added resellers. The company's headquarters are in San Jose, Calif., with additional offices in over 25 countries. NETGEAR is an ENERGY STAR® partner. More information is available at www.NETGEAR.com or by calling (408) 907-8000. Connect with NETGEAR at twitter.com/NETGEAR and www.facebook.com/NETGEAR.

©2014 NETGEAR, Inc. NETGEAR, the NETGEAR logo, and Arlo are trademarks and/or registered trademarks of NETGEAR, Inc. and/or its subsidiaries in the United States and/or other countries. Other brand names mentioned herein are for identification purposes only and may be trademarks of their respective holder(s). Information is subject to change without notice. All rights reserved.

*Battery life may vary depending on usage.

Safe Harbor Statement under the Private Securities Litigation Reform Act of 1995 for NETGEAR, Inc.: This press release contains forward-looking statements within the meaning of the U.S. Private Securities Litigation Reform Act of 1995. Specifically, statements concerning NETGEAR's business and the expected performance characteristics, specifications, reliability, market acceptance, market growth, specific uses, user feedback and market position of NETGEAR's products and technology are forward-looking statements within the meaning of the Safe Harbor. These statements are based on management's current expectations and are subject to certain risks and uncertainties, including, without limitation, the following: the actual price, performance and ease of use of NETGEAR's products may not meet the price, performance and ease of use requirements of customers; product performance may be adversely affected by real world operating conditions; failure of products may under certain circumstances cause permanent loss of end user data; new viruses or Internet threats may develop that challenge the effectiveness of security features in NETGEAR's products; the ability of NETGEAR to market and sell its products and technology; the impact and pricing of competing products; and the introduction of alternative technological solutions. Further information on potential risk factors that could affect NETGEAR and its business are detailed in the Company's periodic filings with the Securities and Exchange Commission. NETGEAR undertakes no obligation to release publicly any revisions to any forward-looking statements contained herein to reflect events or circumstances after the date hereof or to reflect the occurrence of unanticipated events.


# # #