D-Link Dual Band AC1200 802.11AC (DAP-1650) Gigabit Range Extender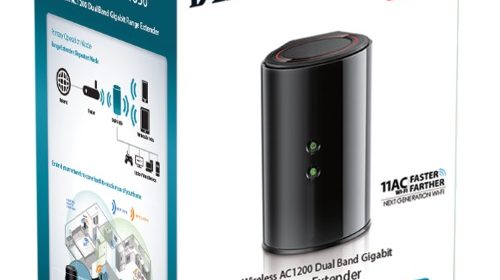 For me, the most interesting thing about 802.11AC Wi-Fi comes down to bandwidth. While it can't quite deliver the same speed and bullet-proof reliability as a full Cat6 wired installation, its capability comes at a fraction of the cost and much greater flexibility; dropping in an AC1750+ router + media bridge enables the same kind of "heavy" media consumption possibilities without the hassle of running wire. A few months ago, while still a cheaper alternative, it still wasn't exactly "cheap" to add this capability to your home – with most vendors only offering run-a-second-router-as-a-bridge solutions. Fortunately, as the AC market has matured so has the supporting ecosystem, bringing two-stream "AC1200" (867Mbps 5GHz + 300Mbps 2.4GHz) bridges into play. Offering a four Gigabit Ethernet 802.11AC Wi-Fi Extender (bridge) the D-Link's DAP-1650 is not alone in this group, but at $90 it is one of the most affordable.
Device
The D-Link DAP-1650 was well packaged in its retail friendly box. The contents are exactly what most will need, with the device, power adapter, Ethernet cable, and instructions included. Make sure that you keep the instructions and cable handy though because they are critical to getting started with this AC1200 extender.
The DAP-1650 is consistent with D-Link's recent canister design, which makes for a more svelte appearance but requires internal antennas in return. Status LEDs indicating power and connection status are relatively muted, enough so that I did not feel the need to tape them over. Connection quality is not reflected in the LEDs though, but with a bridge the installation point is more likely to be fixed (i.e. bringing Wi-Fi to wired Ethernet clients to a specific location). It is possible to wall mount the DAP-1650 using the mounting holes on the bottom, but the power cord is only 4' long so make sure there's a receptacle handy.
Use
By modern standards initial setup is a bit clunky, and contrasts oddly with the outstanding first-run experience provided by the D-Link DAP-1520. Configuration via WPS is supported, but was somewhat hit-or-miss in practice. I was unable to get it to work with my ASUS RT-AC66U (gave up after five attempts), but it worked the first time with a D-Link DIR-880L. Should WPS fail, it is necessary to connect directly to the device via Wi-Fi (WPS or using the information on the care) or by plugging the provided Ethernet cable into a PC or router. After connecting to the DAP-1650 look up the URL (http://dlinkap.local) printed on the card to find it in the browser. If, like me, that URL doesn't work you will need to find the IP address assigned by the router (if you plugged it in there) or note that the default IP address if connected directly to a PC will be 192.168.0.50 (noted in the manual) then browse to the DAP-1650 and run through the configuration wizard. Now, none of that is insurmountable or even that challenging for a reasonably technical user, but it is inconsistent with what the experience should be like from a modern device–including D-Link's own AC750 hardware.
The DAP-1650 has D-Link's old UI (same as my circa-2010 DIR-825), so functional but like the first-run not as slick or modern as what was experienced with the DAP-1520. I was told that D-Link is planning to update the DAP-1650 to the new interface at some point, so it should bring a better user experience (UX) to the entire configuration experience. That said, aside from the extender's unwillingness to recognize my USB 3.0 hard drive (it did recognize thumb drives) no stability issues were noted in testing. The DAP-1650 preformed solidly, requiring only 4.3-4.9W–which is quite low for a two stream bridge/repeater.
The DAP-1650 can operate as a media bridge or as a repeater. In media bridge mode the Wi-Fi network is not extended, with a theoretical trade-off in more bandwidth available for communicating with the router because it is not repeating. When operating as a repeater the D-Link DAP-1650 selects the fastest radio available (generally 5GHz 802.11AC) and uses that as the link between it and both wireless networks it "repeats" – effectively operating as a 5GHz 802.11AC repeater + 2.4GHz access point (AP). In practice this means that only one, the fastest, of the repeated networks realizes a 50% drop in theoretical bandwidth, which is generally a reasonable trade-off because it extends both 5GHz and 2.4GHz networks while leveraging each's relative strengths. Although I would have also liked to see an option to operate as a media bridge + AP, to maximize bandwidth between wired clients on either side of the bridge as well as extending a wireless network outwards. Like many repeaters, the DAP-1650 consolidates client traffic on its side of the bridge behind its MAC, so any network management features (e.g. static DHCP, parental controls, custom DNS assignment, etc.) that rely on a discrete MAC per device at the router will not function correctly.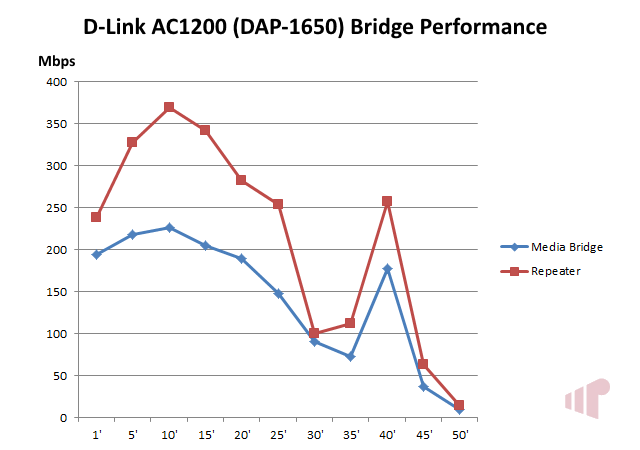 To test wireless bridging performance a large file was copied between two SSD equipped PCs connected via Gigabit Ethernet to the router and DAP-1650 respectively. Then the D-Link DAP-1650 was moved away from the router capturing average throughput at each testing point. It is important to note that the distances in the graph above are not strictly linear, so while they are the indicated distance from the router each point represents a discrete location in a three-story brick house; 1-20' on the first floor, 25-35' on the second, and 40-50' on the third with points 25' and 40' in the stairway landing on each floor (i.e. only one wall between the router and the extender at these points). What is particularly interesting about this artifact is how dramatically a wall penalizes the DAP-1650 as it is moved into another room (25'->30-35' and 40'->45-50').
As noted earlier, the D-Link DAP-1650 can operate as a media bridge or as a repeater. When configured in media bridge mode the expected result is that a significant increase in bandwidth should be realized between wired clients on either side of the bridge because it does not take the 50% reduction in theoretical bandwidth from repeating. That did not turn out to the case with the DAP-1650 however; where oddly in most locations acting as a repeater was faster, significantly at times. D-Link has been notified of these findings and they are investigating. This review will be updated when their results are available.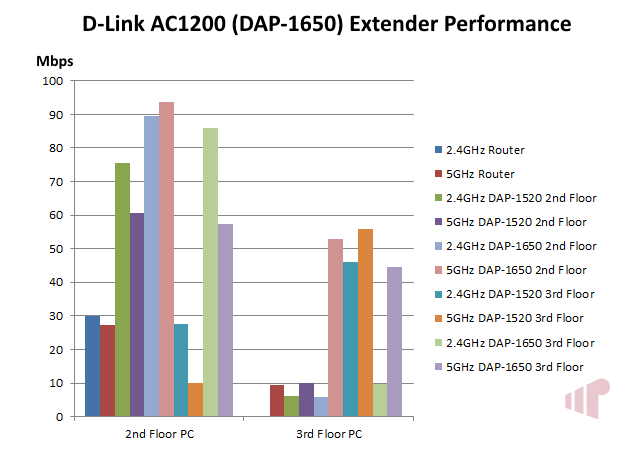 Wireless performance was also tested by placing the D-Link DAP-1650 in two locations (roughly equivalent to the 25' & 40' points in the previous section) and measuring effective bandwidth at two Wi-Fi equipped (Intel AC-7260) PC clients located in "problem" areas in the house to the wired PC client connected to the router. To create a baseline bandwidth to the router is included as well. Generally, solid gains are available regardless of installation location indicating that the DAP-1650 saturates the repeated networks well, but there was an odd result noted in testing with 2.4GHz performance on the 3rd floor PC quite poor in both locations. This issue was only noted with the DAP-1650 and this PC (the DAP-1520 was fine, as were other repeaters) so I cannot explain why they did not play nice together.
Conclusion
The D-Link DAP-1650's price, stability and general performance make it a good value at $90, but not without some puzzling questions around performance as a media bridge and client compatibility. As an "AC1200" extender it was solid and competent, for technically oriented buyers on a budget it should be near the top of the list, but that said I cannot help but feel that with external antennas it could have delivered significantly more performance and range.
Pro:
Low power consumption
Value
Good open-air performance
Con:
First-run UX a bit clunky
Media bridge mode is slower than repeater mode
Large performance hit from placing walls between the DAP-1650 and router
Thanks to D-Link for providing the review sample.