D-Link Announces Affordable Wi-Fi Smart Plug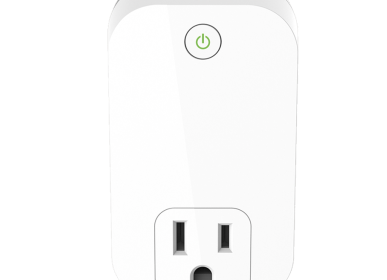 If you're sold on Home Automation (HA) the cost, while sometimes unpleasant, is just part of what it takes to accomplish the larger goal. For those who aren't as convinced or have simpler targets, spending a couple hundred dollars to "smart" one plug is a hard sell, which is where an item like the just announced D-Link DSP-W110. For $40 you can get your feet wet, or setup an easy mechanism for rebooting those problematic HD-PVRs :).
Full PR after the break.
D-Link Now Shipping its Newest Wi-Fi Smart Plug for Under $40

Smart Plug makes it More Affordable than Ever to Automate and Create On/Off Schedules for Appliances and Devices in the Connected Home

FOUNTAIN VALLEY, Calif. – Sept. 16, 2014 – D-Link today announced that the Wi-Fi Smart Plug (DSP-W110), the company's newest and most affordable Smart Plug, is now shipping. Providing a simple way to turn devices on and off from anywhere using the free mydlink™ Home app for iOS® and Android™ smartphones or tablets, the newest Wi-Fi Smart Plug brings the convenience and flexibility of mydlink to everyday household electronic devices.

In addition to turning devices on and off with the tap of a smartphone screen, the Wi-Fi Smart Plug also enables users to create power on/off schedules to truly automate a range of devices in the home. Particularly useful for travelers, this feature can be used to create a lighting schedule to make an empty home look occupied while the family is out of town.

"The Wi-Fi Smart Plug is an incredible way to introduce yourself to the benefits of an automated home," said Daniel Kelley, vice president of marketing, D-Link Systems, Inc. "Whether it's brightening up the house before you get home, creating a lighting schedule for while you're away, or remotely powering off a device you accidentally left on, the Wi-Fi Smart Plug makes your home brighter, smarter and more in tune with you."

The new D-Link Wi-Fi Smart Plug features a simple one-button installation – users press the WPS button on their existing router and on the Smart Plug, and then download the mydlink Home mobile app to start setup.

More about the Wi-Fi Smart Plug (DSP-W110):

The mydlink Wi-Fi Smart Plug delivers a range of easy-to-use features, including:

· Power Scheduling – easily create on/off schedules for home appliances, lights and other electronic devices powered through the Wi-Fi Smart Plug.

· Local and Remote control – use the free and intuitive mydlink Home mobile app to instantly turn devices on or off from an iOS or Android smartphone or tablet.

· Wi-Fi Connectivity – requires no additional hub or device, works with any Wi-Fi network.

· Simple Setup – Wi-Fi Protected Setup (WPS) button offers quick and easy setup to connect to any router supporting the WPS standard.

Availability and Pricing

The D-Link Wi-Fi Smart Plug (DSP-W110) is now available in the United States for $39.99 on Amazon.com and dlinkshop.com. More information is available online at www.dlink.com/dsp-w110.

About D-Link

D-Link is the global leader in connectivity for home, small business, mid- to large-sized enterprise environments, and service providers. An award-winning designer, developer, and manufacturer, D-Link implements and supports unified network solutions that integrate capabilities in switching, wireless, broadband, storage, IP Surveillance, and cloud-based network management. For more information visit www.dlink.com, or connect with D-Link on Facebook (www.facebook.com/dlink) and Twitter (www.twitter.com/dlink) or D-Link's blog (http://blog.dlink.com/).

# # #