FAVI Announces Boomerang Smartphone/Table Speaker System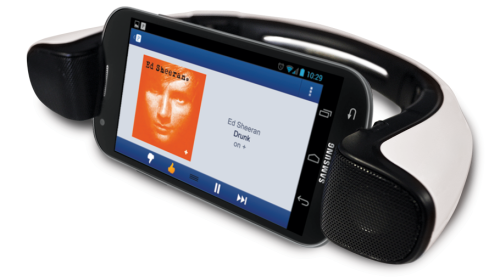 We we travel it's not uncommon for my kids to gather around one of the tablets to watch a little Netflix. So I can completely understand the use case for a speaker kit like the FAVI Boomerang. Not only does it provide better, directional speakers it also removes the who-get-to-hold-the-tablet problem :).
Full PR after the click.
Wrap Your Mobile Device in Home Theater Style Sound – Introducing the FAVI Boomerang, Adjustable Audio Dock with NFC Technology


FAVI Entertainment announces its crescent-shaped Boomerang Wireless Audio Dock, an on-the-go home-theater for your mobile device or tablet with tap-to-pair NFC Technology


Detroit, MI (November 14, 2013) – Today, FAVI Entertainment brings its experience in home theater to the mobile accessory market, announcing a crescent-shaped NFC-enabled speaker that rests on the outside edges of your mobile device allowing you to create a mini home-theater experience anywhere, anytime.

"Whether you're watching a movie or chatting over Skype, you shouldn't be limited to the stock audio of your device" said Jeremy Yakel, President of FAVI Entertainment, "The Boomerang allows you to get stereo style sound on your iPad, iPhone or Android device with a simple tap."

The Boomerang Wireless Audio Dock uses the latest version of Bluetooth + NFC (Near Field Communication) technology. This allows users to easily tap their Bluetooth enabled device to the Boomerang to pair with it. The Boomerang's unique shape makes it convenient to carry, fitting comfortable around a user's neck while not in use.

Other key features include:

• NFC Technology allows you to pair your device with a quick tap, operating up to 33 feet away
• Expansion Sleeve Design allows you to easily adjust the viewing angle and accommodate for various sizes
• Built-in Speakerphone allows you to listen, talk and answer phone calls via the speaker
• 2 x 6W Stereo Sound in the Boomerang from integrated bass boosts
• 2 x 4W Stereo Sound in the Boomerang Mini from integrated bass boosts
• 10 Hours of Battery Life from its built-in lithium ion battery
• Colorful Options available in white, black, red, yellow, purple and pink

The Boomerang will be available for $79.99 and the Boomerang Mini will be available for $59.99 beginning in mid-December. For more information, watch the Boomerang YouTube video or visit our website at www.favientertainment.com.

About FAVI Entertainment
FAVI Entertainment is a full service product design and development company specializing in projectors, mobile accessories, and digital media devices. Since 2006, we've developed over 120 consumer technology products under the FAVI brand. In 2013, Inc 5000 listed FAVI as one of the Fastest Growing Companies in the United States for the 3rd year in a row.

# # #