PVRX2 (GB-PVR) 1.1.5 Release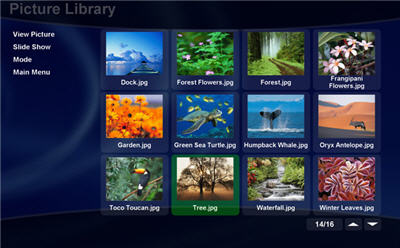 GBPVR has underwent a few changes in the last 6 months or so. One thing I noticed right of the bat was an improved UI both in looks and functionality. You can't really go wrong with free now can you :).
– net radio feature available again
– Search Guide now accessible from main menu
– added separate video renderer setting in config app for PVRX2
– added support for the new EVR renderer (DXVA 2.0 support etc).
– full TV Guide now accessible inside playback OSD, like it was in GB-PVR.
– Custom tasks now working
Click the read more button for full release notes.
– fixed problem where message boxes that were meant to have one button could show no buttons
– fixed a bug where the 'no signal' OSD could appear
immediately after starting live tv even though the video is playing
correctly in the background
– fixed minor skin bug with Search Guide text wrapping
– fixed a problem with waking the PC to perform recordings or epg update
– an error will now always result in the log being flushed, even if log flushing is disabled.
– fixed a bug where plugin could be activated twice.
– fixed a bug that could result in a crash during the collection of the DVB EPG
– added <VMR9LockBackBuffer> setting in
config.xml. It is 'false' by default. When set to 'true' it may help
some users that get video tearing issues. It will most likely result in
higher CPU usage also.
– BDA mux setting in config app now only shows muxes that are installed on the machine.
– added support for CT TV Listings for USA users
– fixed a couple of bugs with the live record popup that shows when you press Ctrl-K when watching live tv
– a running instance of the application will now know if
the EPG has been updated outside of the process and will reload the EPG
as required
– multidec filter no longer used when recording an
unencrypted channel. This will help some situations where the user has
a mixture of encrypted and unencrypted channels.
– fixed a bug that could cause video playback to drop out immediately or freeze when 'prompt for resume' is enabled.
– fixed a bug with the <TryToHonourPaddingIfPossible> = 'true' logic.
– fixed a problem where a recording could appear incorrectly as a 'manual recording', or linked to some other unexpected show.
– fixed a problem with the tv guide not defaulting back to the current time on 2nd and subsequent accesses.
– added logic to look in plugin subdirectory for resolving DLL dependencies before looking in the "common" directory
– Search Guide letter list now uses language.xml, so shouldnt need any customisation to support non-english languages.
– fixed a bug that would have stopped the HVR1800 from doing QAM tuning