Choosing a panel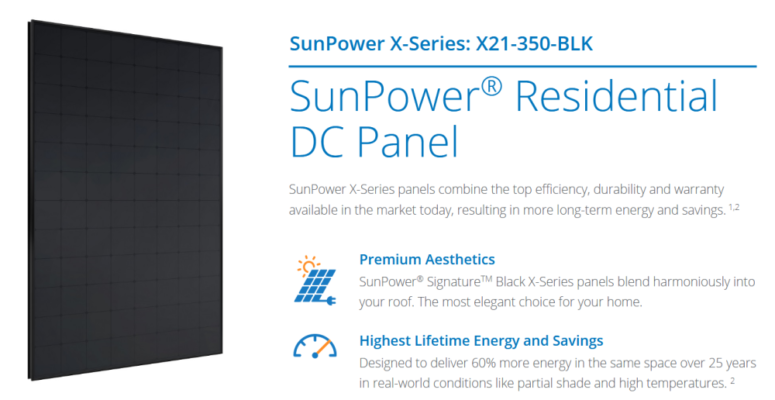 As a technology enthusiast, digging into the underlying system specifications was of particular interest to me, both for the panel and inverters. I'm not going to get into detail around the inverter debate, but based on my research I'm solidly in the "micro" side of things, given the type of system I wanted installed here.
Qualifying it that way, is important. Because if we were going to start over from scratch, without a generator, I suspect that a pure DC installation would be more ideal, at least from conceptual level. No one I spoke with tried to sell me a DC system, so I'm not sure it's even possible to get one here in Illinois. Full DC would only make sense if using local battery storage, with the benefit coming from increased system efficiency as the DC/AC conversion happens once as it leaves the panel+battery ecosystem. As we won't be installing a battery here, just one conversion will occur in the system as well. In our case at the panel, or more specifically, in the micro-inverter attached to each panel.
Each of the vendors pitched a different panel, so it wasn't possible for me to directly compare cost-per-panel across the proposals. Interestingly enough, some of the vendors weren't even that forthcoming around which panels and inverters they were trying to sell me. Everyone did disclose them, after being asked, but it was odd that it wasn't in the original bid. With the panel models in hand, I found the specifications from the OEM's website and compared on the efficiency, output, warranty, inverter type (string, micro, or something else), and projected efficiency loss over the duration of the panel's life.
Superiority-by-the-numbers was not the only factor, with aesthetics playing a small role in the selection process. This is of course a highly subjective metric, and even personally, if we lived in a different area I'm not confident we would have given the black-stealth install the priority that it received.
Panels:
If the $/W numbers seem low compared to what you're expecting, it's because I included the projected Illinois incentive in them. Different states have different incentive programs, so it will vary significantly state-to-state. I was planning to include the number without the Illinois incentive, but some of the proposals didn't break the federal and state incentives into discrete buckets. It should be possible to figure them out roughly, but getting a pure number wasn't really the point of this post :).