Dell Inspiron 15 7000 Battery Fire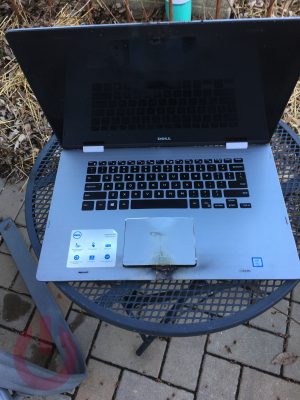 I always wondered about posts and videos reporting laptop and cell phone battery fires. I do not have to any longer. My husband has a Dell Inspiron 15 7000. He closed the lid on it Thursday night and left it on the couch. The laptop goes to sleep and everything is good. Friday morning the laptop started smoking. This is what we found after tracking down the funky smell.





Mmmm, crispy laptop, burned plastic, and singed couch.
I am guessing based on the protrusion of the trackpad that the battery exploded. I called Dell to raise a case. The laptop is a little over a year old. This puts it out of support. The handy automated call system reminded me. As did the support tech who answered my call.
This is a safety issue. If it had happened at a different time, overnight or no one home, it would have been much worse than a ruined laptop and a singed couch. I will post when Dell gets back to me with next steps.