Turning My Unfinished Third Floor Into Our New Family Room: The Sketch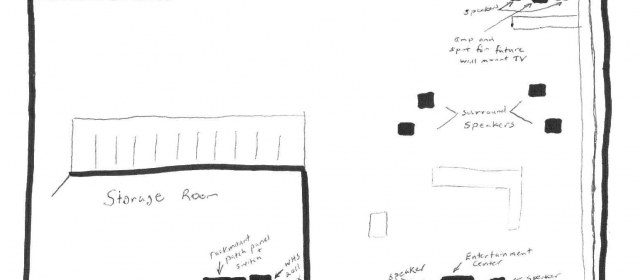 This sketch reflects the home theater related improvements I plan on making to my unfinished third floor. I've also elected to add Cat6 network drops to the four bedrooms on the second floor while I can still get behind the walls on the third floor. My reasoning behind this move is twofold. I wanted both the speed and reliability of a wired connection for streaming media to different points in my house and I also wanted to keep my wireless router on the second floor to ensure the best coverage for the whole house.

The third floor will be divided into two rooms: the main area and a storage room. The storage room will mostly house stuff like Christmas decorations, but it will also be where all my Cat6 cable terminates. My future Windows Home Server 2011 box will also live in there. I am running coaxial in there so that I can house my Ceton Infinitv4 in the WHS 2011 box. In the main area, the entertainment center will contain my receiver, PS3 and HTPC. My center speaker will sit on top with the left and right speakers on stands next to the entertainment center. I plan to mount my television to the wall behind the entertainment center. In the ceiling, I will mount four surround speakers behind the sectional in the main area. On the far wall, I'm planning on a bar. Behind the bar, I will mount two speakers and in the future a TV (possibly connected to an extender).