Getting your Ceton InfiniTV 4 this week? Some hints to a successful install…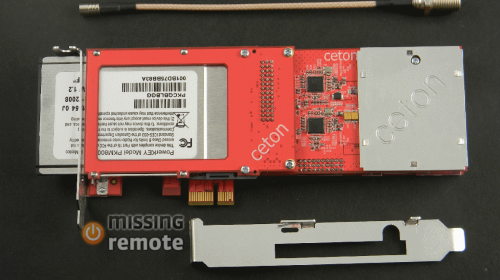 First, let me start off with an apology. I've been burning the midnight oil but still have some tests left for Part II of my Ceton InfiniTV 4 review. It is getting there and if you do have any questions, please ask.
With the delay in Part II and consequently Part III I wanted to share some hopefully helpful hints for a successful install.
Run the Digital Cable Advisor tool prior to installing the Ceton InfiniTV 4. Last thing you want is to install the InfiniTV and find out your system doesn't meet all the requirements. Any HTPC, TV and AVR purchased in the last two years should not have a problem. For a better understanding of the Digital Cable Advisor please see MissingRemote's post "Digital Cable Advisor Tool Available Now."

When running the Digital Cable Advisor tool, run Media Center in windowed mode to ensure the UAC prompt is visible.

If you are installing the CableCARD without a cable technician present:

Attempt to minimize potential signal quality issues by:

Limiting the number of cable splits. i.e Instead of three two-way splitters use a single four-way.

When purchasing a passive splitter, purchase one with the minimal number of outputs that you need.

Terminate any unused coaxial ports with F-Port terminators to reduce reflections. This includes ports on splitters.

Ensure RG-6/QQ (quad shielded) is used whenever possible. If you have 10 year old cables, now is good time to replace them.

If a signal amplifier is present be aware of potential issues with over-amplification. Issues may not be present on all channels. I highly recommend investing in a "0dB return path insertion loss" drop amp if signal amplification is needed. I have the EDA-FT08300 and am very happy with it

When calling your cable provider keep the below in mind:

You'll need the CableCARD serial number and Host ID readily available

If you are using an existing activated CableCARD ask them to un-pair it first. The exception is Verizon FiOS customers, once activated Verizon does not require CableCARDs to be paired to a Host ID.

Ask them to send the authorization code several times.

If you have a technician present:

Ask them to check your incoming signal at the entry point, and…

Ask them to check your signal strength where your Ceton InfiniTV4 will be installed

When checking signal strength have them check various frequencies.

Do not hesitate to ask them to replace cables.

If a signal amplifier is needed, many cable providers will charge a monthly fee. Consider purchasing a "0dB return path insertion loss" amp on your own instead.

Do not allow them to leave without checking various channels. I'd suggest a mix of high definition, standard definition and local channels. If you subscribe to premium channels make sure to check them. Just because the majority of channels work does not mean the CableCARD was properly configured. Any combination of signal loss, over-amplification, configuration error or a signal filter can cause tuning issues.

If your do not need a tuning adapter (i.e. your area does not use SDV). You may safely disable or uninstall the Ceton InfiniTV Tuning Adapter service. If you do need a tuning adapter–I'm sorry.
And if you have any questions or additional tips to contribute feel free to leave comments.