D-Link 802.11AC AC750 Travel Router and Charger (DIR-510L)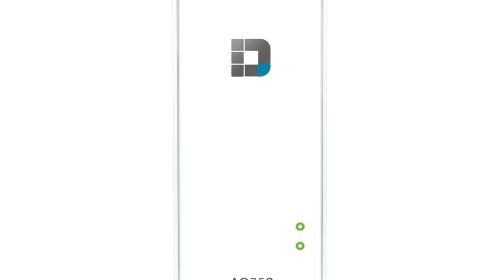 There are a lot of reasons to include a travel router in your kit bag when heading out for an extended excursion. The most obvious, is providing a single interface to captive Wi-Fi portals used in hotels, resorts and many cafés. This can save you some money if a per-device access charge is levied, but even when that is not the case you save setup time connecting the devices (i.e. configuring once to the router's AP), and makes it possible to use streamers like Roku or Chromecast which do not play nice with captive portals – enabling BYOC[ontent] when on the road. With several options now available in this space, the D-Link DIR-510L stands out for two reasons: its 4000mAh battery, and 802.11AC (AC750) support. At $120/£100 SRP ($83/£72 retail) this travel router is at the higher end of the spectrum, let's see if the feature set can justify the price tag.
Device
Measuring 14cm x 6cm x 1.6cm and weighing 176g, the D-Link DIR-510L is on the larger side of many travel routers, but the reason for its relative girth is due to the 4000mAh battery housed within the chassis. The battery can be used to power the router — fantastic as you move it around the room to find the best wireless signal (although it would be nice if it had signal strength indicators) – and/or provide electricity to USB powered devices. Output is limited to 0.5A and 1A from the two ports though, so not the fastest charging method but serviceable. Recharging the DIR-510L's battery is managed via Micro USB placed next to the 100Mb Ethernet WAN port (disappointingly, WAN only), which I love, because it means the included charger can safely be left at home, saving weight and clutter on the road as long as you have a stand-in that can provide the 3-3.5W it requires when operating.
Use
The D-Link DIR-510L did not provide a real first-run experience, which was a bit off-putting initially. After digging into the screens however, I had a change of heart around this point (mostly) because usage for a travel router is fundamentally different from a standard router – which is generally setup once, and then ignored until there is a problem. Travel routers, travel with you and must be reconfigured in each location to connect and share the wired/wireless network. This does not completely excuse the lack of a first-run wizard because the router is not in a secure or optimal state when it comes out of the box; the admin password is blank, and both the 2.4GHz and 5GHz access points (AP) are wide open so users will need to resolve this mostly on their own initiative before connecting it up to the Internet.
Managing the D-Link DIR-510L is simple and straightforward though, with most of the features and functionality exposed in a way which is discoverable and well thought out. Advanced home router features (e.g. port forwarding, VPN, static routes, etc.) are understandably lacking, but there is enough depth (e.g. static DHCP assignment, MAC blacklisting, etc.) to provide some network management as well. My favorite feature has to be the "Internet Profiles" though, as it provides a way to persist known network configurations and toggle between them easily without having to start over each time. There is a bit of inconsistency within the profiles however, with some types able to override DNS and others (unfortunately including "Wi-Fi Hotspot Client") unable to – which is quite disappointing as it means you're stuck using whatever DNS cruft the hotel/café has setup.
Overall it was a pleasure to use the D-Link DIR-510L, but there was one unforgivable slight – the password field for the mydlink feature will not accept my password, truncating at 17 characters; which is not consistent across D-Link's other routers or the mydlink portal. Adding insult to injury, the limitation is purely cosmetic. If you are familiar enough with HTML editing via a browser's DOM explorer (F12 tools), it is quick work to expand to a more reasonable value, and login successfully.
Aside from charging and support for mobile dongles, the USB ports can also expose attached storage via the Shareport mobile application and web UI. This is neat, but my preferred format (SMB) is missing so the feature does not quite fit how I like to use attached storage.
With basics out of the way it was time to test, and the D-Link DIR-510L performed admirably. Able to host multiple devices with enough capacity to allow for simultaneous over-the-top (OTT) streams (2x Netflix, 2x Google Play shown above) for as long as I was able to keep video queued on the devices. Stability was excellent during the entire hotspot repeater test lasting ~6 hours; which ended when the battery hit 20%.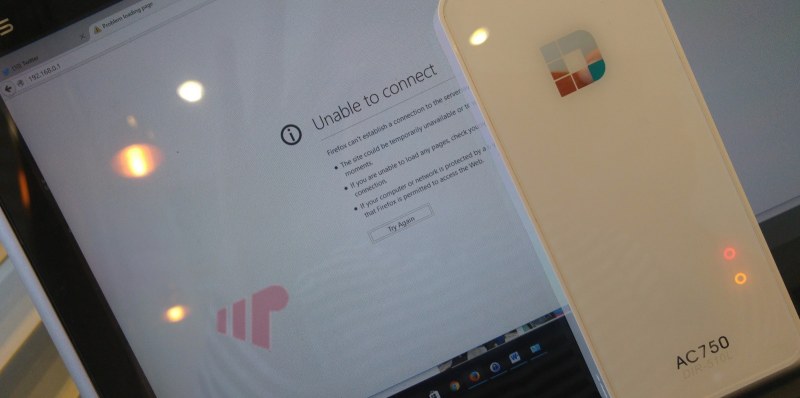 One issue was noted during captive portal testing where the configuration UI became unavailable and the status light turned red on the D-Link DIR-510L even though it continued to function properly in hotspot mode (i.e. no break in Internet access was observed on either device connected to the travel router). The cause was unclear, but given the timing, I suspect that it was related to the portal requiring re-authentication after one hour of use.
Performance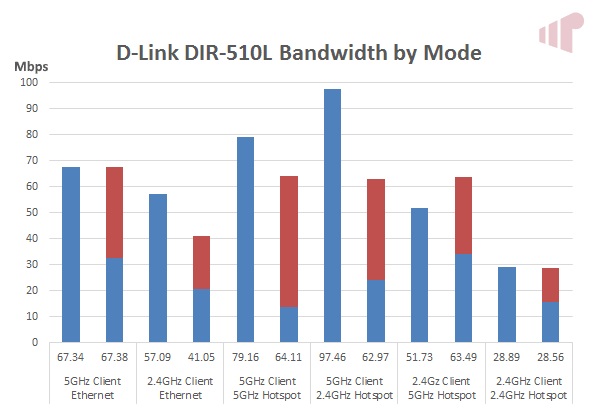 The D-Link DIR-510L's stand out feature is the implementation of AC750 (2×2 2.4GHz @ 300Mbps + 1×1 5GHz @ 433Mbps) 802.11AC, but while the connection rate was observed during testing with two Intel AC-7260 2×2 clients, the actual throughput was not. The results were also somewhat unexpected, with Ethernet backhaul not providing the highest data rate utilizing either the 5GHz or 2.4GHz radios. Instead, peak bandwidth was realized using a single 5GHz 802.11AC client with 2.4GHz backhaul. As this is the most likely practical application (connecting a 2.4GHz hotspot AP to 5GHz clients), it is easy to forgive however, but I did expect higher data rates overall from the travel router given the underlying technology. That said, while the numbers did not meet my expectations, it is unlikely that this will be a limitation in a real application – with WAN (hotspot) bandwidth in hotels/ and cafés generally well under what the DIR-510L can comfortably serve.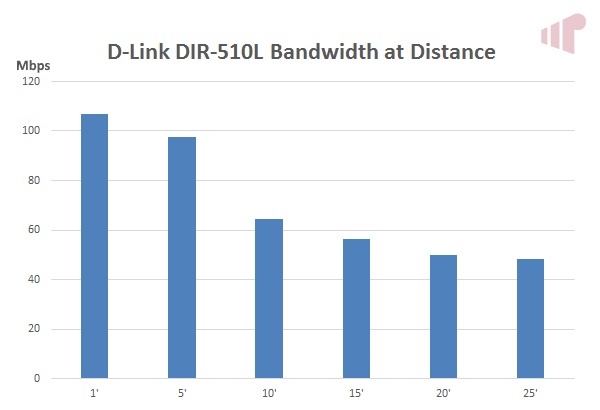 As a travel router the D-Link DIR-510L was not run through the same degree of bandwidth at distance testing that full-size models undergo, but the methodology was the same – with a large file copied from one side of the network link to the other using SSD equipped PCs. Testing was focused on what I expect to be the most common use case, with the router operating in 2.4GHz hotspot mode with a 5GHz client. As we can see above, the DIR-510L performs quite well considering its size, internal antennas, and low power budget. Slowly dropping from 106.7Mbps to 48.1Mbps as the client was moved from 1' to 25' away from the DIR-50L.
Conclusion
All said, the dual-band $120/£100 SRP ($83/£72 retail) AC750 D-Link DIR-510L is a competent, stable, and [relatively] performant travel router with some killer features – most notably its portability, ease-of-use, and the built-in 4000mAh battery. Power users may be disappointed by the Ethernet port's WAN-only configuration, and the inability to override DNS in hotspot mode, but I think that the overall approachability will trump those concerns for most users in almost every application. Considering its billing, there was one letdown however, with the DIR-510L not really delivering AC750 class performance; probably due to the low power budget of its SoC. While I did expect the D-Link DIR-510L to exhibit better wireless performance, I would still have no trouble recommending it to the vast majority of travelers provided that they were comfortable with its relatively premium price.
Pro:
Ease-of-use
Feature set
Stability
Includes battery
Connection profile feature
Micro USB powered
Con:
Inconsistent password field length with other D-Link products
Does not provide 802.11AC performance
Price relative to other travel routers
Ethernet port is WAN only
Thanks to D-Link for providing the review sample.