Inteset PC-IRS5-01 HTPC Infrared Solution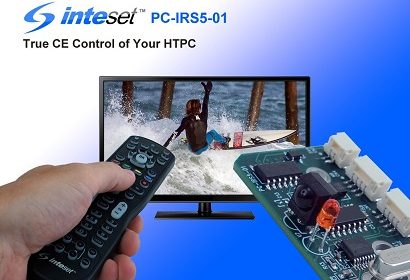 Control is a critical aspect of managing a home theater PC (HTPC). Without a solid solution, there is no way to confidently hand it to the rest of the family and expect it to work. For many the solution is simple; even as Windows Media Center has declined the ecosystem it created for external RC-6 infrared (IR) receivers continues to flourish. But as good as that is, there are some drawbacks including the bulky external receiver and the general inability to deal with all of a PC's potential power states. The Inteset PC-IRS5-01 addresses both of these concerns by providing a flexible RC-6 IR compatible receiver that can be mounted inside the chassis, has a discrete external receiver option , and can wake the PC from off (S5), hibernate (S4), or standby (S3). Starting at $37, the PC-IRS5-01 won't break the bank either – so if wake from S4/S5 and a sleeker install is a must have feature for you this could be the perfect solution.
Device
Inteset provided the optional external IR receiver along with the PC-IRS5-01, so the full potential for the device was available. This included an external USB 5V power supply alongside the base PCB, mounting bracket, USB control/power cable, and front-panel wiring harness used to install internally. The internal receiver is small enough (1"x1.5") that it should be straightforward to install in most HTPC enclosures, but as there a wide variance in chassis so it will be important to measure first and plan accordingly.
Use
With four separate plugs on the PC-IRS5-01, installation can be a bit more involved than typical for internal IR receivers. The trade-off here is flexibility of course, with options for external power and receiver placement. If only mounting internally, then just two of the cables will be required–which is clearly spelled out in the included instructions. Because the PC-IRS5-01 can wake the PC from S4/S5 it is critical that a source of 5V power is available to provide electricity in those states. For most modern motherboards there should be a BIOS controlled option (see the gallery for a screenshot from an ASUS H81T) to always power the USB headers, and if it is then simply attach the included USB cabling to a free four-pin header (it will not work with five pin because the fifth pin is intentionally blocked) and connect the +/- pass-through power wires to the front panel header and chassis power button. If you have a board that does not provide 5V USB power during S4/S5 then it will be necessary to find another source. Generally there will be one internally as well (e.g. intrusion detection header), so definitely check the manual before opting for the external USB power option. When power is applied the PC-IRS5-01 has two reasonably bright LED lights on the front of the PCB (you can see them, and the reflected light in one of the photos above), in the three enclosures I tested light bleed was visible in a darkened room so some electrical tape may be required to shutter them in a permanent installation.
Astute readers will notice that I did not indicate that the power LED pass-through wires should be connected to the front panel, and that was with good reason but requires some explanation. According to Inteset the power LED pass-through is used to detect the power state of the PC (i.e. when there is current, it is on) and the PC-IRS5-01 will trigger a power state change accordingly–either by closing the power circuit on the motherboard (i.e. emulating a physical chassis power button press) when in S4/S5 or via the appropriate driver command when it is on. In practice however, I found that on motherboards where the power LED blinks in a low power state (generally this just S3) the detection mechanism would get confused and was unable to change power state at all when the PC was not on. Leaving the LED wires disconnected works around this issue, and in testing on three different motherboards (ASUS H81T, GIGABYTE GA-A75M-UD2H, and Intel DZ77GA-70K) no detrimental effects were noted. This makes sense too; with the PC-IRS5-01 unable to detect system state it should always emulate a physical button press – which would be no different from you pressing the button on the chassis. In the past, this may have caused issues, but with modern BIOS able to use this as a signal to the OS to standby/hibernate/shutdown gracefully I would recommend running in this configuration unless you see an issue.
In use, the PC-IRS5-01 generally functioned exactly as I would expect a RC-6 (Windows Media Center eHome) compatible IR receiver to work in both Microsoft Windows and OpenELEC (embedded Kodi). The only idiosyncrasy noted was that while the discrete POWER_OFF IR command works properly, POWER_ON does not acting instead just like POWER_TOGGLE, which was quite disappointing because I rely on POWER_ON to ensure state in my startup macro.
Conclusion
Overall, I was quite pleased with the functionality and flexibility provided by the $37 internal Inteset PC-IRS5-01 IR receiver. In day-to-day use, it provides the same drop-dead simple usage as the external (cough, unsightly) Windows Media Center receiver has over the years while addressing the ugliness and full power state support that was lacking. I do wish that discrete power commands were supported however, as it makes full startup macro automation possible.
Pro:
Just works RC-6 (Windows Media Center) IR control
Reliable wake from S3/S4/S5
Con:
LEDs can bleed light outside the chassis
Discrete ON is not supported
Thanks to Inteset for providing the review unit.