D-Link Dual Band 750Mbps 802.11AC (DAP-1520) Wireless Extender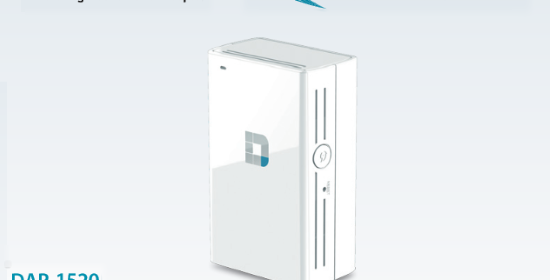 Even with a fancy new 802.11AC Wi-Fi router, it is almost impossible to avoid having a few dead spots in a house. Unfortunately, those corners where the wireless does not quite reach reliably also makes a great place to put a bean bag chair for some casual web browsing or over-the-top (OTT) media consumption. Now that this market has matured with a myriad of AC1750 and AC1900 devices, we are also starting to see more devices like the $60 single stream D-Link Wireless AC750 Range Extender (DAP-1520) which promises to fix this problem without a significant cash outlay.
Device
The D-Link DAP-1520 comes in a retail friendly package, with full instructions, a card with login specifics, and the device itself. It was nice that D-Link provided printed instructions, many devices do not anymore, but you shouldn't need them – it is that easy to setup.
The D-Link DAP-1520 is about the size of two decks of playing cards stacked up so it doesn't require much space on the receptacle, and because the prongs are not keyed for polarization there is some flexibility to orient in the outlet. The device has a very clean, modern design with only one muted LED. For the most part this is greatly appreciated, but the lack of external, directional antennas probably limits the performance and it would be nice if the LED indicated the quality of the connection.
Use
The D-Link DAP-1520 supports WPS, so if your router also does setup is a simple as pressing two buttons. If it doesn't, or you would prefer a bit more control the configuration process is more involved, but D-Link did a great job of streamlining this so even technically challenged users should breeze right through. The gallery above captures most of the first-run setup experience, with only the part where the browser automatically launched the setup wizard after connecting to the AC750 extender via WPS. Having spent significant time with many of these sorts of devices, it was refreshing how easy it was to get going with the DAP-1520. I would feel comfortable having one shipped to my parents, and be confident that they could install it without calling me.
Like the device, the D-Link DAP-1520's configuration UI is clean and simple. There isn't much depth to it, but that's not entirely unexpected given the intended function of the device. The ability to create a bridge + access point (AP) is lacking however (a feature found in some competing devices), so it is not possible to use 5GHz AC strictly for backhaul to the router and only broadcast 2.4GHz, or vice versa. This AC750 extender only functions as repeater, which is unfortunate because that feature allows for more flexibility to leverage the relative strengths of each band by side-stepping the 50% bandwidth hit from repeating if your needs align with that usage scenario. That said, the repeater is intelligent in that it will select the strongest band (5GHz is given higher priority) during setup and leverage it for backhaul; which means that only one of the bands realizes the reduction in speed from repeating.
For networking products, stability is a pass/fail. Anytime I have to tinker with the box to make something simple work or some device cannot connect it's a big red mark against it. If I can plug it in, configure it, and forget that it exists that's a pass; the D-Link DAP-1520 falls clearly into the latter category – it just works, and only pulls 2.1W while doing it.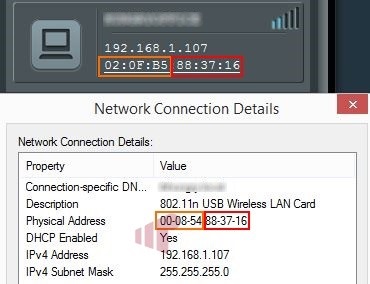 When setting up the repeated SSIDs it is important to select unique names (i.e. don't use the same name as the router's SSID which is being repeated) because the D-Link DAP-1520 changes the MAC address provided back to the router. I have experienced issues with repeaters that take a different approach, so no complaints that it works this way, just something to be aware of. It is much better than combining all the traffic under the repeater's MAC (another common approach) because it allows for MAC based features like static DHCP, parental controls, etc. performed by the router.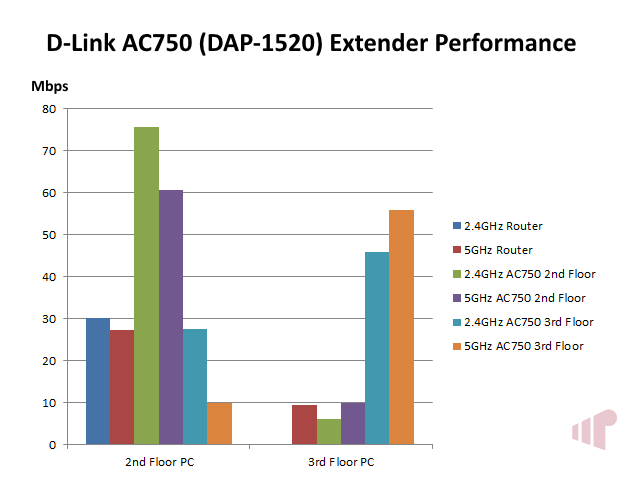 To access performance and efficacy the D-Link DAP-1520 was tested by placing it in two locations, and measuring effective bandwidth available across the LAN to two PC clients located in "problem" areas in my three story house. The clients were initially tested against the router (an ASUS RT-AC66U) creating a baseline to measure against. The results above show decent performance on both bands in the 2nd floor problem area, but no effective bandwidth (0Mbps) over 2.4GHz and less than 10Mbps on 5GHz in the 3rd floor location. After installing the D-Link DAP-1520 on the 2nd floor in a strong signal area (hallway by the stairs) the numbers improve significantly on the 2nd floor, but not as dramatically as I expected on the 3rd. Moving the D-Link DAP-1520 up to the 3rd floor produced a similar jump for the 3rd floor client, but performance for the 2nd floor client actually declined to a level below what was measured against the router. Given these results it is clear that this extender is most effective horizontally, but struggles to enhance performance vertically especially upwards. Overall, the AC750 extender demonstrates effectiveness at resolving the issue it is intended to address – bringing Wi-Fi goodness into the far reaches of the home.
Conclusion
Providing a simple auto-discovery mechanism and straight forward first-run wizard experience, the best thing about the D-Link DAP-1520 is that it is so easy to get from in-the-box to just-works. As a single stream repeater, it would be unfair to expect the device to extract 802.11AC's full potential, but I was very impressed both with overall performance and how well it pushed signal into hard to reach areas. In fact, the only significant niggle with the device was its poor upward signal propagation, which can generally be resolved by changing the install location. Otherwise the $60 D-Link AC750 extender provides exactly the feature set that it promises, at an outstanding price, and in an efficient manner.
Pro:
Simple setup
Low power
Value
"Just-works" experience
Con:
Extender coverage works best side-ways and down, so may not help much in some environments
No option for bridge+AP is provided, so backhaul link always repeats
Device does not provide signal strength feedback
Thanks to D-Link for providing the review sample.