Intel HD 4600 – madVR Performance

As many in the home theater PC (HTPC) community are aware, madVR produces an unparallelled level of flexibly and performance. Producing results that rival some of the best dedicated video processors available in the market. It was not that long ago that utilizing this advanced video renderer was limited to those with a high-end discrete graphics processing unit (GPU) and a penchant for mixing PC usability with HTPC use cases. Time and Moore's Observation (er… "Law") has changed this with the feature available through 10′ friendly user interfaces (UI).
The previous generation HD 4000 GPU found in Intel integrated processor graphics (IPG), "Ivy Bridge", was the first Intel graphics solution to combine decent coverage for this feature and modern CPU performance. It was hoped that the 4th generation "Haswell" IPG would finally unlock the full capability of madVR, but as was mentioned in our first look at the Intel Core i7-4770K the HD 4600 could not. Having spent more time with the platform, it was time to revisit this issue and provide a more detailed look at what is, and is not, possible.
Lanczos 3 tap + Anti-ringing
Like the Intel HD 4000, Haswell's Intel HD 4600 is capable of processing video using the demanding Lanczos (3 tap) algorithm, but with the additional ability to activate the Anti-ringing filter. In the video above, three videos (1080i30, 720p60, and 480i30) are displayed during playback with madVR. As we can see it is able to scale and process the videos without issue.
Jinc 3 tap + Anti-ringing
The same cannot be said after enabling the more demanding Jinc algorithm. In the clip above we can see that the video is unwatchable with this algorithm enabled. Not even 1080i30 will play without serious performance issues.
DXVA
Intel's hardware scaling is very good, so it was heartily welcomed when madVR added the ability to enable DXVA scaling (which is how the hardware is exposed). As we can see here, not only can the Intel HD 4600 handle the three clips examined before, it can also downscale and process 4K content.
GPU Load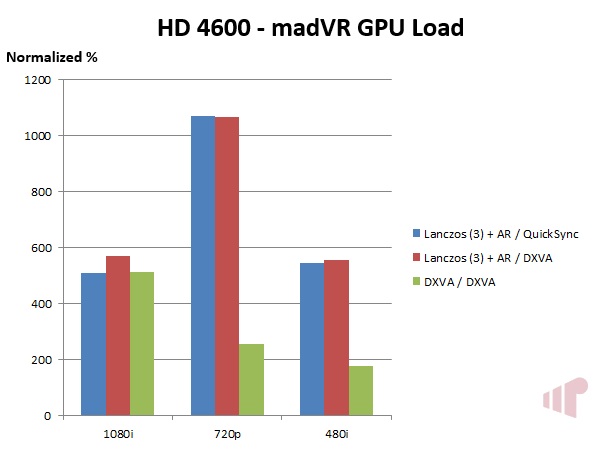 It was pointed out in the comments that GPU utilization should have been included, and I agree. So I went back and reran the tests to produce the chart above. The numbers are not presented as a percent because the HD 4600's GPU dynamically clocks based on load, so the values have been normailzed to the maximum frequency (1250MHz) so a more accurate comparison can be presented. Only the methods that produced acceptable results were included in the "scaling method / decoding method" format.

Wrapping Up
While it is unfortunate that the Intel HD 4600 GPU clearly does not have the necessary "go" to unlock madVR's full potential, there is there are three steps above it in Haswell's graphics lineup so there is some chance that the 4th generation Intel Core IPG can handle Jinc. Currently those SKUs are limited to mobile however, so it possible that we will never see suitable HTPC systems with Intel Iris 5100/5200 GPUs. The upcoming Haswell NUC should ship with Intel HD 5000 though, so we can look forward to running it through the same series of tests when it arrives later this year.
Thanks to Intel for providing the review sample.