SilverStone TJ08-E Micro-ATX Chassis
We learned from our recent chassis poll that a number of you are using tower or desktop style enclosures for your home theater PCs (HTPC); thus, we felt that we should expand our chassis reviews to include more products in these form factors. Today, we take a look at the SilverStone TJ08-E Micro-ATX tower chassis.
The TJ08 Evolution is an update of the original TJ08 chassis from SilverStone's Temjin series. With the ability to house 13.25″ long expansion cards and a 165mm high CPU cooler along with four 3.5″ and one 2.5″ internal bays, two 5.25″ and one 3.5″ external bays, two USB 3.0 ports, a positive pressure cooling design with a 180mm fan, the fully-painted aluminum/steel chassis can accommodate most systems. It is perhaps fairly routine sounding until examining the dimensions. At 15.16″ x 8.27″ x 14.72″, the TJ08-E has a lot to offer for such a compact size.
Specifications
Material

Aluminum front panel, steel body

Motherboard

Micro-ATX, Mini-DTX, Mini-ITX

Drive Bays

External

5.25" x 2
3.5" x 1 (compatible with one 3.5" hard dirve) (shared)
Internal

3.5" x 4
2.5" x 1 (shared)

Cooling

Front: 1 x 180mm AP181 intake Fan 700/1200RPM, 18/34dBa
Rear: 1 x 120mm (optional)

Expansion Slots

Front I/O Port

2 x USB 3.0 (backwards compatible with USB 2.0 )
Headphone
Microphone

Power Supply

1 x Standard ATX (PS2) up to 180mm (maximum); 160mm (recommended) (optional)

Weight

Dimension

15.16″ (385mm) D x 8.27″ (210mm) W x 14.72″ (374mm) H
Test System
Motherboard

Intel DH67BL

CPU

Intel Core i5-2500k

CPU Cooler

Scythe Mugen 2

Memory

8GB (2x4GB) Patriot Signature DDR3 PC3-12800

GPU

NVIDIA GTX 560 Ti

Hard Drive / Solid State Drive

500GB Western Digital Caviar Blue 16MB Cache 7200RPM

500GB Seagate 7200.12 7200RPM

120GB OCZ Vertex 2

Optical Drive

Samsung 22X DVDRW SATA

Power Supply

PC Power & Cooling Silencer 750W 80Plus

Operating System

Windows 7 Ultimate 64-bit
Packaging and Hardware
The SilverStone TJ08-E arrived safely and was well-protected by plastic and Styrofoam inside a cardboard box. The full package includes the following items:
Temjin TJ08-E enclosure
Package of screws and zip ties
USB 3.0 to USB 2.0 adapter
Pad to protect long expansion cards
Manual
SilverStone logo sticker
Once all the packaging has been removed, we are greeted by an all-black chassis. Empty, it is relatively light at just under 12 lbs. The black anodized aluminum front and drive bay covers are sleek and portray a sense of quality. The aluminum power and reset buttons inspire confidence when pressed and are slightly recessed which prevents accidental contact. The large front grill constructed of black steel blends in well with the front panel and hides a unique slide-out filter to trap dust and other contaminating particles from being drawn in by the massive 180mm intake fan controlled by a switch on the right side near the filter. The rest of the chassis is made of painted black steel which has a slight rough texture to it. On top is a magnetic fan filter for the power supply unit (PSU) inlet fan which is a bit uncommon; however, we don't find this feature to detract from the appearance. There are four anti-skid feet protecting the bottom and raising it high enough off the ground to get a good grip for moving. Overall, the TJ08-E is unique and classy without shouting too loud.
Each side panel is secured with two thumbscrews. When removed, the panels are a bit on the thin side. The chassis frame itself is quite solid when fully constructed, but has a bit of twist when the side panels are removed, presumably due to the thinner steel used in the chassis. This keeps the weight down but obviously takes away from the overall feeling of quality we had before disassembly.
Build
In preparation for our build, we tore down just about every portion of the chassis. We started by placing our 3.5" SSD in the bottom 3.5" drive bay. A 2.5" SSD can also be located here and is attached with screws from the bottom.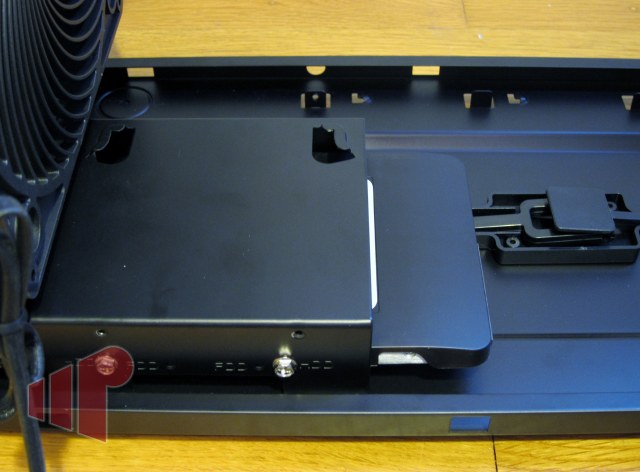 We then installed our non-modular PSU and fed all the cables through a hole placing them on the back side of the motherboard tray which was installed next. We appreciated that there was only a single board standoff that needed to be screwed in to secure the motherboard to the case.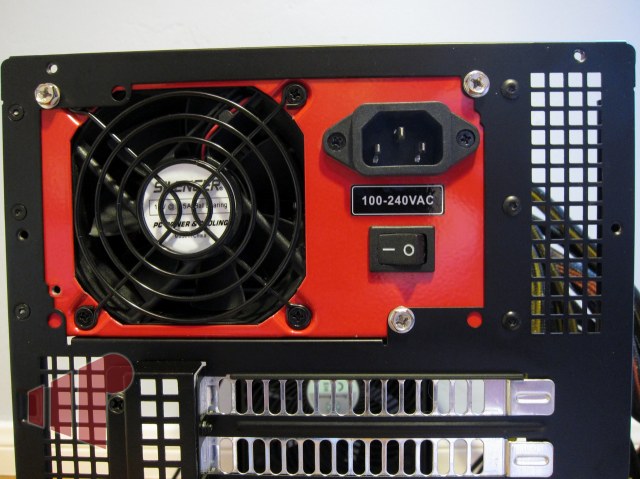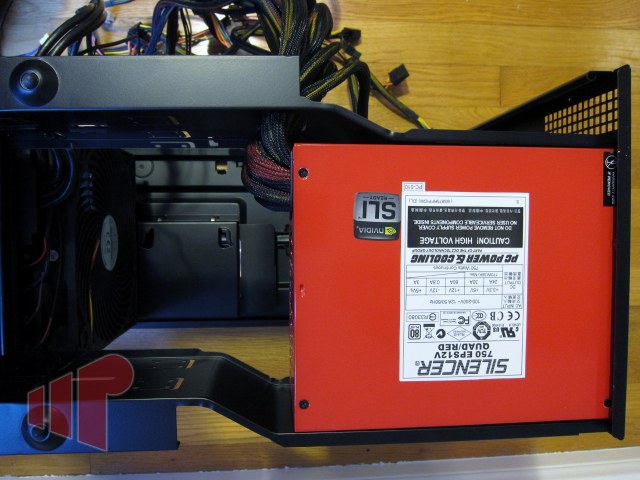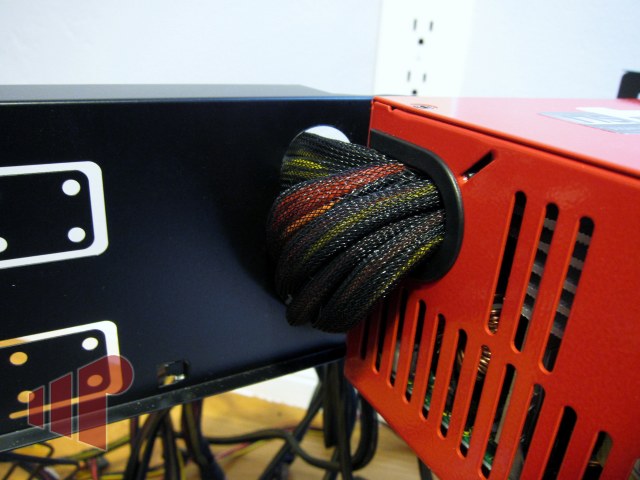 The motherboard and rear plate were installed next. In some enclosures, installing the rear plate can be a bit of a challenge, but ours slid in perfectly with little effort.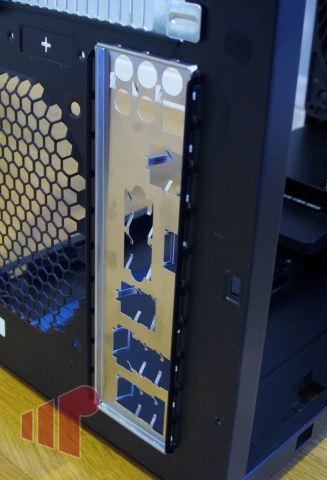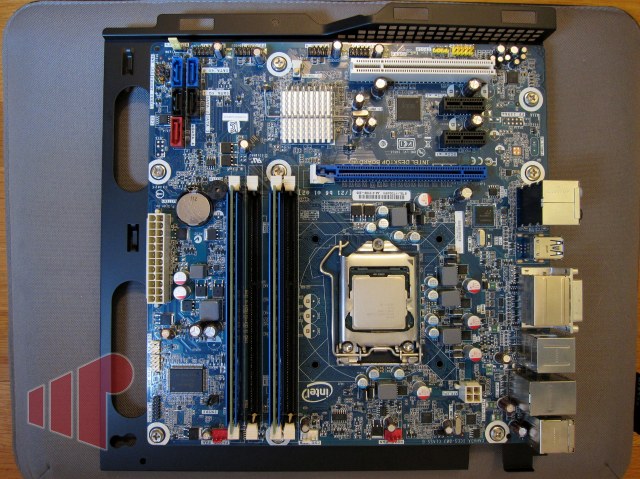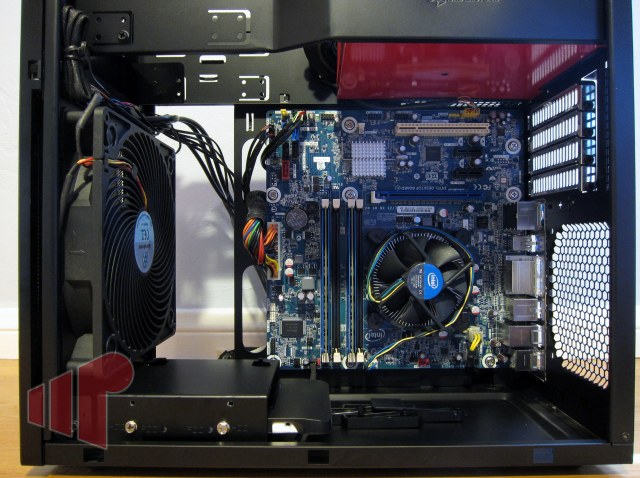 Notice anything different? The motherboard is mounted upside down when compared to a traditional enclosure. This unique design twist allows a chassis of this size to house so many items. SilverStone was also thoughtful enough to include a USB 3.0 to USB 2.0 adapter since many boards today do not feature internal USB 3.0 headers.
When installing the hard disks in the convenient caddy, we can see that there is padding to prevent vibration. We would prefer a tool-less install for ease of use and since the screws tend to mar the black paint when removed. It should be noted that there could potentially be clearance issues if installing RAM with heat spreaders that extend far above the typical height of memory PCBs.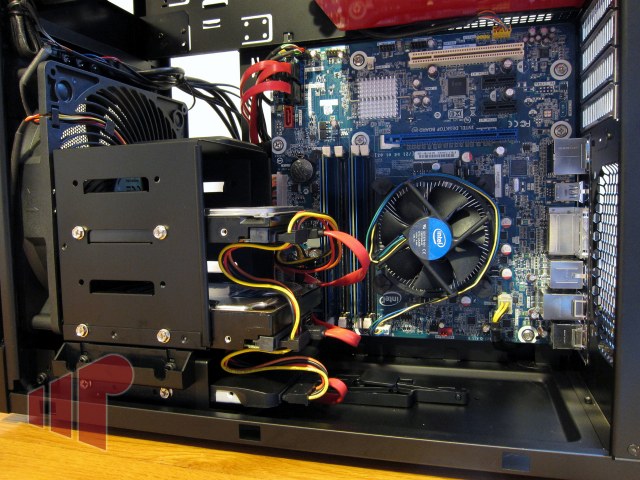 The optical drive installation could be difficult if the PSU or optical drive are too long; however, we didn't have any clearance issues. Our PSU was 180mm long and our optical drive was 170mm long. When evaluating the chassis and whether your components will fit, it will be helpful to refer to the "Component Size Limitations" portion of the manual.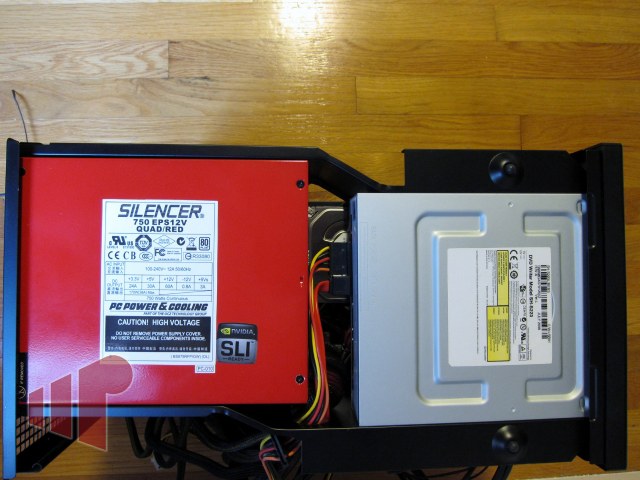 For our GPU, we used an NVIDIA GTX 560 Ti reference card. SilverStone provides a pad that fits on top of the drive cage to prevent long cards from sitting on the cage. You can see that there is easily room for an even longer GPU as well as a second GPU.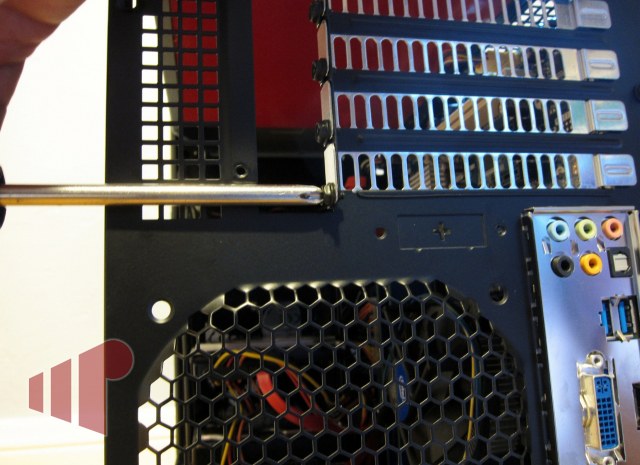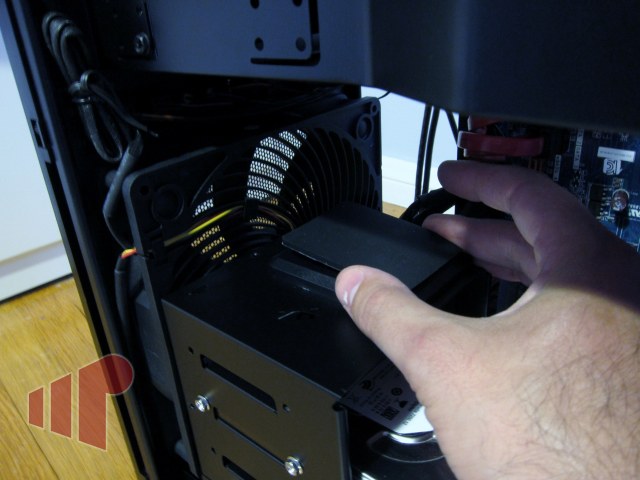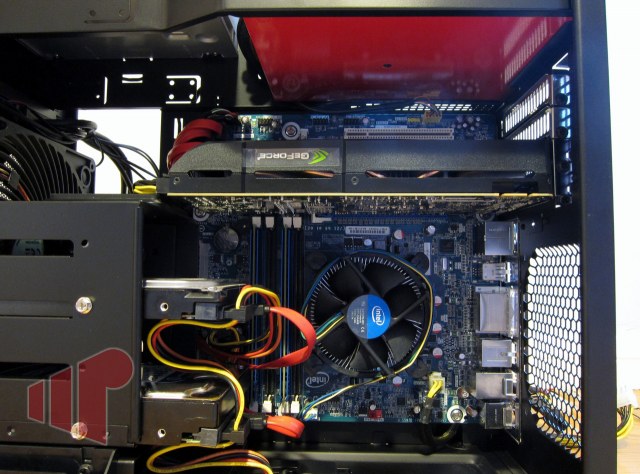 We placed the top on the chassis, but we weren't so satisfied with the PSU fan inlet now. Our PSU was cooled with the traditional rear-fan design which means the top and bottom of the PSU are metal. Since we have a red PSU, it was unsightly to look at through the vent along with the label. There are few things good about a garage full of unfinished projects, but it did come in handy on this occasion. We gathered a piece of thin sheet metal and flat black spray paint. Using a couple of pieces of double-sided tape to attach the now black piece of sheet metal produced a more pleasing result.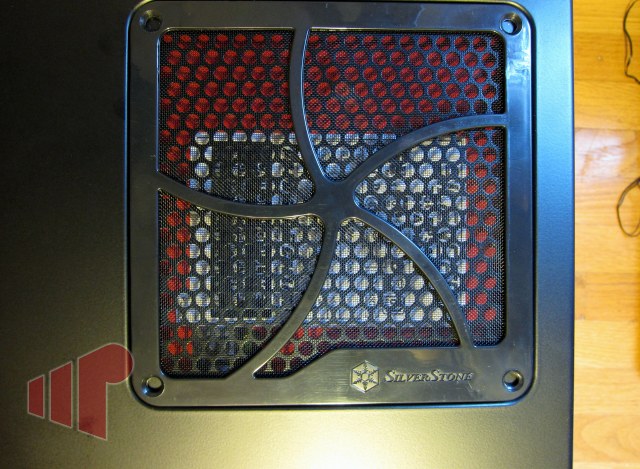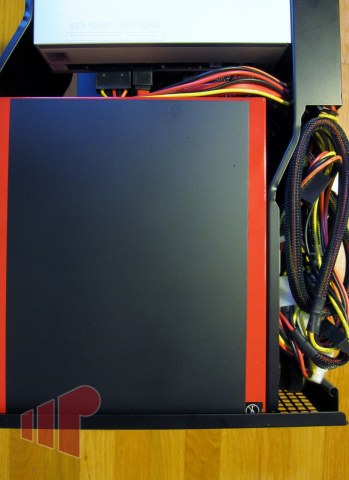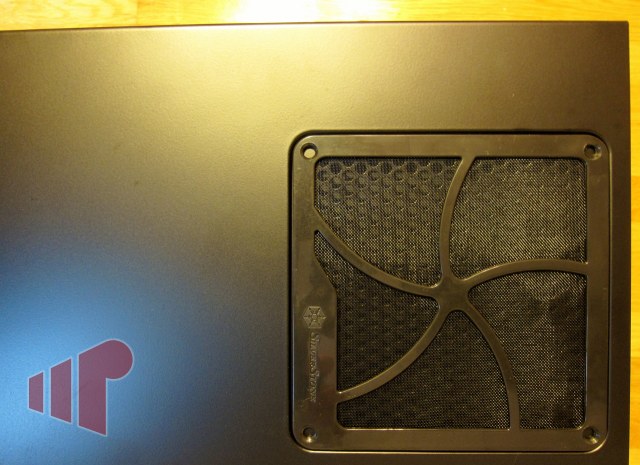 With the top on, we finished up the cable management. For a chassis this small, the space allotted for extra cables is amazingly good.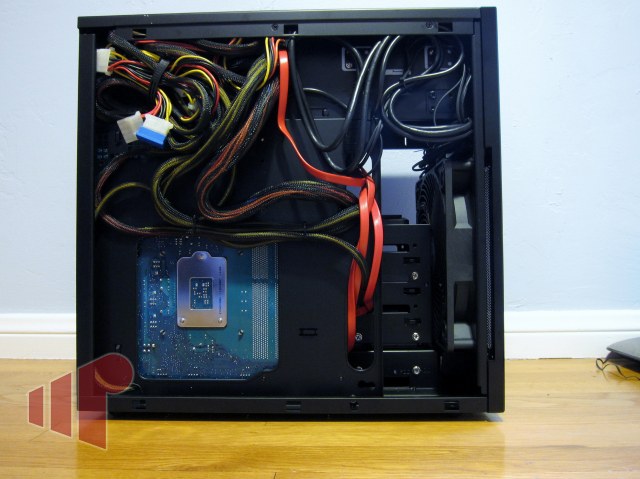 Finally, we replaced our stock CPU cooler with the Scythe Mugen 2 which at 157mm tall is just under the 165mm limit for the TJ08-E. The generous opening in the rear of the motherboard tray made installation relatively easy. You will note that we have the fan fitted towards the rear of the chassis. Due to the 3.5" drives, it is impossible to fit the fan on the front of the heat sink.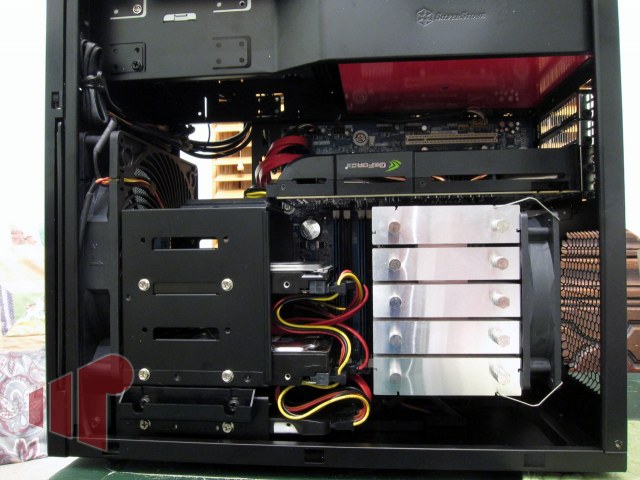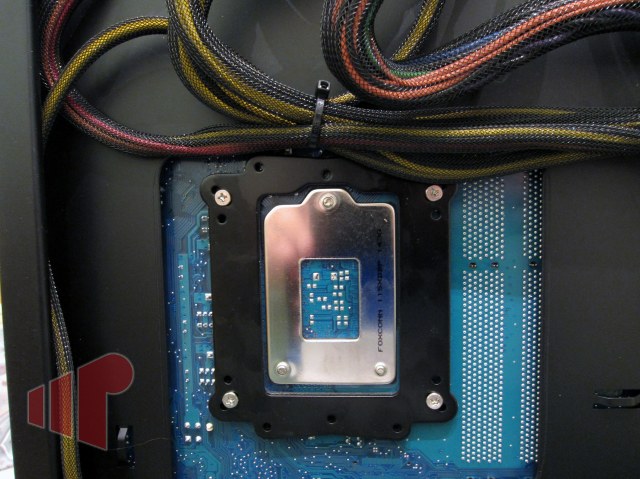 We also employed the stand feature to support the heat sink which gives us assurance that undue stress will not be placed on the motherboard.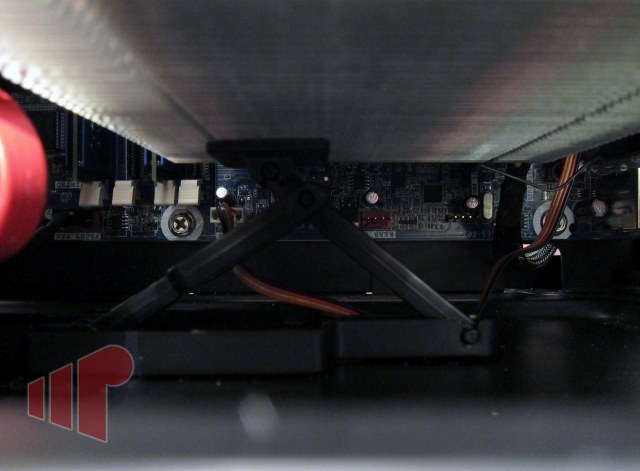 As a final touch, we threw in an internal infrared (IR) receiver and placed it on the drive cage behind the fan as suggested by Missing Remote reader, SSMI. We were skeptical, but this did work so long as the remote was not at an extreme off-axis position.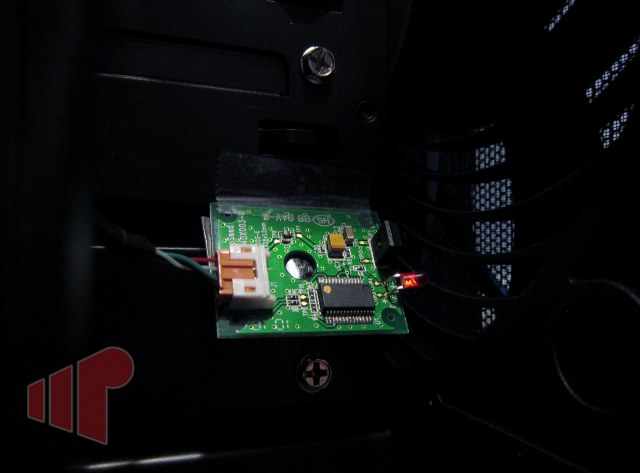 We put together a video of the assembled chassis to give you another look.
We escaped unscathed—there were no sharp edges, thankfully. The chassis was powered on to begin testing. The blue power and disk activity LEDs were fairly bright, but did give of a pleasant glow.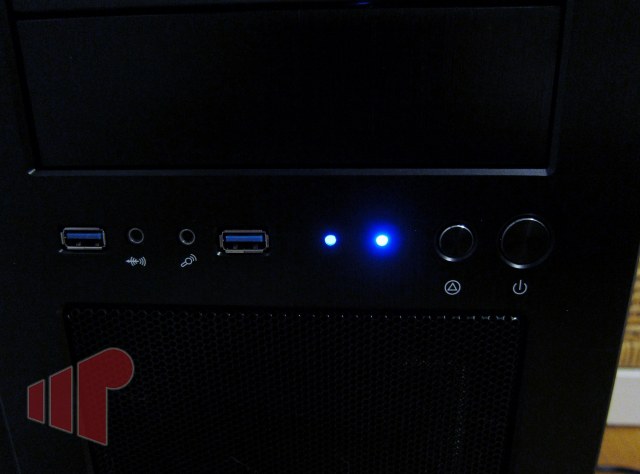 Performance
For performance testing, we used synthetic tools to create a fairly worst-case scenario. We loaded all four cores of the Core i5-2500K CPU with the Prime 95 In-Place FFT test, the GPU was stressed at 1080p with FurMark and HDD I/O was created with the PassMark Advanced Disk Test using the Workstation profile (70% read/30% write).
The 180mm fan and CPU fan were controlled by the motherboard and the GPU fan was automatically controlled by the GPU. For both load and idle measurements, we let the temperatures rise to a steady state condition and then recorded the measurements.
| | | |
| --- | --- | --- |
| | Load | Idle |
| Ambient | 28 C | 28 C |
| | | |
| CPU | 62 C | 37 C |
| VR | 46 C | 34 C |
| Memory | 40 C | 34 C |
| PCH | 71 C | 48 C |
| GPU | 84 C | 35 C |
| HDD-WD | 36 C | 31 C |
| HDD-SEA | 40 C | 37 C |
| Core 0 | 58 C | 36 C |
| | | |
| Inlet | 639 RPM | 594 RPM |
| CPU | 585 RPM | 585 RPM |
| GPU | 3600 RPM | 1710 RPM |
We prefer to let the motherboard automatically control fan speeds or take matters into our own hands with SpeedFan. But, the fan switch for the 180mm fan provides a simple means to tailor the speed as well. If controlling by the motherboard or SpeedFan, you will want to leave the fan set to high so that the voltage will not drop lower than the fan can operate at on the low setting.
The 180mm positive-pressure design seems to keep temperatures in check even under the unrealistically high workload.
We recorded an1278 RPM for the high setting and 878 for the low setting. We felt both were a bit too loud to be considered "quiet." The fan had a pleasant "whoosh" sound and below approximately 650RPM was fairly inaudible a few feet away.
You'll note from our GPU temperature readings that the GPU fan was spinning at a fairly high RPM and was the most annoying sound coming from the chassis. We probably could have found a sweeter sound profile by increasing the 180mm fan speed when under load.
Hard disk noise could also be heard though it was fairly minor and certainly paled in comparison to the GPU fan at load. In general, we wonder if the sound profile could have been improved if thicker steel and sound deadening material had been used.
Conclusion
Quite frankly, we are amazed at what SilverStone has accomplished with the TJ08-E. A chassis of this size is hard to come by with features generally reserved for mid and full-size towers. The decision to reverse the motherboard layout was crucial to the success of this chassis and the folks behind that design decision deserve kudos. Being able to stuff two heavy-duty GPUs, a relatively large tower-style CPU cooler and several drives plus providing easy cable management for all the extra cables in a non-modular 750W PSU is impressive. We also appreciate the aesthetic design. It is unique, reserved and showy all at the same time.
We do wish the steel used were a bit thicker gauge to provide a better sense of quality and perhaps even improve the acoustic performance. Installation and upgrades could have been made a bit more pleasant if the chassis had a tool-less design. Overall, these concerns are relatively minor to the otherwise positive impression the TJ08-E left.
Pros
Good airflow
Small dimensions
Plenty of room for excess cables
Aesthetically pleasing
Light
Cons
Steel a bit too thin
Sound deadening could be improved
Installation not tooless
The SilverStone TJ08-E can be purchased from Amazon or Newegg.
Thanks to SilverStone for providing the TJ08-E and NVIDIA for providing the GTX560 Ti review samples.