The Phantom Lapboard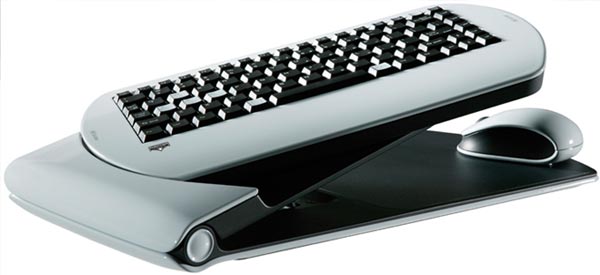 Introduction
Initially designed for a gaming console, the Lapboard is geared towards any 10-foot experience; whether it is a Media Center-type application, PC sofa-gaming via your HTPC or even console gaming on the PS3. As shown below, the kit includes the keyboard, laser mouse, USB dongle receiver and four AA batteries, basically everything you would expect from a keyboard\mouse combination. I would highly recommend not using the included batteries; their quality is questionable and may lead to a less than stellar first impression.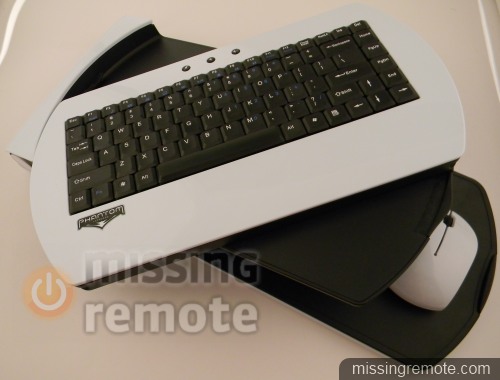 So what is a Lapboard and what makes it unique? The Phantom Lapboard is a combination 2.4 GHz radio frequency (RF) wireless keyboard and separate wireless laser mouse. What makes it truly special is an integrated mousing surface beneath the keyboard keys allowing you to use both keyboard and mouse from your lap, hence the aptly named Lapboard.
Specifications
To start let's go over the product features and specifications:
Two-way 2.4 GHz radio frequency (RF) technology.

Lynx S3 USB Receiver, no drivers required under most conditions. This means, the keyboard can be used in the BIOS.

Up to 10 meter (~33 feet) maximum wireless range.

Scissor-switch keyboard that tilts up at a ~20° angle revealing a dedicated mousing surface beneath.

Keyboard rotates a full 360° to allow right-handed or left-handed mouse usage.

1200 DPI laser wireless mouse with 3 buttons and a scroll wheel.

Available in white or black.

Dedicated volume buttons (mute, volume up and volume down) on keyboard.

Multimedia and Windows Media Center hotkeys available through secondary key function.

Battery type, 2x AA in each device.

Low power consumption, 16mA in working mode. Per the manufacturer specifications, under "normal" usage the batteries are expected to last 4 months.

Compatible on Windows 2000, XP, Vista (32/64), W7 (32/64), Mac OS X and Sony PS3.

Priced at $129.99.
Note: The keyboard has Model 1000 listed on its bottom; however, the box has Model 9000 listed. I have received clarification from the manufacturer that Model 1000 is correct. The Model 9000 listed on the packaging is a misprint.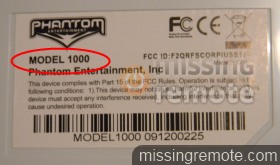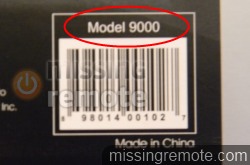 Initial setup
Setting up the Phantom Laptop for the first time was a breeze. I had no issues on Windows 7 (64-bit), Mac OS X (both Leopard and Snow Leopard) or with the Sony PS3. As with most combination kits, both keyboard and mouse were synchronized to the USB receiver out of box. If you do need to reconnect them, there is a connect button on each piece of hardware. The connect, or ID Setting, process involves first pressing the connect button on the dongle receiver followed by pressing the connect button on the mouse or keyboard. You must complete the process within 8 seconds of pressing the dongle connect button. If successful the LED on the dongle will rapidly blink for a few seconds. You will need to perform the reconnect process individually on each hardware, the mouse and keyboard. The product manual also describes the reconnect process in detail.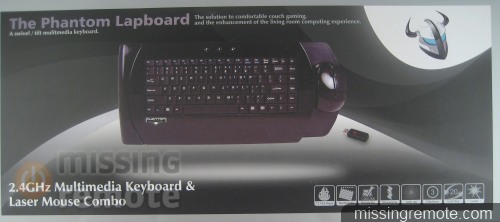 When choosing a location for the USB receiver please note that RF wireless technology is prone to interference and other environmental influences. I typically dislike seeing any dongles on my HTPC; I initially tried using a rear USB port while in the media console, however would not recommend following suite. The reliable wireless range dropped to under 5 feet, much less than the advertised 33 feet. I reluctantly moved the USB receiver to a front USB port with a clear line of sight. This yielded a result more consistent with the advertised range. Similarly, attaching the USB receive to a short USB extension on a rear USB port proved enough to reliably use the mouse and keyboard from ~20 feet away.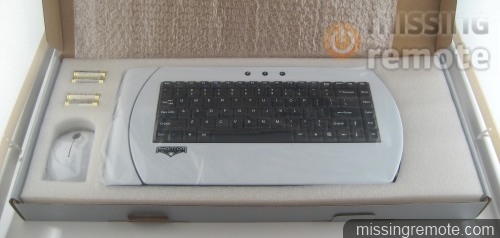 As previously mentioned, do not use the included AA batteries, or do so with the expectation that it will not perform well. I tested both the keyboard and mouse using a mixture of alkaline, lithium and rechargeable NiMH batteries. While all batteries performed well, the alkaline batteries performed the best at 24-28 foot range. This is expected and common among wireless devices and most likely will only be noticeable with fresh batteries. The slight difference can be attributed to the fact that NiMH batteries operate at 1.2V while alkaline batteries are rated at 1.5V. Due to their high resistance, alkaline batteries will in turn drop to 1.2 and lower when depleting.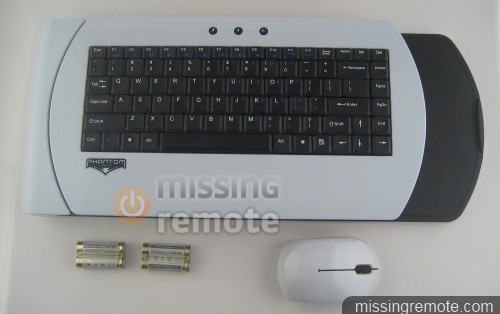 Usage
The Lapboard is designed to be used from your lap with the keyboard tilted at an angle while one hand rests on the mouse underneath and the other on the keyboard. The ergonomics may seem strange at first but for one-handed usage the keyboard feels extremely natural even after prolonged usage. For extended typing, such as while writing this review, I recommend lowering the keyboard to a horizontal position for a more natural two-handed typing.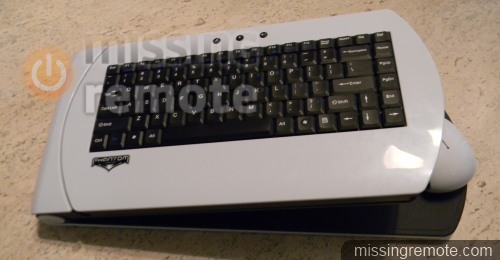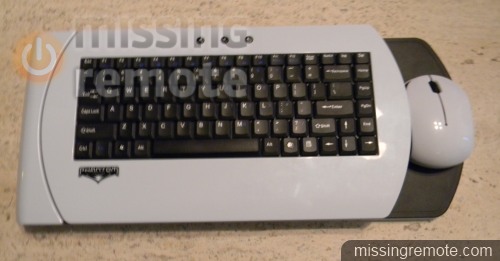 Note: The product documentation does not include instructions on how to lower the keyboard once raised. There is a latch on the end of the keyboard that needs to be pushed in to unlock the keyboard. It was not clear to me and I could have easily broken the latch attempting to force it down.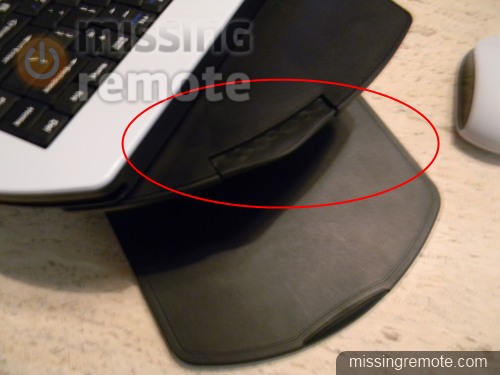 Mrs. Mikinho (SAF)
Before giving my final opinion on the Phantom Lapboard, let me introduce you to whose opinion really matters in the household—Gatinha (aka Mrs. Mikinho). The Spousal Acceptance Factor (SAF) is something most of us who live with others must comply to, and as such have sought the feedback from mine for the purposes of this review:
* We've had a mix of different HTPC keyboards over the years. The most well known ones being the original IR based Microsoft Remote Keyboard For Microsoft Windows XP Media Center Edition, Microsoft Wireless Entertainment Desktop 7000, Microsoft Wireless Entertainment Desktop 8000 and most recently the Logitech diNovo Mini Wireless Keyboard. I'm fairly certain at least two of them were broken and not by accident.
Conclusion
The relatively high price tag will undoubtedly scare some consumers away but after using the Phantom Lapboard for several weeks I'm happy to say I am in agreement with my wife—it is a keeper. While the Phantom Lapboard is not enough to make me want to install PC games on my HTPC, it has earned a place on the coffee table, or at least on a side table, by making Netflix, Boxee and Hulu Desktop a much easier experience.
I can positively say that in the case of the Phantom Lapboard, form follows function. They sought to create a keyboard and mouse that could be used for gaming or multimedia usage from the couch and came up with an unique designed that allowed you do to just that.
Pros:
Simple and easy, plug 'n play with no additional drivers needed on any of the systems I tested against.

While it may not blend well with the rest of home theater, it is attractive and of sturdy construction.

My wife and kids not only like it, they use it daily.

The first truly convenient couch based keyboard\mouse combo I have used. I would not recommend typing at great length while in the 20° position, however the keyboard is very natural to use.

Zero learning curve, the mouse works like any other mouse, no awkward pointing device or lackluster touch area.

Searching Netflix, Hulu Desktop, YouTube XL and Boxee has never been easier.
Cons:
High price of $129.

2.4GHz RF wireless technology, I prefer Bluetooth wireless technology for mouse and keyboards since I do not have to worry about the USB dongle placement or possible interference as much. Obstruction is a problem with 2.4GHz RF. For instance, when crossing my legs I would inadvertently block the front of the lapboard. This would lower the reliability of the wireless communication and lead to missed keys and\or jumpy mouse movement.

Aside from the volume buttons (+\- and mute) there are no dedicated multimedia keys. I have developed a Windows 7 Media Center add-in to remap the function keys to their corresponding media function that I will make available for download on 7/21. I initially thought this was going to be a deal breaker for me, no dedicated multimedia keys; however, I hardly use the keys on the keyboard after remapping them. The mouse is so easy to use and convenient that I find myself using it instead.

No backlit keys, makes late night usage more difficult.

The keyboard does not have an on\off switch. The mouse does. This doesn't bode well with young kids and furry friends.

The keyboard does not have any type of battery indicator or visual indicator that it is working. Again, the mouse has a small red LED that is on when the battery is low. It would not have hurt to do the same on the keyboard.

The mousing area is very slippery. Attempting to carry the lapboard from one location on the sofa to another could easily result in dropping the mouse. I would have preferred a slightly more textured surface but gamers may disagree. Possibly a magnet giving the mouse and mousing area a slight magnetic bond.
Special thanks to Phantom Entertainment Inc. for providing the review sample. The Phantom Lapboard is available for purchase directly via their website at http://www.phantom.net/. You can also follow them on Twitter. As always, please let me know if you have any questions or comments.