Cambox V4 Pro – Underhat Action Camera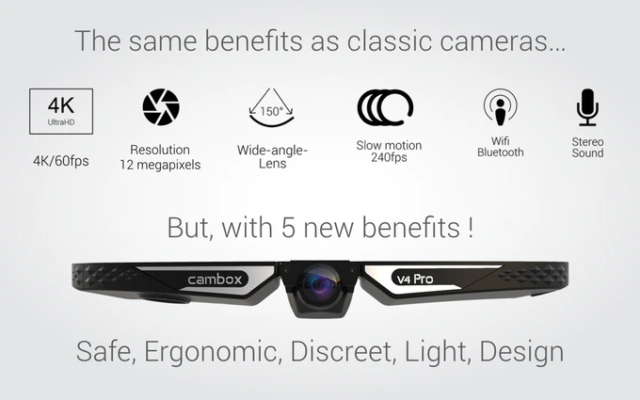 Apparently it's Kickstarter season, or maybe more things have piqued my interest lately. This 4K@60FPS 67g (battery included) action camera looks pretty cool for a few reasons. Mostly because it sorts the maybe-you-shouldn't-put-stuff-on-your-helmet problem, but also the HEY-there's-an-ugly-camera-creating-aerodynamic-drag-on-your-helmet issue as well. Cambox claims that it will attach to the bill(?) of any helmet, but the details around HOW are a bit light in the available materials. Would love to see how it works with a road bike helmet.
Is it weird that my primary use case for something like this is to capture cross-walk scofflaws on video?
The Specs: New Cambox v4 Pro has several advantages over competitors:

Safety, discretion, lightness, positioning (unprecedented point of view thanks to the camera lens that is placed just above the user eyes) with image stabilization
Cambox v4 Pro integrates a 12 megapixels Sony sensor, video resolution of 4K@60FPS, video ultra-stabilization thanks to its integrated gyroscope and accelerometer
150° wide-angle lens
60 minutes of autonomy & storage capacity of up to 128Gb (micros sd card)
Lightweight: ONLY 67 GRAMS
Possibility to plug the camera in USB-C on an external battery (no more autonomy issues)
Articulated arm to fix the camera where you want (with accessories)