WiSA @ CES 2015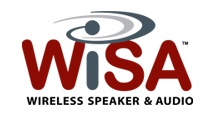 Creating a new standard for anything is hard. For a market as diverse as home audio, I can only imagine how difficult it is to get OEMs to collaborate, let alone agree on a wireless standard that lets end users build best-of-breed systems according to their needs – instead of playing to the vendor's desire to lock them into their ecosystem. Fortunately WiSA has done exactly that. I've visited with them for three years running, and each time I get to see progress, which is why every year I look forward to seeing what the group that is defining a wireless speaker wire has accomplished.
This year was no exception, with coverage in the low, mid, and high-end expected by summer. We (Kyle, John, and I) had the opportunity to listen to three systems ranging from the stealth launched Enclave $1200 MSRP (they appeared as though by magic at ShowStoppers), ~$5000 Klipsch (summer launch IIRC), and I-don't-even-want-to-know Bang & Olufsen (B&O) systems; of the three only the B&O existed last year. What makes this interesting is the WiSA is demonstrating willingness from various vendors in multiple segments to ship actual kit, at widely disparate price points. Also on display was a Sharp mono amp for those with existing speakers who wish to leverage WiSA without throwing away previous expenditure. Making adoption far less painful.
We also saw a demo of the multi-room/zone capability announced earlier this year, where WiSA is able to deliver technical capability (i.e. high res audio) that just isn't possible over competing Wi-Fi based systems. The range limiting feature (er… maybe problem now) with 5GHz radio penetration will be an issue however, so it is definitely something that will need some real install testing to verify. Some of this may be mitigated by new wireless module designs from LG Innotek – who recently signed on to the alliance, and had a board with an enhanced radio on display. Also as a standard with support from multiple vendors standards compliance is a critical aspect, and this another area where WiSA has progressed, adding Digital TV Labs as a second source for testing.
I'm sure that WiSA is pleased with the accomplishments last year; I am excited to see even more progress in 2015. Hopefully we will see systems that hit even more price points over the next twelve months.