D-Link DIR-510L Wireless AC750 Travel Router With Battery Now Shipping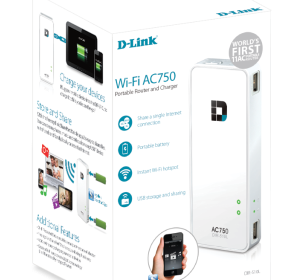 It wasn't that long ago that I added a portable router to my standard pack whenever leaving the house for vacation or business travel. It's just so handy to be able to setup a Wi-Fi hotspot wherever I need one, and even if I don't need to share a single for-fee wireless connection, it comes out of the bag because of the time it saves setting up all the other network-needing devices that also travel with me and the family.
I saw D-Link's DIR-510L at CES and it offers most of the usual features. $100 may not seem like the right price at first, but with but the built in battery, that can power it or charge a device, and ability to connect to a cellular USB dongle make it stand out it what is becoming a welcomingly crowded field. Full PR after the click.
D-Link Now Shipping World's First Portable 11AC Router and Charger

802.11ac Wi-Fi Router Allows Travelers to Create an Instant Hotspot and Stream Media to a Range of Devices Anywhere, Anytime

FOUNTAIN VALLEY, California. – March 3, 2014 – D-Link today announced that it is now shipping the world's first portable 11AC router, the Wi-Fi AC750 Portable Router and Charger (DIR-510L). This latest addition to the D-Link® family of connectivity solutions allows mobile users to quickly and easily create a Wi-Fi hotspot from an existing internet connection, whether that be 3G/4G, Wi-Fi or Ethernet, while on-the-go. For added convenience, the Portable Wi-Fi Router also features a high-capacity 4,000mAh rechargeable battery that can charge mobile devices. Additionally, with the free mydlink™ SharePort® mobile app, users can upload, download and stream multimedia and documents to a storage drive attached to one of the Portable Router's two USB ports from anywhere in the world.

Incorporating the latest Wireless AC750 technology, the Wi-Fi Portable Router and Charger offers users fast speeds and a range of advanced features, ensuring superior range and data transfer to and from connected devices. Leveraging dual band technology to bypass radio congestion and interference, the DIR-510L can deliver a total of 750Mbps using the combined throughput of its 2.4GHz and 5GHz bands. In addition, each band can operate as a separate Wi-Fi network, providing the ability to customize a network according to connectivity needs and even configure a guest zone to provide Internet access to visitors without providing access to the rest of the network. The DIR-510L provides instant sharing of any Internet connection with the added security of a firewall while connected to shared public connections.

"The demand for ubiquitous Wi-Fi in today's increasingly connected world makes the Wi-Fi AC750 Portable Router an essential addition to any traveler's kit," said Ken Loyd, director of consumer product marketing, D-Link Systems, Inc. "Leveraging the latest 11AC Wi-Fi technology, which boasts speeds up to three times faster than Wireless N, the DIR-510L ensures high-performance range and data transfer speeds for the ultimate in on-the-go connectivity."

More About the DIR-510L

The DIR-510L delivers several advanced product features for mobile users to easily connect, share and charge on-the-go, including:

· High-Capacity Battery – Built-in 4000mAh rechargeable battery keeps gadgets charged and ready for use, including tablets

· Two USB Ports – Allows for simultaneous file sharing and 3G/4G/LTE modem connectivity; plug in a 3G/4G/LTE USB modem to share an Internet connection or use a USB flash drive to stream content to various mobile devices

· mydlink SharePort – Allows users to stream content from a connected USB drive to multiple mobile devices using the free mobile app

· Easy Setup – Automatically detects connection type – broadband router, mobile router, hotspot – for optimal speed and savings; user-friendly interface stores connection details to help keep all devices connect automatically

· Universal Plug and Play (UPnP) and Built-in DLNA Server – Streams multimedia smoothly and securely across devices and appliances, including smart TVs, gaming consoles and media PCs1

Availability and Pricing

The Wi-Fi AC750 Portable Router and Charger (DIR-510L) is now available on Amazon.com, Frys.com, and throughout D-Link's vast network of retail and e-tail outlets for $99.99 EDLP. Detailed specifications are available online at www.dlink.com/DIR-510L.

About D-Link

D-Link is the global leader in connectivity for home, small business, mid- to large-sized enterprise environments, and service providers. An award-winning designer, developer, and manufacturer, D-Link implements and supports unified network solutions that integrate capabilities in switching, wireless, broadband, storage, IP Surveillance, and cloud-based network management. For more information visit www.dlink.com, or connect with D-Link on Facebook (www.facebook.com/dlink) and Twitter (www.twitter.com/dlink).