Integra Announces DHC-60.5 and DTR-60.5: HDBaseT Enabled AV Preamp and A/V Receiver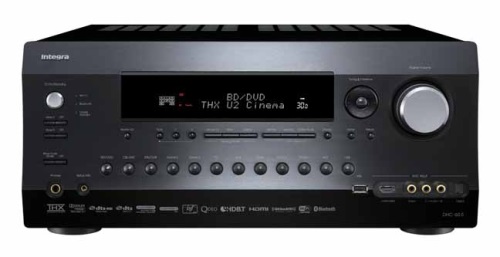 I like to see my AVR (pretty lights and all that :)), but if a no-visible-AVR install or displays in HDMI-ain't-gunna-get-there locations is on your wish list, HDBaseT is a great way to make it happen. Integra just announced the DHC-60.5 (pre-amp) and DTR-60.5 (AVR) with HDBaseT, so we can add two more options for the custom installer (CI) to push audio, video, Ethernet & control over a single Cat 5e/6. Unfortunately the tech is still pretty much limited to high-end CI switches and AVR, but as the footprint expands I'd love to see it trickle down into retail kit.
Full PR after the click.
UPPER SADDLE RIVER, NJ (7/23/13) — Integra, the leading brand of audio-video components specifically engineered for custom installation, has introduced its new mid-range THX Certified AV preamp processor and A/V receiver, the DHC-60.5 and DTR-60.5. Both are the first Integra products to support HDBaseT technology, which allows HD audio/video signals to be transmitted over much longer distances and uses cables that are easier to run inside walls than HDMI cables.

By incorporating HDBaseT technology, the DHC-60.5 and DTR-60.5 are optimized for whole-home distribution and can connect to compatible entertainment devices through a single CAT5e/6 cable. HDBaseT is the only technology that enables long-reach wired connectivity up to 328 feet (100 meters) for uncompressed full HD multimedia content including 3D and 2K/4K Ultra HD making it ideal for the custom integration specialists. The HDBaseT port can be assigned for use in either the main zone or a second zone, while the HDMI output is used exclusively for the main zone.

"The addition of HDBaseT in these two new models help address an issue many in the custom installation market deal with; providing HD quality over long distances," said Keith Haas, Director of Sales. "Implementing technologies like HDBaseT allows us to continue to provide products people have come to expect from the market leader. With this addition along with built-in Wi-Fi and Bluetooth, unparalleled streaming service options, THX Certified sound quality, ISF Certified Calibration Control, and ongoing support upgrades, our customers get new value added on a regular basis."

The new DHC-60.5 7.2 channel network A/V preamp processor is THX Ultra2 Plus Certified and the ideal companion to the DTA-70.1 THX Ultra2 certified amplifier. The DHC-60.5 also includes built-in Wi-Fi and Bluetooth and full support for the new 4K Ultra HD video displays using either the 4K pass-through feature or up-scaling for conventional HD video sources via a Marvel QDEO processor. There are connections for nine HDMI inputs and one output, plus HDBaseT, along with 7.2 multichannel balanced XLR pre-outs (with front-channel bi-amp capability) and two-channel balanced XLR audio inputs.

Meanwhile, the DTR-60.5 is a 9.2 channel, THX Select2 Plus network A/V receiver that boasts 135 watts per channel of power.

The DTR-60.5 supports an abundant package of connectivity options including 9-in/1-out HDMI, the aforementioned HDBaseT port, and 11.2 multichannel pre-outs to support full DTS Neo:X™ up-mixing for surround-sound playback. If preferred, the unit can be configured to assign four of the nine available channels to drive audio in Zone 2 and Zone 3 simultaneously. There is a full package of surround processing including Dolby Pro-Logic IIz and Audyssey DSX, plus Audyssey MultEQ XT32 room set-up processing. Amplification comes courtesy of proprietary WRAT (Wide Range Amplifier Technology) and discrete Three-Stage Inverted Darlington Circuitry, a combination that preserves a distinctively musical sound even at high volumes.

Both models provide management of the main and multi-zone entertainment via the the Integra Remote app for Apple and Android devices, which encompasses the selection of online streaming services, internet radio channels, and network audio files. The network connection provides Internet radio and streaming music services, with preformatted service packages for Spotify, Pandora®, SlackerTM, Rhapsody®, Tune In, SIRIUS XM Internet Radio®, AUPEO!, and Last.fm.

They also support the playback of high definition music files in FLAC, DSD, ALAC, HD 24/96 and HD 24/192 formats from HD music download services.

In addition to having the power to steer high-res movie soundtracks at theater-reference volumes, the receiver is loaded with high-end features to optimize two-channel performance. Pre-processing incorporates three 192kHz/24-bit TI Burr-Brown DACs (with one stereo DAC per front channel in Differential DAC mode). Audiophiles wishing to bi-amp their front speakers can find performance increases from the proprietary Digital Processing Crossover Network, which splits the audio signal very precisely into separate high- and low-frequency signals, feeding them to the appropriate speaker drivers. This all but eliminates frequency overlap at the crossover point for a more transparent stereo image.

The Integra DHC-60.5 AV preamp processor and the DTR-60.5 A/V receivers will be available in August with suggested retail prices of $2,000 and $2,300 respectively.

Integra designs and manufactures premium Home Theater receivers, processors, amplifiers, and Blu-ray and DVD players that are specifically designed to meet the needs of custom audio/video systems installers. Systems integration and convergence technology protocols include RS-232, IR and on-board Ethernet for network connectivity and TCP/IP control. Integra has access to vast technical resources, and bears a proud heritage of 60 years of audio engineering excellence. For more information about Integra and its many fine products, visit www.integrahometheater.com or call 201-818-9200.