Atlantic Technology Introduces Five New Ceiling speakers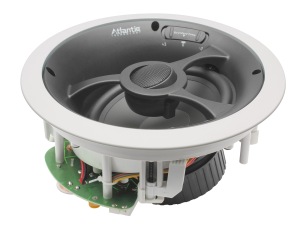 Balancing the desire for good home theater against the free standing speakers count in the family can be difficult. My better half is very understanding when it comes to this issue, but even I opted for angled in-ceiling for positions 6/7 to reduce clutter in my new (well technically different :)) house that wasn't setup for proper home theater use.
Oddly enough reviews are scarce for stealth speakers (maybe because you have to make holes to test them) so being able to buy on brand is more important here than in other, better vetted, areas. So it is great that Atlantic Technology is continuing to advance their lineup of in-ceiling speakers with five new models including one with a 15° angled woofer and independently angled woofer (up to 30°) for more control directing audio toward the "sweet-spot" in the room.
PR after the click.
NORWOOD, MA, March 26, 2012 — Atlantic Technology, a highly-regarded manufacturer of loudspeakers and custom installation solutions, has introduced five new stealthy ceiling mounted loudspeakers for home theater and whole house distributed audio.

The Atlantic Technology ICTS-6HT is an in-ceiling home theater speaker designed for use as the front left, center and right channels of a home theater system. The 6-1/2-inch polypropylene woofer is mounted at a 15 degree angle so in can direct midrange and vocals toward the listener for improved imaging and intelligibility. To further enhance imaging, the tweeter can be pivoted up to 30 degrees so the full frequency range of the front channels remains perfectly focused. The speakers have built-in tweeter level controls and a woofer-level/boundary compensation adjustment.

Atlantic Technology is also introducing four new Trim-Look Ceiling speakers with thin magnetically attached grilles that are nearly invisible to the casual observer. These highly efficient speakers offer exceptional sound quality for music and home theater applications. The top two models, TLC-6.3 and TLC-8.3, are Tri-Mode™ speakers with dual-voice-coil woofers and two pivoting tweeters. They have separate left- and right-channel input terminals, input jumpers and a built-in bipole/dipole switch. These allow the speaker to be used for mono, single-point stereo, or as a surround speaker. The two base models, TLC-6.2 and TLC-8.2, are conventional, single-channel 6-1/2- and 8-inch two-way speakers with 1-inch soft dome tweeters that can pivot 30 degrees for optimal imaging.

The Atlantic Technology ICTS-6HT In-Ceiling Theater Speaker are now available with a suggested retail price of $400 each. The Trim-Look Ceiling Speakers are also shipping the last week of March. The Tri-Mode models TLC-6.3 and TLC-8.3 will have suggested retail prices of $325 and $450 respectively, while the two-way TLC-6.2 and TLC-8.2, will have suggested retail prices of $250 and $325 respectively.

About Atlantic Technology
From its inception in 1989, Atlantic Technology's mission has been to produce home entertainment products that exemplify the very best in both performance and value. The company specializes in complete high-performance multi-channel and music speaker systems, state-of-the-art home theater electronics components, and products for custom audio/video installation. For more information on Atlantic Technology and its many fine products for home theater and custom audio/video installation, visit www.atlantictechnology.com or call 781-762-6300.